April 2022 Wellness Calendar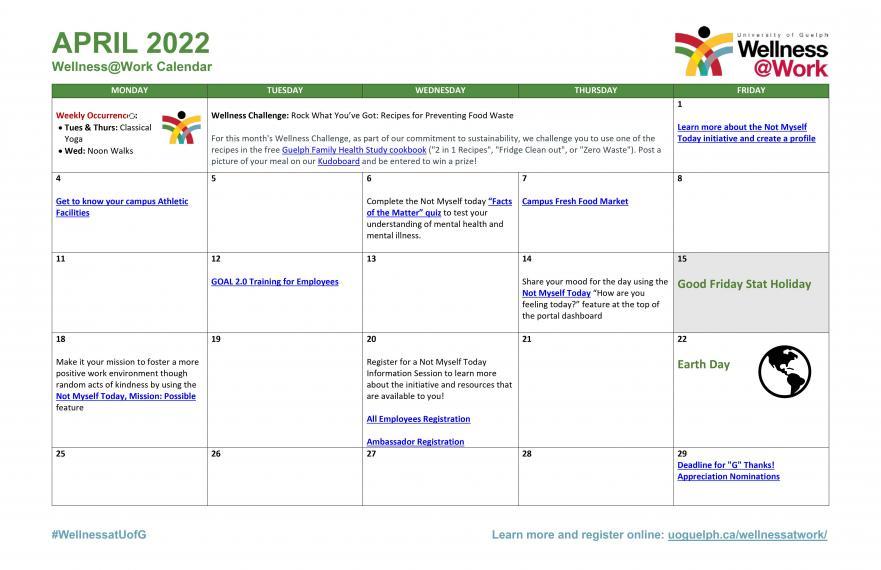 View the April 2022 Wellness Calendar.
April Wellness Challenge:
Rock What You've Got: Recipes for Preventing Food Waste For this month's Wellness Challenge, as part of our commitment to sustainability, we challenge you to use one of the recipes in the free Guelph Family Health Study cookbook ("2 in 1 Recipes", "Fridge Clean out", or "Zero Waste"). Post a picture of your meal on our Kudoboard and be entered to win a prize!
COVID-19 Resources
There is no doubt our mental health has been impacted by the pandemic. As new updates come with regarding the Omicron variant, each of us will experience different levels of comfort, worries, and unique stressors. If you are looking for support, please contact our Employee and Family Assistance Program anytime toll-free at 1-800-663-1142.  Additional wellness resources can be found on the COVID-19 Wellness Resources page. You can also view the COVID-19 Vaccination FAQs page if you have any questions about the UofG vaccination requirements.
As of January 19th students, faculty and staff are now required to wear a medical-style mask at U of G locations.