June 2022 Wellness Calendar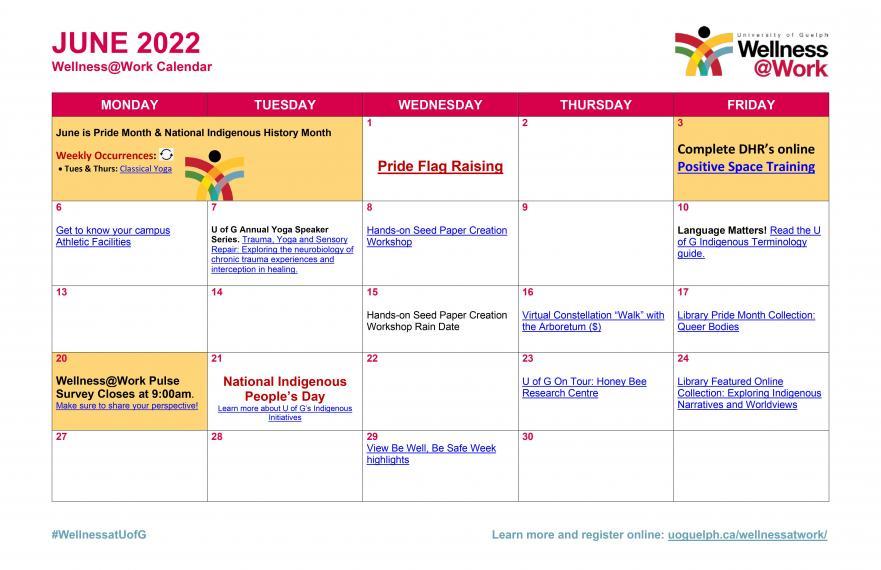 Wellness@Work Pulse Survey
The Wellness@Work Pulse Survey is now open to all faculty and staff, so please share with us how you are feeling! It should take no more than 5 minutes to complete as the survey has less than 10 short questions. All responses to this survey are anonymous and the input you provide through this survey is incredibly valuable and will help shape programming, policies, strategic planning, and procedures developed by the Wellness@Work to support your wellbeing. Your well-being matters and we need your feedback to help us improve and adapt. 
June Programming
June is Pride Month and National Indigenous History Month. For June's wellness challenge you are encouraged to complete DHR's online Positive Space Training . 
View the June 2022 Wellness Calendar. 
Some events that might interest you: 
Be Well, be Safe Week Highlights
View highlights from Be Well, Be Safe Week 2022.
Recordings of workshops and the keynote presentations can be viewed in the shared OneDrive folder: Be Well, Be Safe Week 2022 Recordings