July and August 2022 Wellness Calendar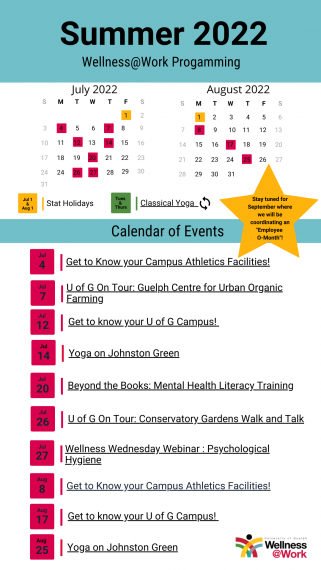 Some highlighted events that you may be interested in are: 
September 2022 will be a U of G Employee O-Month!
Stay tuned for our September 2022 wellness calendar because Wellness@Work will be coordinating an "Employee O-Month" that demonstrates all the amazing things that our U of G campus has to offer and really show what makes U of G a special place to work. Many of us might be lacking a sense of belonging to the place we work and even our colleagues since the beginning of the pandemic.  Also, some staff and faculty hired during the pandemic worked remotely and haven't had the chance to get to know our beautiful campus and amazing services.   We really want to provide employees that sense of connection and community because we really do have many amazing resources and features to our U of G campus.
There will be various campus tours, activities to do with your team, contests to engage in and many amazing prizes donated by campus partners such as Brass Taps, Parking Services, Athletics, the Honey Bee Research Centre, the Arboretum and many more!