The Summer Wellness@Work Calendar is now published!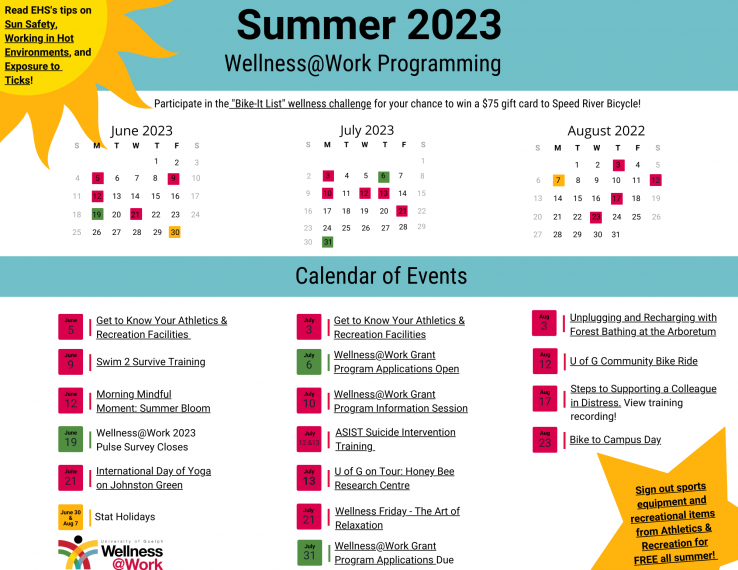 Wellness@Work is pleased to announce our summer programming. Whether you are looking to get outside and enjoy our beautiful campus or develop skills to keep yourself and your colleagues safe, we hope you find something for you.
Highlighted Programming to Support your Well-being
Collaborations with the Campus Safety Office's Bike Patrol Team
Wellness@Work is collaborating with the Campus Safety Office to offer a few bike related programming offerings. Not only is biking an active form of transportation that reduces our carbon footprint, but is a great way to support your physical well-being.
Participate in the "Bike-It List" wellness challenge for your chance to win a $75 gift card to Speed River Bicycle! Like a bucket list, this is a "bike-it" list full of summer biking activities to participate in. Go through and as you complete the activity cross it off. You have until August 29th to submit your completed card.
August 12: U of G Community Bike Ride. The bicycle ride is designed to engage staff and faculty and their families to get out for some exercise, meet other members of their community, and get to know campus on a broader level. An ice cream truck will be available free of charge to grab a treat while you connect with others and share time with your family!
August 23: Bike to Campus Day! Celebrate biking to campus and enjoy being greeted upon your arrival to Branion Plaza with a coffee, orange juice, and a snack! Campus Safety Officers will help you note (for your records) your bicycle make, model, size, colour, number of gears, and purchase price, and take a photo of your bike.
Tips from Environmental Health and Safety for the Summer