2018: Year in Review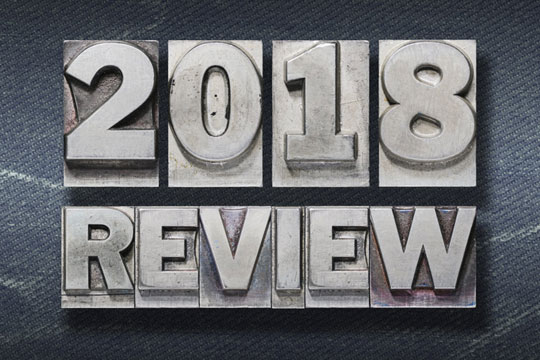 As we welcome 2019, we're pleased to take a breath, reflect, and share a snapshot of our student and alumni accomplishments over the past year. As our MFA community grows, so does our broader impact. By creating work, editing, mentoring, teaching, advocating—and beyond—we see our graduates continue to contribute to a rich and diverse literary landscape and conversation.
Our graduates were busy in 2018. Elisabeth de Mariaffi and Adam Lindsay Honsinger published novels; Jeff Latosik, David James Brock, Jaime Forsythe, Paul Vermeersch and Chris Bailey published poetry collections; and Anna Chatterton, Beverley Cooper, and Motion all produced theatrical performances at major regional theatres.
Close to home, emerging writers received some well-deserved recognition on the busy Toronto scene. The Unpublished City—edited by professor Dionne Brand and featuring writing by program alumni/students Diana Biacora, Nicole Chin, Simone Dalton, Adnan Khan, Shoilee Khan, Canisia Lubrin, Dalton Derkson, and David Bradford—was a finalist for the 2018 Toronto Book Award. A second installment, The Unpublished City II, co-edited by Lubrin, has now been released and features current students Oubah Osman, Zoe Imani Sharpe, and Leanne Toshiko Simpson among the contributors.
Our graduates' fiction was also celebrated nationally. Out west, Greg Rhyno was short-listed for a 2018 Alberta Book Award for his debut novel, To Me You Seem Giant, and Khalida Hassan was a finalist for the Writers' Trust of Canada's RBC Bronwen Wallace Award for short fiction. Elisabeth de Mariaffi's Hysteria was named one of The Globe and Mail's books of the year, and a 49th Shelf best of 2018 pick.
Alumni Shane Neilson won a 2018 Hamilton Literary Arts Award for Dysphoria, his most recent collection of poetry, as well as a SSHRC Talent Award, recognizing academic achievement, originality of research and potential for leadership in his PhD scholarship. It was a big year for Shane, who also co-founded the AbleHamilton Poetry Festival, centering dis/abled poetry and poetics.
The prestigious Griffin Poetry Prize counted another MFA graduate, Aisha Sasha John, among its three Canadian finalists. Alumna Canisia Lubrin was short-listed for the League of Canadian Poets' Raymond Souster Award and named a CBC writer-to-watch of 2018. She was also long-listed for the Gerald Lampert Memorial Award and the Pat Lowther Memorial Award. Both John's and Lubrin's work, along with that of fellow grads Nancy Jo Cullen, Liz Howard, and Bardia Sinaee, is also featured in Best Canadian Poetry 2018. Sarah Pinder was short-listed for a LAMBDA Award for her latest collection of poetry, and Julie Mannell was a finalist for the CBC Poetry Prize. Paul Vermeersch was named the victor at Poetry Now's 10th annual Battle of the Bards.
Theatre artist Anna Chatterton was a finalist for this year's Governor General's Literary Award in Drama for her co-creation, Gertrude and Alice, which was also published by Playwrights Canada Press and remounted at Toronto's Buddies in Bad Times Theatre this past fall.
In the community, Liz Howard and Elisabeth de Mariaffi held tenure as Writers-in-Residence at the University of Calgary and Memorial University, respectively. Ayelet Tsabari was the Toronto Public Library Writer-in-Residence, initiating a workshop series for immigrants; Sheniz Janmohamed became a columnist for Open Book; Festival of Literary Diversity founder, Jael Richardson, became a regular on CBC Radio's Q; and Mahak Jain and Marcia Walker took the helm of the Emerging Writers' Reading Series. Additionally, our graduates took leadership roles teaching writing through U of T, George Brown, Humber College, Humber School for Writers, Sheridan, the King's College Nonfiction MFA, and many other venues.