2021-2022 Faculty & Sessional Teaching Excellence Awards
2021-2022 Faculty & Sessional Teaching Excellence Awards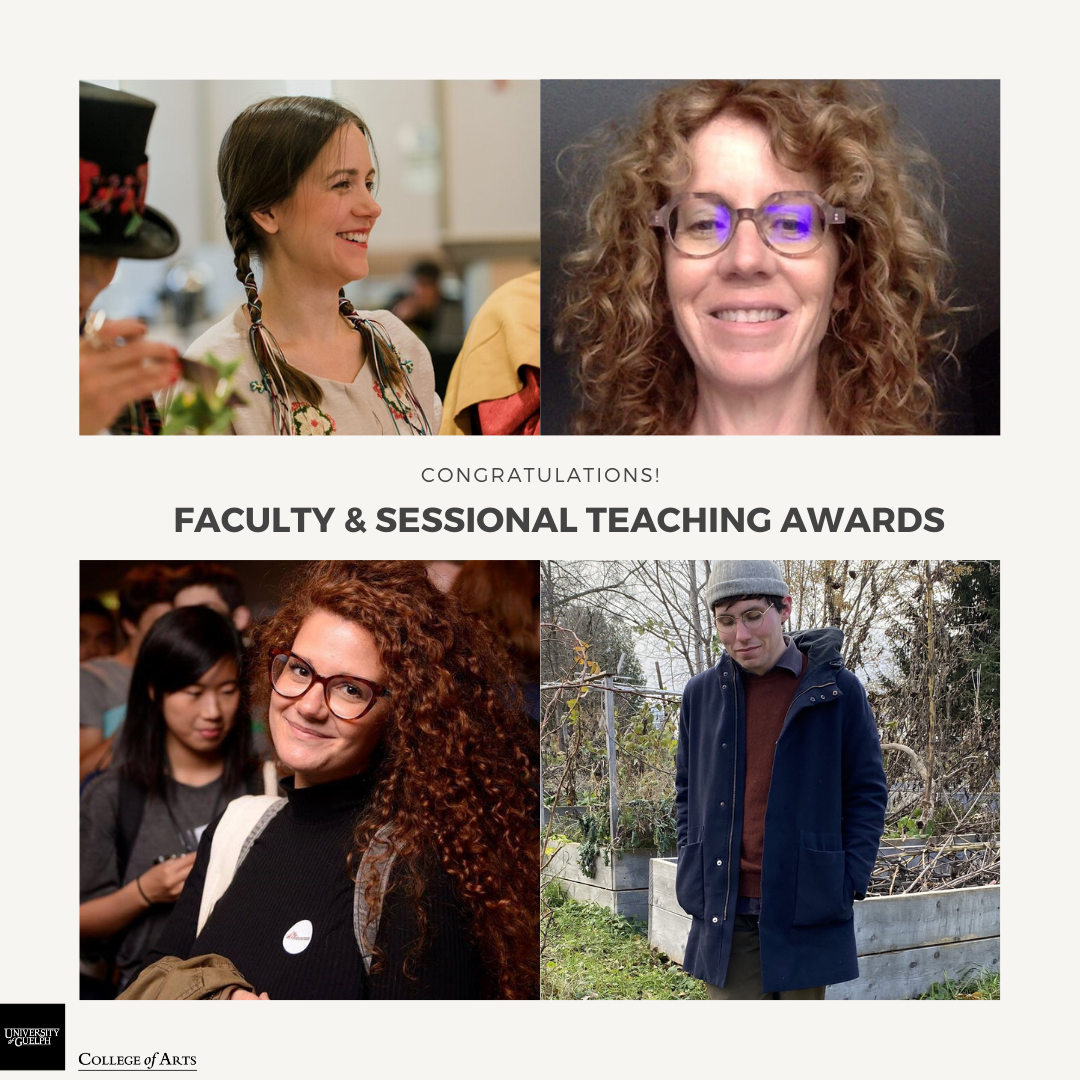 At the second College of Arts BBQ on Tuesday, May 17th. we celebrated the recipients of the COA teaching excellence awards. This year's four winners provided the Teaching Award Committee with ample evidence of the superb work that we do at the College of Arts and of the incredibly caring and engaged faculty members and sessional lecturers who find in the COA a conducive place of innovative instruction and profound human empathy. It is a pleasure and an honour to present the four winners of the Teaching Excellence Awards.
Faculty Teaching Excellence Awards
Brittany Luby, Department of History
One of the nomination letters of Dr. Luby to the Faculty Teaching Excellence Award remarks how "her teaching is consistently on the forefront of introducing both Western and Indigenous pedagogies in her classes as she strives to make academia accessible to all who walk through her classroom doors (or accept her Teams/Zoom invites!)." It also highlights her tireless drive and commitment to the academic and professional success, and the physical, mental, and emotional health and well-being of the University of Guelph's student body.
Student testimonials remark on the many initiatives in which Dr. Luby blended social justice and advocacy in and outside classroom through experiential learning activities and planning that empower her students. One of them notes how "Dr. Luby's courses were exceptional practices in knowledge mobilization at the undergraduate level. For the first time, we were given the opportunity to take what we had learned in a university classroom and engage with our community in a meaningful and tangible way." There is widespread praise for her consistent support and guidance to her students and many reiterate how her teaching shaped their academic journey and made their future careers possible. When the global pandemic forced an abrupt change of pace, Dr. Luby provided students with the support they needed. One of her graduate students says: "In my graduate degree, Dr. Luby was a great mentor, especially during the early stages of the COVID-19 global pandemic." Another student notes how "in terms of the global pandemic that impacted the last few weeks of this course, Dr. Luby went above and beyond to help her students stay mentally healthy and on track during with our learning while we worked from home."
Her nurturing and care for all students is captured by one letter in which a student states that "despite not having any Indigenous heritage and very little schooling … my lived experiences were valued just as much as every other student. Dr. Luby made it abundantly clear that she was our guide and ally in learning. … She is an abundant resource to her students, and she continues to better herself for the good of future scholars and current academics, and for the betterment of the education system." Her students talk about the variety of learning styles offered to them, which are both "captivating and educational." While presenting Dr. Luby with this award, it should be highlighted that her work in and outside the classroom cannot be underestimated. As one student put it: "Her passion for Indigenous history was inspiring, and it spurred myself and my fellow classmates to work harder and deepen our understanding of such a crucial part of Canada's past."
Julie Cairnie, School of English and Theatre Studies
The nomination in support of Dr. Cairnie's Faculty Teaching Excellence Award highlights her "principled approach to pedagogy, and her outstanding qualities as a humane, thoughtful, and fully committed teacher, who is continually rethinking and innovating her teaching practice to support her students' development in holistic ways…. Her teaching reflects a deep commitment to the recommendations of the Truth and Reconciliation Commission…. Her research strengths in African literatures, her lived experience of Africa, and her collaboration with scholars and artists of the global south all enrich her pedagogy, allowing her to demonstrate the application of postcolonial theory to anti-racist practices." Dr. Cairnie's colleagues praise her as a generous, "versatile and adaptable instructor, willing to teach in large lecture and small seminar formats" and remark on her "impressive contribution to graduate studies." Several students indicate that she was instrumental in their decision about future graduate studies and provided them with invaluable guidance.
Her exceptional teaching during the pandemic, which included talk-walks in the Arboretum, provided insight and solace to her students during emotionally difficult times, but constituted also an opportunity for innovative pedagogies. One of her graduate students observes how "This approach, of mobile, embodied learning, prompted us to think about our bodies, and the way that we occupied the space on campus. It forced us to consider questions of access, mobility, and privilege that might not have otherwise arisen in a classroom. Additionally, it helped us to consider the legacy of settler institutions on the landscape and on movement of the body, as well as histories of abuse and harm that can be passed through sporting institutions." 
One of her colleagues praises Dr. Cairnie for her courses, in which students are challenged "to discuss difficult topics that provoke strong emotions, from race and racism to suffrage and feminism. Dr. Cairnie's expert facilitation of these fraught issues is enabled by a teaching philosophy that includes sharing with students her own personal and professional journey–her successes and failures–with mastering teaching and (un)learning… Her willingness to model vulnerability in the classroom allows for meaningful and transformative interactions between Dr. Cairnie and diverse student populations." Another colleague remarks on the transformative work that takes place in Dr. Cairney's classes and can be witnessed first-hand: "when I inherit students from Julie's courses, they operate with a higher degree of maturity than most of the students in our program.  When I speak to her students, they consistently emphasize three things. They state that they were challenged in ways that they had not seen or felt before; that they appreciated and respected Prof. Cairnie for making them better students and citizens by challenging them in this way; and perhaps most importantly they felt supported throughout the ups and downs of this development."
Sessional Teaching Excellence Awards
Joseph Shea-Carter, School of English and Theatre Studies
Joseph Shea-Carter excels as a teacher for their use of innovative teaching methodologies. As one of the nomination letters points out, "what makes Joseph's work stand out from purely academic endeavors is the application of the theoretical concepts they study to community engagement practices… Forging connections between their research and concrete actions to decolonize spaces has propelled Joseph to excel as a researcher, teacher, mentor, and community collaborator. What students find exciting about Joseph's teaching is how they create a learning space that blends challenging scholarly work with multimedia drawn from popular and Indie culture. Joseph's receptors are always on high alert, and they are constantly making generative connections between ideas and everyday experiences, that make students feel empowered and inspired to do the same." Faculty members praise Joseph for their intellectual rigour and refinement, their care and engagement with their students. Joseph is acknowledged as a collaborator to their students. As one of them remarks: "Joseph values the democratization of learning and takes a non-hierarchical approach to teaching. In the classroom, Joseph creates a learning environment in which students are comfortable sharing their thoughts and opinions throughout the course, including sharing feedback on the course materials Joseph selected." Another student indicates that "Each and every book we read, or film we watched, he had picked out himself, and made it interesting even if it wasn't my cup of tea. I think that a passionate teacher produces a passionate student and that's exactly what Joseph did." A student enrolled in the ENGL 2130 Seminar indicates that Joseph offered "one of the most creative and constructive learning experiences I have ever encountered. My experience in this class is one that I believe will stick with me as I continue my education. From Joseph, I have gained knowledge on literature and social change, and I have also gained knowledge about myself and what I value and want in my education." Joseph's effective teaching methodologies and impact on students within and outside the classroom is captured by one of their students' comments: "If there is one thing that Joseph taught me, it is that you should question everything. He opened my eyes to a variety of different issues that I had never even considered before."
Aurora Cominetti, School of Languages and Literatures
Aurora Cominetti's excellence in teaching is recognized by a large number of students who took her well attended Italian courses over the last three years. The committee was impressed by her commitment to innovative teaching methodologies in her classrooms, in her extensive professional training, conference presentations and authored material. 
Most of the students who wrote to support Aurora's nomination were her students during the pandemic. Aurora created an inclusive atmosphere in class, made the classroom a safe space and reinforced well-being with her students. They comment on her "contagious passion for teaching" and on her being "dynamic, inspirational, and approachable. Regardless of the difficulties presented by a DE class (due to the pandemic), she found a way to keep us engaged in class." Another student notes how during the abrupt switch to remote learning "the quality of my Italian education did not waiver from my experience in person." Her dynamic learning style and her blended method of deductive and inductive language learning is address by several student testimonials, who note how "all of her assignments were incredibly innovative and unique." Aurora's nurturing approach to teaching and her individual attentiveness to students while teaching large language classes, is the source of great praise. One student notes how "her passion for teaching is absolutely contagious within the classroom. Her enthusiasm, patience, and continual support, creates a promising learning environment for students of all abilities," while another states that "Aurora's greatest quality as an instructor, that makes her stand out far above the rest, is her unwavering dedication to helping her students achieve their academic goals, in whatever way she can." Her ability to facilitate language learners' trust in their own ability significantly reduces the main learning barrier that language students face when approaching a foreign language. Students never feel judged in her classes because of linguistic inaccuracies, "I knew there would be no judgement… She would use mistakes as opportunities to revisit and review Italian language… I can honestly say I always looked forward to going to her classes, even at 8:30 in the morning."
Congratulations to all and thank you for leading the way in teaching excellence,
Sandra Parmegiani