Aisha Sasha John at SummerWorks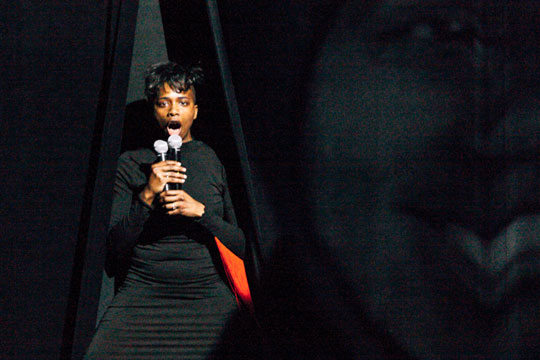 aisha of is began its development in 2017 as a solo dance piece for the Whitney Museum of American Art in NYC. After a limited spring 2018 run at Montreal's MAI, MFA grad—and recent Griffin Poetry Prize finalist—Aisha Sasha John brings her ever-evolving performance work to the eclectic SummerWorks festival in Toronto.
Light pours out and into the eyes, throat, and spine of Aisha Sasha John in the ancient, original devotional practice that constitutes the aisha of is. In this alchemical ritual, John's embodied listening reveals her sensitivity as a power. The freedom to move and speak as willed, and to will what is felt, is the discipline John offers herself as medicine to patriarchal, racist violence. Welcome to is.
Want to know more about this innovative artist as a performer before you check out the show? You can watch a trailer for the show in its Montreal iteration here, or read this news item on her recent appointment as U of T Scarborough's 2018 Writer-in-Residence.
the aisha of is runs from August 11–18 at the Theatre Centre's Franco Boni Theatre. For a detailed schedule, and to purchase tickets, visit summerworks.ca