Alumni Sheung-King a Governor General's Award Finalist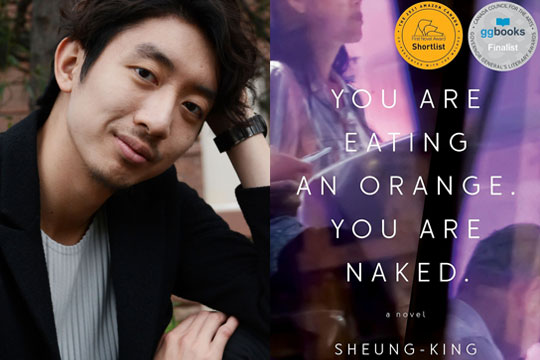 There's no time like the present to celebrate CW MFA alumni Sheung-King's mesmerizing novel, You are eating an Orange. You are Naked. (Book*hug, 2020), currently a Governor General's Literary Award finalist in the Fiction category. Selected by a jury of Kristen den Hartog, Chris Eaton, Suzette Mayr, the book is among five finalists in the running for the 25k prize which will be announced Wednesday, November 17, 2021.
The story centres on a young translator living in Toronto who frequently travels abroad—to Hong Kong, Macau, Prague, Tokyo—often with his unnamed lover. In restaurants and hotel rooms, the couple begin telling folk tales to each other, perhaps as a way to fill the undefined space between them. Theirs is a comic and enigmatic relationship in which emotions are often muted and sometimes masked by verbal play and philosophical questions, and further complicated by the woman's frequent unexplained disappearances.
You are eating an Orange. You are Naked. has already gained attention as a finalist for the Amazon Canada First Novel Award and a long-listed CBC Canada Reads contender. Available in paperback, e-book, and audiobook formats from Book*hug Press, here's a full rundown of coverage (with links) to explore, courtesy of the publisher:
 
Praise for You Are Eating an Orange. You Are Naked.:
"Sheung-King has written a wonderfully unexpected and maverick love story but also a novel of ideas that hopscotches between Toronto, Macau, Hong Kong, Tokyo, and Prague. It is enchanting, funny, and a joy to read."—Kyo Maclear, author of Birds Art Life
"A tale of two rich and rootless people that oozes the horror and confusion of love, while staying somehow still desperately romantic, and so gloriously sad. This novel is also about something else: it gives the cold shoulder to the dominant gaze and its demands to control the Asian body, carving out a thrilling space beyond whiteness. I didn't want it to end."—Thea Lim, author of An Ocean of Minutes, a finalist for the Scotiabank Giller Prize
Press Coverage:
Most Anticipated: Our 2020 Fall Fiction Preview —49th Shelf
60 Works of Canadian Fiction Coming out in Fall 2020 —CBC Books
Fiction We Can't Wait to Read This Fall —49th Shelf
"This rare, arresting book asks the reader to hold a pair of lovers close. A beautiful, intelligent portrait of estrangement and intimacy." —Casey Plett, Chatelaine
"You Are Eating an Orange. You Are Naked. shines in the way it challenges "classic" (read: European) notions of form and structure. The book is told in the second person, defying the more commonly used first- or third-person perspectives, to put the reader – no matter your background – inside the narrator's lived experienced." —Jen Rawlinson, Hamilton Review of Books
Launchpad: YOU ARE EATING AN ORANGE. YOU ARE NAKED. by Sheung-King —49th Shelf
In "You Are Eating An Orange. You Are Naked." the 2010s have never looked so 1770s —Brett Josef Grubisic, Toronto Star
"Sheung-King's You Are Eating an Orange. You Are Naked. is an enthralling debut." —Amanda Brown, The Puritan
"For anyone interested in the intertwining of taste, texture, and the people we love, this collection is the perfect gift." —Gift Guide Week: Natasha Ramoutar, All Lit Up
"This is a conversational novel, yet Sheung-King is equally interested in all the places language can't reach. Through his precise prose, he conjures the inarticulable emotions of longing and heartbreak. If you have ever been young and in love, this book will transport you there again." —Michelle Cyca, Vancouver Sun
"But do yourself a favour…  and start reading this book; prepare to reread when you realize with dismay that it's just too damn short." —Jessica Poon, The Ormsby Review
Four of the Best Book Debuts of 2020 —Jade Colbert, The Globe and Mail
"Love can be chaotic and Sheung-King demonstrates this in startling and powerful passages that remind you of the fragility of the human heart and the yearning to be loved. His approach to the universal question of what would you do for love is handled with an astounding freshness." —Sonia Saikaley, The Miramichi Reader
"In a cruel paradox for writers who are just trying to recount their lives, the tropes of diasporic lit have made it nearly impossible to write about belonging without also placing whiteness at the center of attention—the tropes exist because stories that do this are regularly rewarded with publication. But You Are Eating an Orange. You Are Naked. sidesteps this trap all together: It is bored by Western approval." —Thea Lim, The Nation
CBC Books winter 2021 reading list: 30 Canadian books to check out this season —CBC Books
Jael Richardson's book pick: You Are Eating an Orange. You Are Naked. by Sheung-King —CBC q with Tom Power
"You Are Eating an Orange. You Are Naked. is like Sally Rooney's Normal People but for transnational millennials always on the move, at home nowhere and everywhere at once. A refreshing, innovative debut that isn't afraid to challenge every trope we know—about life and fiction itself." —Shazia Hafiz Ramji, The Humber Literary Review
GTA authors on publishing during a pandemic: Hot off the press, meet the writers behind some of the GTA's new and noteworthy fiction —Jennifer Williams, CBC News
The 45th Amazon Canada First Novel Award Shortlist —49th Shelf
15 books by Asian Canadian authors to read for Asian Heritage Month —CBC Books
Anita Anand: 'A Show, a Book and a Song': You Are Eating an Orange. You Are Naked. —CBC Radio's All in a Weekend with Ainslie MacLellan
12 Canadian books about love and romance to read in summer 2021 —CBC Books
"There's real magic in this pairing of Sheung-King's first novel and Kenny Wong's audiobook debut… This audiobook is a four-hour symphony to be savored." —AudioFile Magazine