Alumni Volunteer Award winner Bill Laidlaw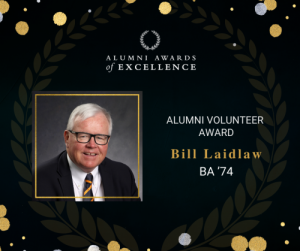 This year's recipient of the University of Guelph Alumni Volunteer Award is Bill Laidlaw, a distinguished alumnus, who graduated with a Bachelor of Arts degree in History in 1974. Mr. Laidlaw began his academic pursuits following a childhood passion for history, inherited from his father, George Laidlaw, an executive with the Steel Company of Canada and the one who encouraged Mr. Laidlaw to attend the U of G. At Guelph, Bill played varsity football and made History his major once he started to excel in the subject. He went on to complete his Master's in History, a Bachelor's degree in Education and another Master's in Education. Bill credits the University of Guelph with enabling his success in life. Having begun his career teaching history, Mr. Laidlaw then transitioned to human resources, public affairs, and finally general management.
Mr. Laidlaw's interest in volunteer work began at the U of G. He became involved in multiple committees, volunteered in the Registrar's office, sat on the Senate, became President of the Ski Club, and became involved with Canadian politics. His volunteering hasn't stopped. At the U of G. Mr. Laidlaw is still active in the Guelph Gryphons football program, Alumni Affairs, the Gordon S. Lang School of Business, the Strategic Renewal Advisory Committee, and Gryphon Athletics in general. His volunteer work has expanded beyond the University of Guelph to other Canadian universities, hospitals, non-for-profits and political campaigns. Through his generous donations to the U of G, Mr. Laidlaw has named the Women's Basketball Team Room, the Boardroom at the Pavilion, and a room in Macdonald Hall in honour of his late father, George.
Mr. Laidlaw is proud of the Bachelor of Arts degree that he holds from the U of G and the doors that it opened to him. "Many or most of my colleagues hold other degrees," says Bill, "but I love to talk about my education, especially the fact that I learned to think at Guelph."