Cafe Philosophique Author Series
Café Philosophique Author Series
sponsored by the College of Arts, The Bookshelf and The Eden Mills Writers' Festival
---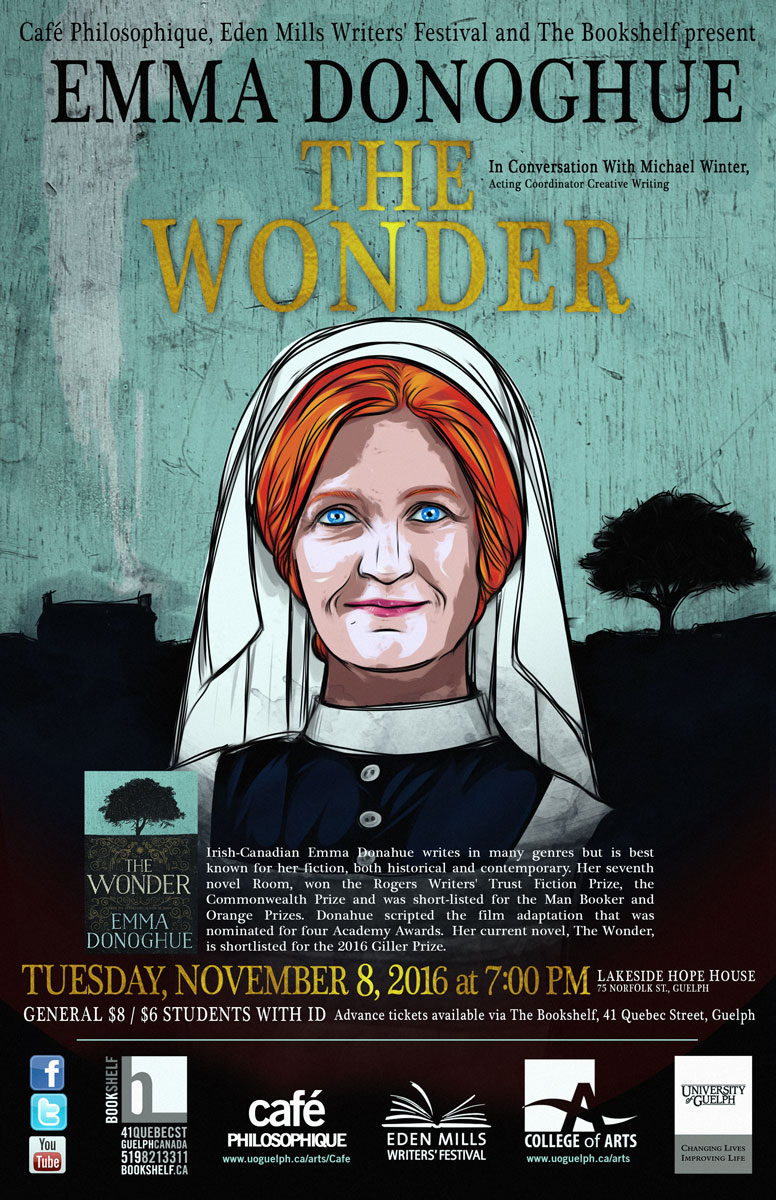 Café Philosophique, The Bookshelf and The Eden Mills Writers' Festival present
Emma Donoghue
The Wonder
In Conversation with Acting MFA Creative Writing Coordinator Michael Winter
Tuesday, November 8, 2016 at 7:00 pm
Lakeside Hope House, 75 Norfolk Street, Guelph
Tickets $8 general admission / $6 students, available in advance from The Bookshelf, 41 Quebec St., Guelph
A magnetic novel written with all the spare and propulsive tension that made Room a huge bestseller, The Wonder, works beautifully on many levels—a simple tale of two strangers who will transform each other's lives, a powerful psychological thriller, and a story of love pitted against evil in its many masks.
A small community in 1850s Ireland is baffled by Anna O'Donnell, a child said to be living without food. Tourists flock in droves to her family's cabin, and a journalist is sent to cover the sensational story. Enter Lib, an English nurse trained by Florence Nightingale, hired to keep watch for two weeks and determine whether or not Anna is a fraud. As the girl deteriorates, Lib finds herself responsible not just for her patient's care but for getting to the root of what could be a murder happening in slow motion.
Born in Dublin in 1969, EMMA DONOGHUE lived in England for many years before moving to Canada. She writes in many genres including theatre, radio drama, and literary history, but is best known for her fiction, both historical (Slammerkin, The Sealed Letter, Astray, Frog Music) and contemporary (Stir-Fry, Hood, Landing, Touchy Subjects). Her seventh novel, Room, won the Rogers Writers' Trust Fiction Prize and the Commonwealth Prize (Canada and Caribbean) and was short-listed for the Man Booker and Orange Prizes; it went on to sell over two million copies. Donoghue scripted the film adaptation by Lenny Abrahamson starring Brie Larson, which won the 2015 Toronto International Film Festival People's Choice Award and was nominated for four Academy Awards, including Best Picture.
---

Café Philosophique, The Bookshelf and The Eden Mills Writers' Festival present
Roméo Dallaire
Waiting For First Light: My Ongoing Battle with PTSD
In Conversation with History Associate Professor Matthew Hayday
Saturday, October 29, 2016 at 2:00pm
Lakeside Hope House, 75 Norfolk Street, Guelph
Tickets $8 general admission / $6 students, available in advance from The Bookshelf, 41 Quebec St., Guelph
 In this piercing memoir, Roméo Dallaire, delves deep into his life since the Rwandan genocide. It is a no-holds-barred self-portrait of a top political and military figure whose nights are invaded by despair, but who at first light faces the day with the renewed desire to make a difference in the world.
Traumatized by witnessing genocide on an imponderable scale in Rwanda, Dallaire reflects in these pages on the nature of PTSD and the impact of that deep wound on his life since 1994, and on how he motivates himself and others to humanitarian work despite his constant struggle. He has been inspiring people to give their all to multiple missions ever since, from ending genocide to eradicating the use of child soldiers to revolutionizing officer training so that our soldiers can better deal with the muddy reality of modern conflict zones and to revolutionizing our thinking about the changing nature of conflict itself.
"I was left reeling by this book, overcome by shock, dismay, amazement. I've never read anything about post-traumatic stress quite so stark, honest and graphic. Roméo Dallaire bares his soul to the world . . . it's an act of stunning courage and a literary tour de force." —Stephen Lewis
Roméo Dallaire is a retired lieutenant-general, retired Canadian senator, and celebrated humanitarian. In 1993, LGen Dallaire was appointed force commander for UNAMIR, where he bore witness to the Rwandan genocide. His Governor General's Literary Award-winning book, Shake Hands with the Devil, exposed the failures of the international community to stop that genocide. It has been turned into an Emmy Award-winning documentary as well as a feature film; it has also been entered into evidence in war crimes tribunals trying the perpetrators of the Rwandan genocide. Dallaire has received numerous honours and awards, including Officer of the Order of Canada in 2002 and the United Nations Association in Canada's Pearson Peace Medal in 2005. His second book, They Fight Like Soldiers, They Die Like Children, was also a national bestseller. Since his retirement, he has become an outspoken advocate for human rights, mental health and war-affected children. He founded the Roméo Dallaire Child Soldiers Initiative, an organization committed to progressively ending the use of child soldiers worldwide through a security sector approach.
---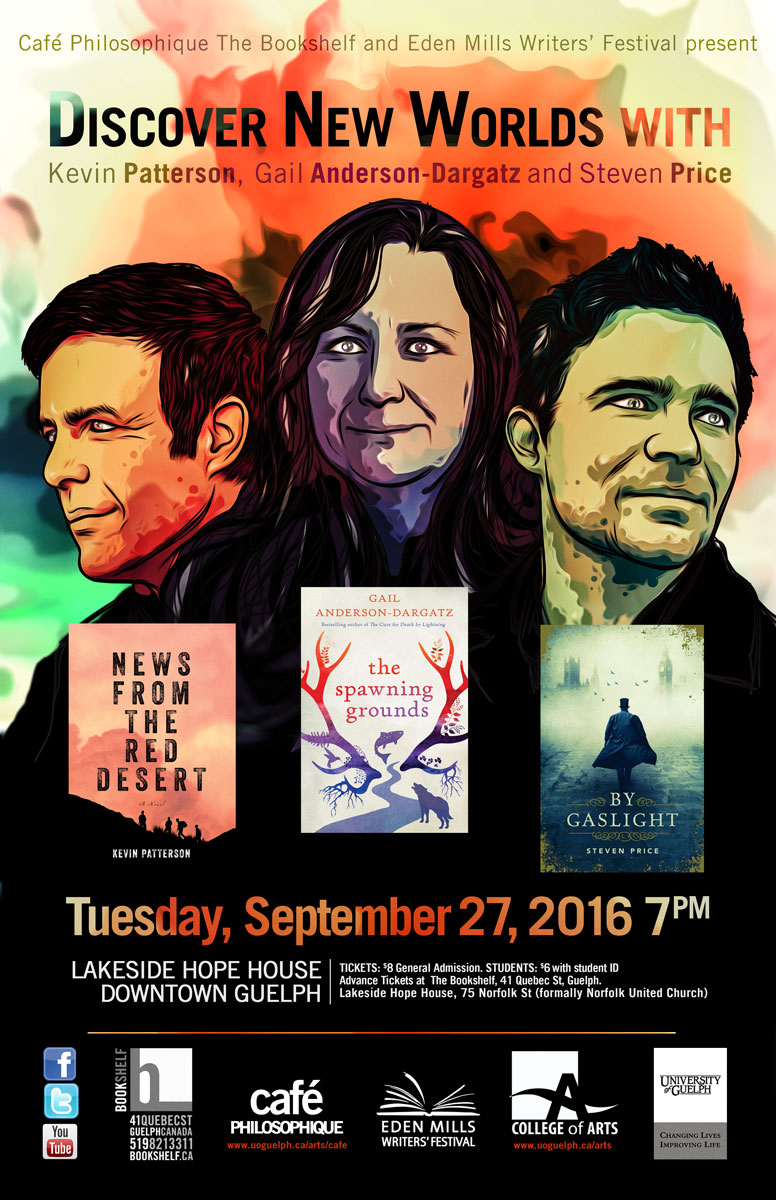 Café Philosophique, The Bookshelf and The Eden Mills Writers' Festival present
DISCOVER NEW WORLDS with Kevin Patterson, Gail Anderson-Dargatz & Steven Price
Tuesday, September 27, 2016 at 7:00pm
Lakeside Hope House, 75 Norfolk Street, Guelph
Tickets $8 general admission / $6 students, available in advance from The Bookshelf, 41 Quebec St., Guelph
From the award-winning author of The Water in Between and Consumption, Kevin Patterson writes the definitive novel of the Afghanistan war.  News From the Red Desert begins in late 2001, when everyone believes the war is already won and the Taliban defeated, then leaps late in the severely escalated conflict--into the mess, and death, and confusion. At its heart are the men and women who have come to Afghanistan to seek purpose, and adventure, and danger, by engaging in the most bewitching and treacherous of human pursuits: making war.
The novel The Spawning Grounds by a two-time Giller-shortlisted author is full of the qualities Gail Anderson-Dargatz's fans love: it's an intimate family saga rooted in the Thompson-Shuswap region of British Columbia, and saturated with the history of the place. A bold new story that bridges Native and white cultures across a bend in a river where the salmon run.
A magnificent literary historical-suspense novel in the tradition of Eleanor Catton's The Luminaries, Patrick DeWitt's The Sisters Brothers, and Michael Faber's The Crimson Petal and the White, Steven Price's By Gaslight is destined to be one of the most acclaimed and talked-about books of the year.
---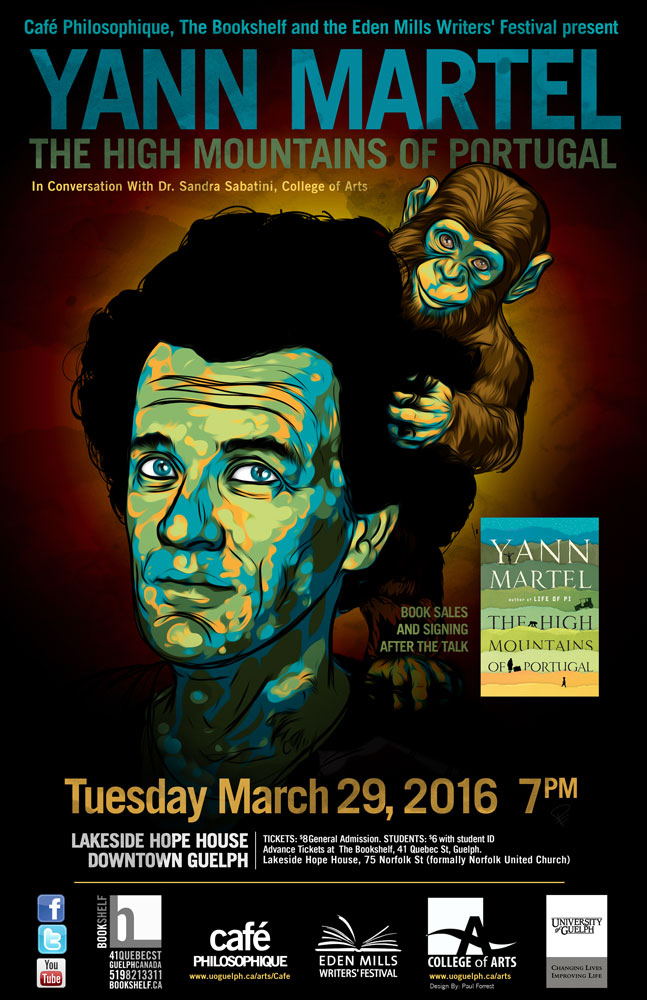 Café Philosophique, The Bookshelf and The Eden Mills Writers' Festival present
Yann Martel - THE HIGH MOUNTAINS OF PORTUGAL
In Conversation with Dr. Sandra Sabatini, College of Arts, University of Guelph
Tuesday, March 29, 2016 at 7:00pm
Lakeside Hope House, 75 Norfolk Street, Guelph
Tickets $8 general admission / $6 students, available in advance from The Bookshelf, 41 Quebec St., Guelph
The High Mountains of Portugal is a suspenseful, mesmerizing story of a great quest for meaning, told in three intersecting narratives touching the lives of three different people and their families, and taking us on an extraordinary journey through the last century. We begin in the early 1900s, when Tomás discovers an ancient journal and sets out from Lisbon in one of the very first motor cars in Portugal in search of the strange treasure the journal describes. Thirty-five years later, a pathologist devoted to the novels of Agatha Christie, whose wife has possibly been murdered, finds himself drawn into the consequences of Tomás's quest. Fifty years later, Senator Peter Tovy of Ottawa, grieving the death of his own beloved wife, rescues a chimpanzee from an Oklahoma research facility and takes it to live with him in his ancestral village in northern Portugal, where the strands of all three stories miraculously mesh together.
Beautiful, witty and engaging, Yann Martel's new novel offers us the same tender exploration of the impact and significance of great love and great loss, belief and unbelief, that has marked all his brilliant, unexpected novels.
YANN MARTEL is the author of Life of Pi, the #1 international bestseller published in 58 territories that has sold more than 13 million copies worldwide, won the 2002 Man Booker (among many other prizes), spent more than a year on Canadian and international bestseller lists, and was adapted to the screen in an Oscar-winning film by Ang Lee. It was selected for Esquire's list of top ten books and the Toronto Star's ten most important books of the decade. He is also the award-winning author of The Facts Behind the Helsinki Roccamatios (which won the Journey Prize), Self, Beatrice & Virgil, and a book of recommended reading: 101 Letters to a Prime Minister. Born in Spain in 1963, he studied philosophy at Trent University, worked at odd jobs--tree planter, dishwasher, security guard--and travelled widely before turning to writing. He lives in Saskatoon with the writer Alice Kuipers and their four children.
Guelph native, Sandra Sabatini, is the author of two collections of short stories, The One with the News and The Dolphins at Sainte-Marie, one scholarly book, Making Babies: Infants in Canadian Literature, and a novel set in World War II Italy and North Africa, Dante's War. She lives in Guelph and works for the College of Arts at the University of Guelph.
---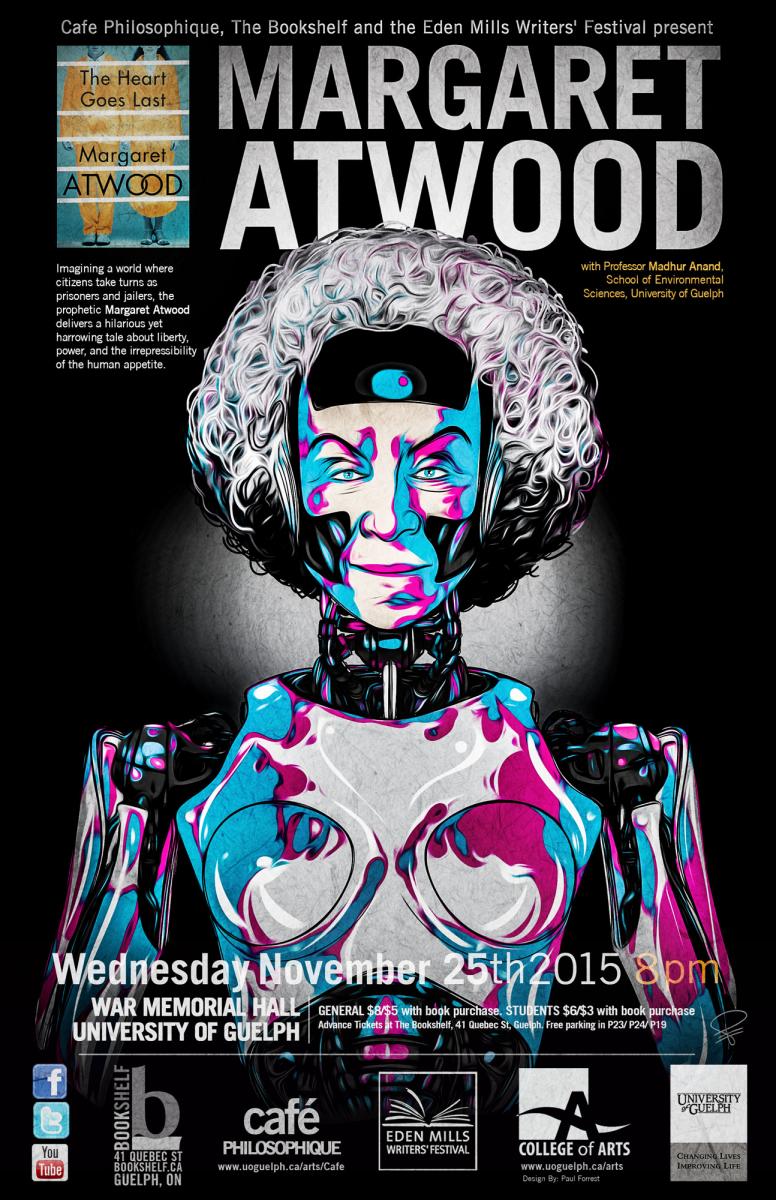 Café Philosophique, The Bookshelf and The Eden Mills Writers' Festival present
Margaret Atwood - THE HEART GOES LAST
Wednesday, November 25, 2015 at 8:00pm
War Memorial Hall, University of Guelph, Guelph
Several years after the world's brutal economic collapse, Stan and Charmaine, a married couple struggling to stay afloat, hear about the Positron Project in the town of Consilience, an experiment in cooperative living that appears to be the answer to their problems - to living in their car, to the lousy jobs, to the vandalism and the gangs, to their piled-up debt. There's just one drawback: once inside Consilience, you don't get out. After weighing their limited options, Stan and Charmaine sign up, and soon they find themselves involved in the town's strategy for economic stability: a pervasive prison system, whereby each citizen lives a double life, as a prisoner one month, and a guard or town functionary the next. At first, Stan and Charmaine enjoy their newfound prosperity. But when Charmaine becomes romantically involved with the man who shares her civilian house, her actions set off an unexpected chain of events that leave Stan running for his life. Brilliant, dark, and provocative, The Heart Goes Last is a compelling futuristic vision that will drive readers to the edge of their seats. 
"Atwood's prose miraculously balances humor, outrage and beauty. A simple description becomes both chilling and sublime."
New York Times Book Review
MARGARET ATWOOD, whose work has been published in thirty-five countries, is the author of more than forty books of fiction, poetry, and critical essays. In addition to The Handmaid's Tale, her novels include Cat's Eye, short-listed for the 1989 Booker Prize; Alias Grace, which won the Giller Prize in Canada and the Premio Mondello in Italy; The Blind Assassin, winner of the 2000 Booker Prize; Oryx and Crake, short-listed for the 2003 Man Booker Prize; The Year of the Flood; and her most recent, MaddAddam. She is the recipient of the Los Angeles Times Innovator's Award, and lives in Toronto with the writer Graeme Gibson.
Tickets available in advance at The Bookshelf or at the door.
General admission $8/$5 with book purchase, Students $6/$3 with book purchase.
AUDIO from the talk CLICK HERE
---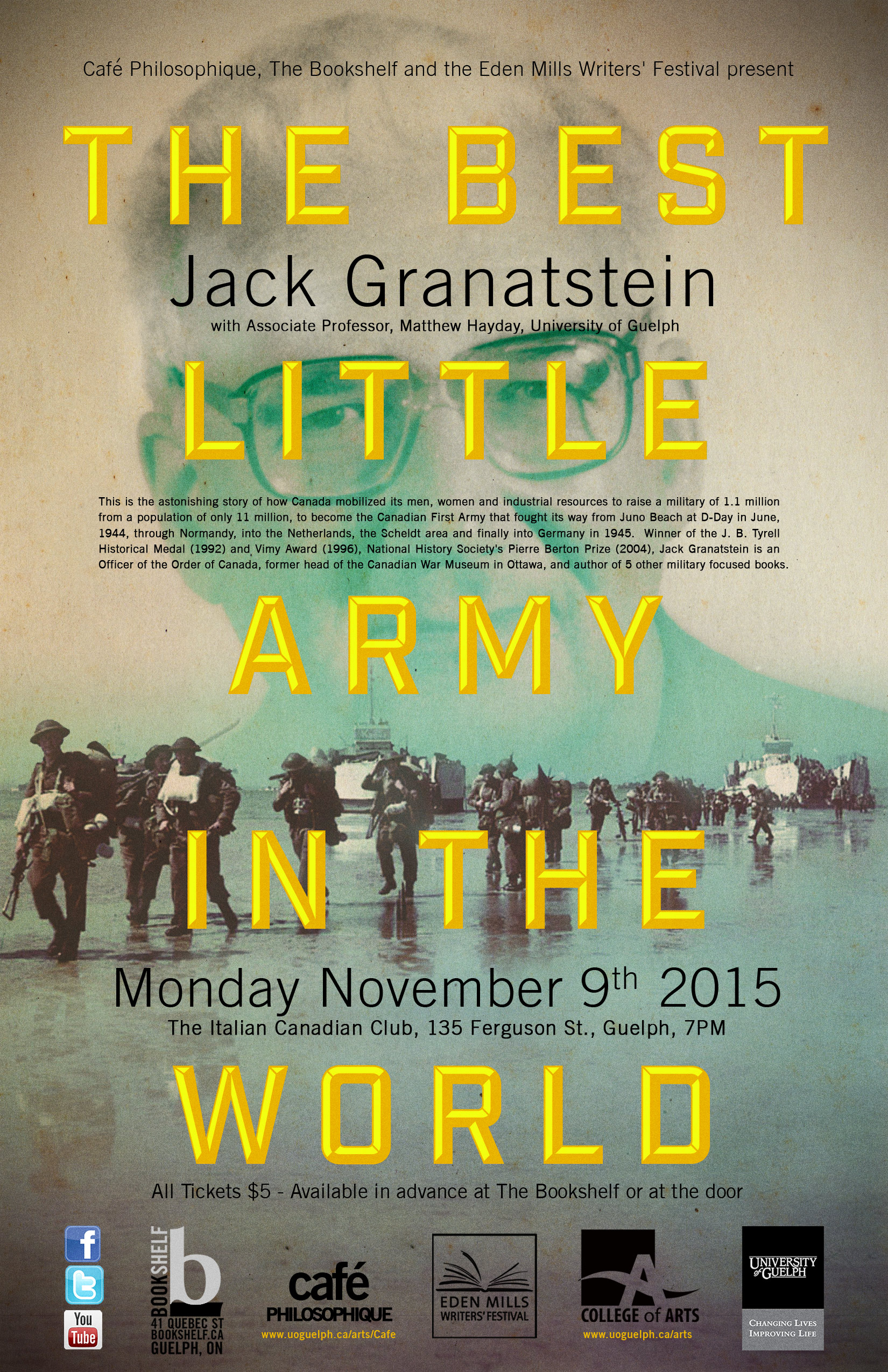 Café Philosophique and The Bookshelf  present
Jack Granatstein - THE BEST LITTLE ARMY IN THE WORLD
Monday, November 9, 2015 at 7:00pm
Italian Canadian Club, 135 Ferguson Street, Guelph
General admission $5.  Available in advance at The Bookshelf or at the door.
THE BEST LITTLE ARMY IN THE WORLD by esteemed historian Jack Granatstein is the astonishing story of how Canada mobilized its men, women and industrial resources during WWII to raise a military of 1.1 million from a population of only 11 million to fight its way from Juno Beach at D-Day in June, 1944, through Normandy, into the Netherlands to liberate that country, to the terrible battles in the Scheldt area, and finally into Germany in 1945. The army trained and learned on the job, and though the losses in killed and wounded were high, they were less than in the Great War.
This is also the story of how Canada, which had no army to speak of in 1939, raised a citizen army and turned it into one of the very best fighting armies in World War II, one which helped defeat the most implacable, desperate and battle-hardened German army over the course of 11 months in '44 and '45. Canada has always produced astonishingly effective soldiers, and this book is about one of their finest moments.
JACK GRANATSTEIN served in the Canadian Army then taught Canadian history for thirty years. He is an Officer in the Order of Canada, is a Fellow of the Canadian Defence and Foreign Affairs Institute, was Director and CEO of the Canadian War Museum, and writes on Canadian military history, foreign and defence policy, and public policy. Among his many publications are Broken Promises: A History of Conscription in Canada, Canada 1957–67, Canada's War, The Generals, Canada's Army, Who Killed Canadian History?, The Oxford Companion to Canadian Military History and The Greatest Victory: Canada's Hundred Days, 1918.
---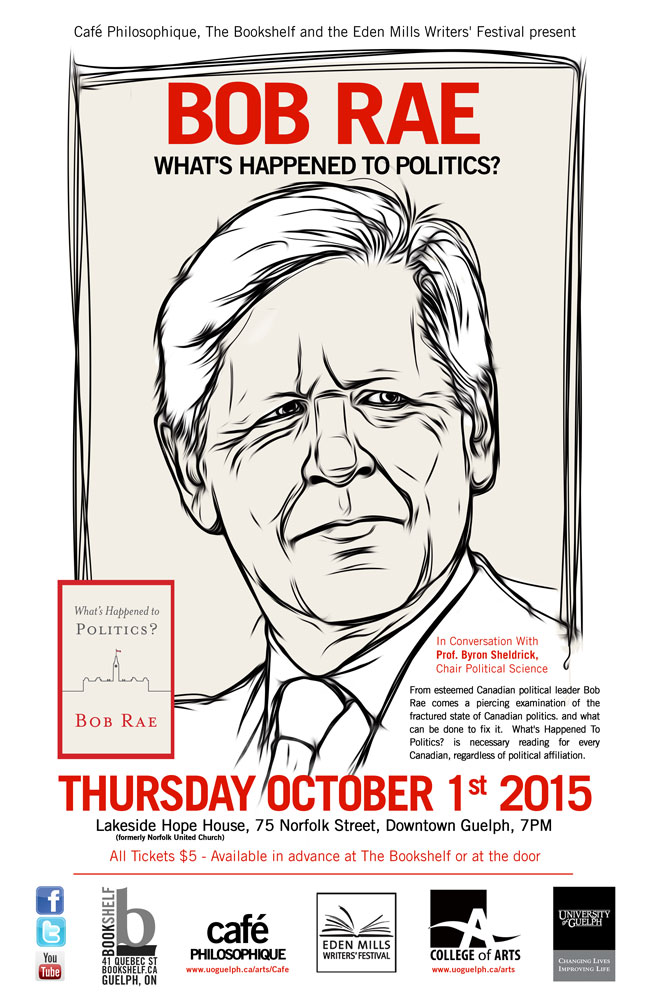 Café Philosophique, The Bookshelf and The Eden Mills Writers' Festival present
BOB RAE - WHAT'S HAPPENED TO POLITICS?
Thursday, October 1st, 2015 at 7:00pm
Lakeside Hope House, 75 Norfolk Street, Downtown Guelph
General Admission: $5
Tickets can be purchased in advance at The Bookshelf or at the door if available.
From esteemed Canadian political leader Bob Rae comes a piercing examination of the fractured state of Canadian politics and what can be done to fix it.
Segmented electorates. Endless repetition of sound bites and vanity videos with little substance. Billions of dollars spent on lobbying. It's clear that Canadian politics is in a bad state. Through increasingly low voter turnouts and a general lack of engagement in the political process, Canadians have shown that they are dissatisfied and fed up with present-day politics.
In What's Happened To Politics?, Canadians finally get a definitive account of the problems plaguing their national politics.  Touching on everything from polling to issues of social justice to the way in which political parties package their candidates, Rae identifies the shortcomings of the current Canadian political framework and what we, as citizens, can do to remedy that.  With remarkable insight and startling accuracy, Rae speaks of the voice of reason as he imagines a political forum where citizens are inspired to participate instead of feeling disenfranchised. Filled with real-world examples and told from the point of view of an experienced statesman, What's Happened To Politics? is necessary reading for every Canadian, regardless of their political affiliation.  Erudite, engaged, and keenly attuned to the frustrations expressed by Canadians across the political spectrum, Rae shows why he is a leading voice on Canadian politics.
---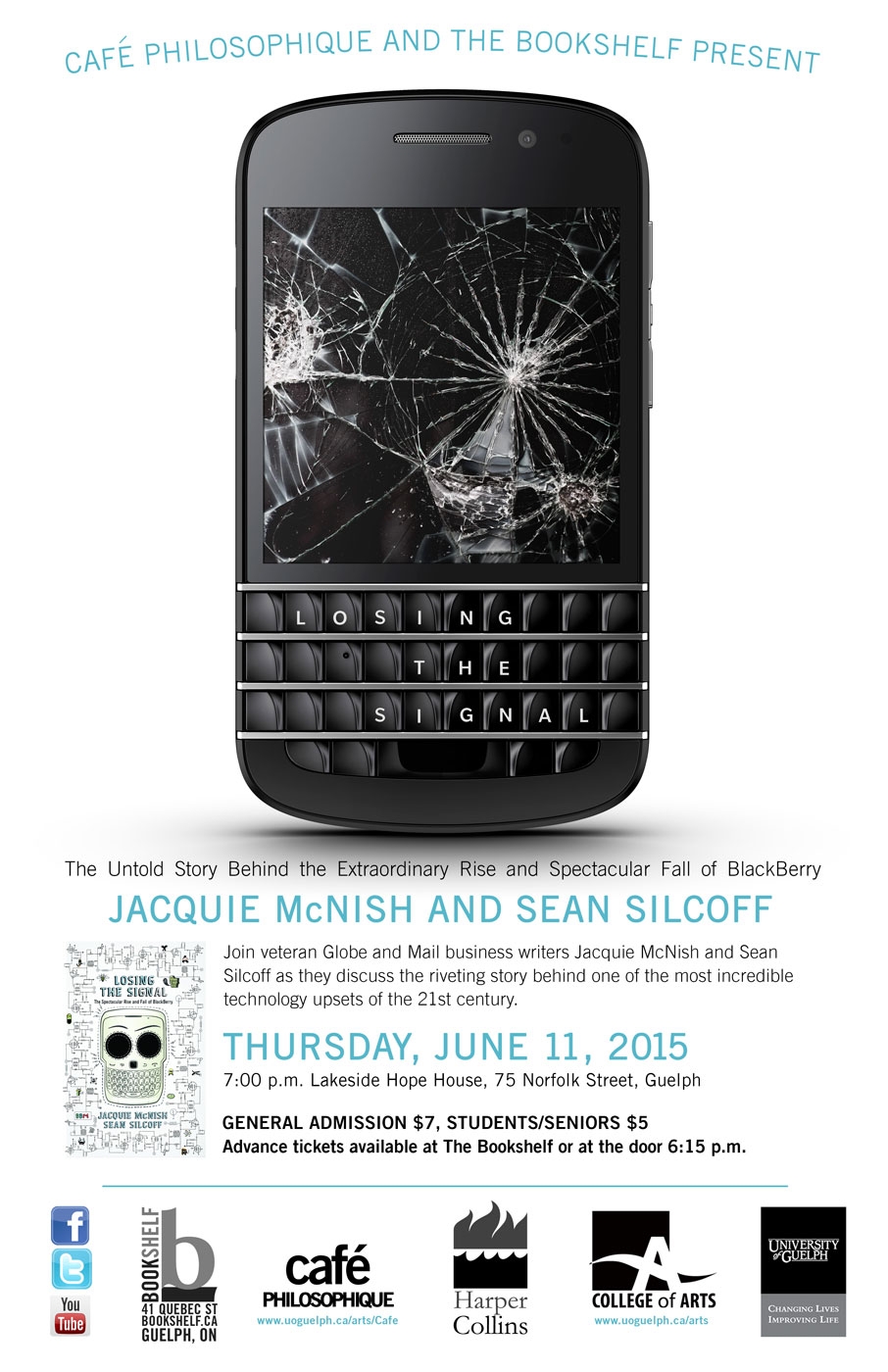 Past Talks in the Cafe Philosophique Series
Jacquie McNish & Sean Silcoff - Losing the Signal:
The Spectacular Rise and Fall of Blackberry
Thursday, June 11th, 2015 at 7:00pm
LOCATION CHANGE: The Bookshelf, 41 Quebec Street, Downtown Guelph
General Admission: $7, Students: $5.
Tickets can be purchased in advance at The Bookshelf or at the door if available.
Losing the Signal is a riveting, never-before-told story of one of the most spectacular technological upsets of the 21st century.   Blackberry's rise and fall is a modern-day tale of the unrelenting speed of success and failure in today's global business market. 
Jacquie McNish is a senior writer with The Globe and Mail and previously The Wall Street Journal.  She has won six National Newspaper Awards for her groundbreaking investigations into some of the biggest business stories of the past three decades. She is a regular host on Canadian business news station BNN and an adjunct professor at Osgoode Hall Law School. She has authored three bestselling books: The Big Score: Robert Friedland; Inco and the Voisey's Bay Hustle; Wrong Way: The Fall of Conrad Black (winner of the 2005 National Business Book Award); and The Third Rail: Confronting our Pension Failures, which she co-authored with Jim Leech.  In his 2005 New York Times review of Wrong Way, author Bryan Burrough praised her as "long one of Canada's best business writers." She lives in Toronto with her husband and two sons.
Sean Silcoff is an award-winning business writer with The Globe and Mail.  During his seventeen-year career, he has covered just about every area of business, from agriculture to the credit crisis; toys to airplane manufacturing. He led the paper's coverage of the rise and fall of Blackberry and many of the other major business stories of the decade, including the takeover battle for telecom giant BCE Inc.; the contentious merger between brewers Molson and Coors; and the near-death struggles of plane and train manufacturer Bombardier Inc. He has won a National Newspaper Award, an Aerospace Journalist of the Year Award and the Edward Goff Penny Memorial Prize for Young Canadian Journalists.  He lives in the Gatineau Hills near Ottawa with his wife and three children.
---

Michael Harris - The End of Absence
With Susan Brown, Professor, College of Arts
Wednesday, February 25th, 2015 at 7:00pm
Lakeside Hope House, 75 Norfolk Street, Downtown Guelph
General Admission: $7, Students: $5.
Tickets can be purchased in advance at The Bookshelf or at the door if available.
The END OF ABSENCE: Reclaiming What We've Lost In A World Of Constant Connection.  Only one generation in history (ours) will experience life both with and without the Internet.  For everyone who follows, online life will simply be the air they breathe.  Today, we revel in ubiquitous information and constant connection, rarely stopping to consider the implications for our logged-on lives.
In The End of Absence, Michael Harris chronicles this massive shift, exploring what we've gained - and lost - in the bargain.  In this eloquent and thought-provoking book, Harris argues that our greatest loss has been that of absence itself - of silence, wonder and solitude. It's a surprisingly previous commodity, and one that we have less of every year.
Drawing on a vast trove of research and scores of interviews with global experts, Harris explores this "loss of lack" in chapters devoted to every corner of our lives, from sex, cyberbullying and commerce to memory and attention span.  This book's message is urgent: once we've lost the gift of absence, we may never remember it's value.
Michael Harris is a contributing editor at Western Living and Vancouver magazine.  His award-winning writing appears regularly in magazines such as The Walrus and Frieze and has been featured in several books.  He lives in Toronto.
---

Ann-Marie MacDonald - ADULT ONSET Book Tour
With Ann Wilson, Associate Dean Academic, College of Arts
Wednesday, November 5th, 2014 at 7:00pm
Lakeside Hope House, 75 Norfolk Street, Downtown Guelph
General Admission: $8, Students: $5.
Tickets can be purchased in advance at The Bookshelf or at the door if available.
ADULT ONSET is a powerful drama about motherhood, the dark undercurrents that break and hold families together, and the power and pressures of love. 
Ann-Marie MacDonald is an author, actor, playwright and broadcaster.  She trained as an actor at the National Theatre School of Canada and has appeared in numerous independent Canadian films. She earned a Genie nomination for her role in I've Heard the Mermaids Singing, and won a Gemini Award for Where the Spirit Lives. She has performed in theatres across Canada, recently appearing in the Mirvish Production of Top Girls.
Her first solo-authored play, Goodnight Desdemona (Good Morning Juliet) won the Chalmers Award, the Governor General's Award, and the Canadian Authors' Association Award. Her other works for the stage include the libretto for the chamber opera Nigredo Hotel, book and lyrics for the musical Anything that Moves (which garnered several Dora Awards, including Outstanding New Musical), and Belle Moral: A Natural History.
Ann-Marie's first novel, Fall on Your Knees (1996), was a critically acclaimed international bestseller.  It won the Commonwealth Prize, was short-listed for the Giller Prize, and won the People's Choice Award and the Canadian Booksellers Association Libris Award for Fiction Book of the Year. In 2002 it became an Oprah's Book Club selection. It has been translated into 19 languages. Her second novel, The Way the Crow Flies (2003), was an international bestseller, a finalist for the Giller Prize, and a Good Morning America Book Club pick. It has been translated into 13 languages.
Her much anticipated new novel, ADULT ONSET, will be published on October 4, 2014.
Ann-Marie is presently host and narrator of CBC's Doc Zone. She lives in Toronto with her partner and their two children.
---

Margaret Atwood - MADDADDAM Book Tour
With Catherine Bush, Coordinator Creative Writing MFA
Wednesday, November 27th, 2013 at 8:00pm
War Memorial Hall, University of Guelph
General Admission: $10, Students: $8.
Tickets can be purchased in advance at The Bookshelf or at the door if available.
Combining adventure, humour, romance, superb storytelling, and an imagination that is at once dazzingly inventive and grounded in a recognizable world, MaddAddam is vintage Margaret Atwood, and a moving and dramatic conclusion to her internationally celebrated dystopian trilogy.
Margaret Atwood is the author of more than forty books - novels, short stories, poetry, literary criticism, social history, and books for children.  Atwood's work is acclaimed internationally and has been published around the world.  Her novels include The Handmaid's Tale and Cat's Eye -- both shortlisted for the Booker Prize; The Robber Bride, winner of the Trillium Book Award and a finalist for the Governor General's Award; Alias Grace, winner of the prestigious Giller Prize in Canada and the Premio Mondello in Italy, and a finalist for the Governor General's Award, the Booker Prize, the Orange Prize, and the International IMPAC Dublin LIterary Award; The Blind Assassin, winner of the Booker Prize and a finalist for the International IMPAC Dublin Literary Award; and Oryx and Crake, a finalist for The Giller Prize, the Governor General's Award, the Orange Prize, and the Man Booker Prize.  Her most recent books of fiction are Moral Disorder, Oryx and Crake, and The Year of the Flood. Margaret Atwood lives in Toronto with novelist Graeme Gibson.
Catherine Bush is the author of four novels, Accusation, the Trillium-Award-shortlisted Claire's Head, The Rules of Engagement, a New York Times Notable Book, and Minus Time.  She is Coordinator of the University of Guelph's Creative Writing MFA.
---

2013 Massey Lecturer Lawrence Hill - Blood - The Stuff Of Life
With Dionne Brand, University Research Chair
Tuesday, October 29th, 2013 at 7:00pm
Lakeside Hope House, 75 Norfolk Street, Downtown Guelph (formerly Norfolk United Church)
General Admission: $10, Students: $8.
Tickets can be purchased in advance at The Bookshelf or at the door if available.
Lawrence Hill is the author of nine books, including The Book of Negroes, winner of various awards including The Commonwealth Writers' Prize and Canada Reads. He will deliver the 2013 Massey Lectures, based on his new non-fiction book Blood: The Stuff of Life, is finishing a new novel and has co-written the adaptation for a television miniseries of The Book of Negroes , which is slated to air in 2015 on CBC in Canada and on BET in the USA. He volunteers with Crossroads International and Book Clubs for Inmates, and lives in Hamilton, Ontario, Canada. 
---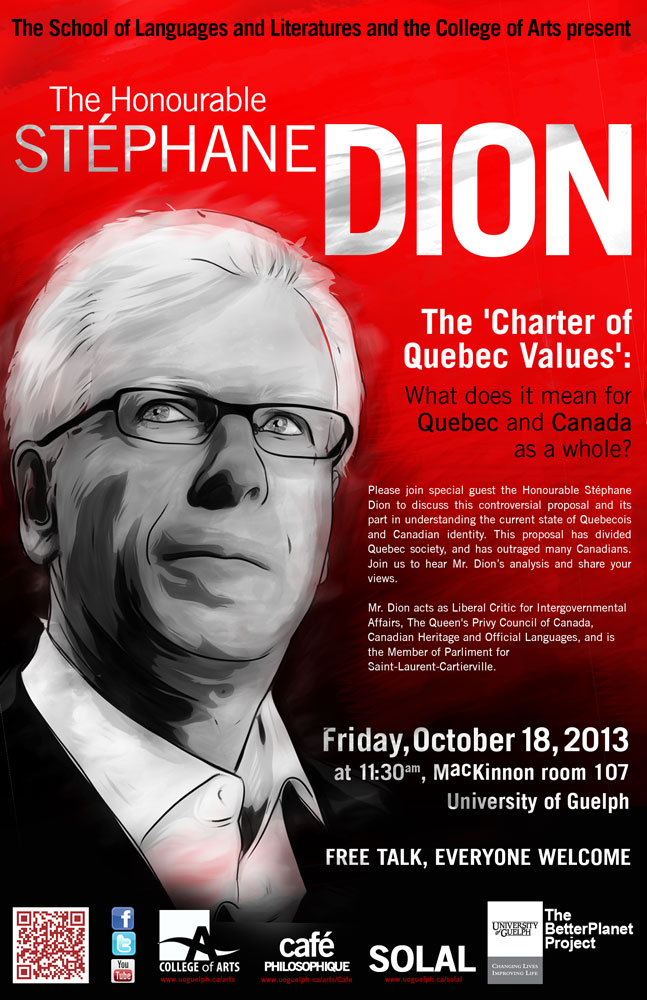 Café Philosophique Special Lecture
sponsored by the School of Languages & Literatures and the College of Arts
STÉPHANE DION - The 'Charter of Quebec Values': What does it mean for Quebec and Canada as a whole?
Friday, October 18, 2013 at 11:30am
MacKinnon room 107, University of Guelph
Free talk - everyone welcome
Please join special guest the Honourable Stéphane Dion to discuss this controversial proposal and its part in understanding the current state of Quebecois and Canadian identity. In keeping with international law and the Universal Declaration of Human Rights, the Canadian Charter of Rights and Freedoms and the Quebec Charter of Human Rights and Freedoms have been affirming and protecting the right to freedom of conscience and religion - a main element sustaining our multicultural nation.
Quebec's proposed 'Charter of Values' claims to defend the secular nature of the province by prohibiting, among other things, Quebec public sector employees from wearing religious symbols in the workplace. This proposal has divided Quebec society, and has outraged many Canadians. Join us to hear Mr. Dion's analysis and share your views.
Stéphane Dion was Minister of Intergovernmental Affairs between 1996 and 2003, longer than any other Canadian since Confederation.  In that capacity, he was instrumental in bringing countless federal-provincial negotiations to fruition and played a major role in the promotion of Canadian unity.  As Minister also responsible for Official Languages, he crafted a renewal plan that was very well received in the community.
As Minister of the Environment from 2004 to 2005, he secured one of the greenest budgets in the history of Canada and contributed to the rescue of the Kyoto Protocol while chairing the UN Conference on Climate Change, held in Montreal in 2005.
In 2006, having been elected as Leader of the Liberal Party of Canada and having become Leader of the Official Opposition in the House of Commons, he proposed a visionary plan to make Canada richer, fairer and greener.  Following the 2008 election, he retained his seat as Member of Parliament for Saint-Laurent-Cartierville, a seat he has won seven times in a row since 1996.
At the present time, Mr. Dion acts as Liberal Critic for Intergovernmental Affairs, the Queen's Privy Council of Canada, Canadian Heritage and Official Languages.
---

2012 Massey Lecturer Neil Turok - The Universe Within: From Quantum to Cosmos
Monday, November 26th, 2012 at 7:00pm
Lakeside Hope House, 75 Norfolk Street, Downtown Guelph (formerly Norfolk United Church)
with host Don Bruce, Dean, College of Arts, University of Guelph
Every technology we rely on today was created by the human mind, seeking to understand the universe around us. Scientific knowledge is our most precious possession, and our future will be shaped by the breakthroughs to come.
In this personal, visionary, and fascinating work, Neil Turok, Director of the Perimeter Institute for Theoretical Physics, explores the transformative scientific discoveries of the past three centuries - from classical mechanics, to the nature of light, to the bizarre world of the quantum and the evolution of the cosmos. Each new discovery has, over time, yielded new technologies causing paradigm shifts in the organization of society. Now, he argues, we are on the cusp of another major transformation: the coming quantum revolution that will supplant our current digital age. Facing this brave new world, Turok calls for creatively re-inventing the way advanced knowledge is developed and shared, and opening access to the vast, untapped pools of intellectual talent in the developing world.
Elegantly written, deeply provocative and highly inspirational, The Universe Within is, above all, about the future -  of science, society and ourselves.
Advance tickets available from The Bookshelf or at the door - $8 General Admission - $6 Student
---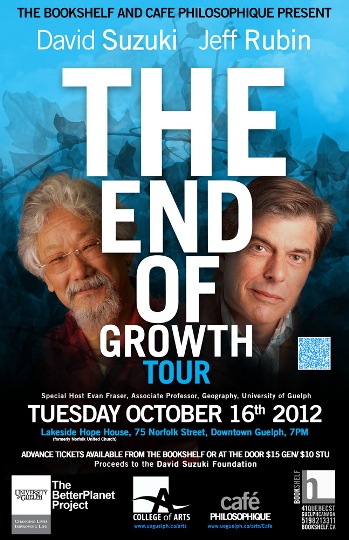 David Suzuki and Jeff Rubin - The End of Growth Tour
Tuesday, October 16th, 2012 at 7:00pm
Lakeside Hope House, 75 Norfolk Street, Downtown Guelph (formerly Norfolk United Church)
with host Evan Fraser, Associate Professor, Geography, University of Guelph
Jeff Rubin approaches climate change and a sustainable future from an economic viewpoint, while David Suzuki comes at it from an ecological standpoint. After meeting this year in Vancouver, they realized their common goals and The End of Growth tour was created.
"The challenge with climate change is not how can we afford to reduce emissions, but how can we construct an economy that lives within the confines of nature's boundaries," said Dr. Suzuki. "The only thing we can change is what we create ourselves and the only thing we can manage is our own species. I'm looking forward to exploring these issues with Jeff Rubin, one of Canada's most respected economic thinkers."
"I am thrilled to be going on tour with David Suzuki, an icon to Canadians over the last four decades," said Mr. Rubin. "This tour is a great opportunity to share my message to a whole new audience, at a time when it has never seemed more urgent to recognize the limits to growth and what sustainability really means for our economy. Sustainability isn't just an abstract notion. It is the governing idea behind the kind of economy we need to foster."
Advance tickets available at The Bookshelf or at the door before the event - $15 general admission, $10 students. Proceeds to the David Suzuki Foundation.
---
Tuesday, November 15, 2011 at 7:00 - Norfolk United Church, 75 Norfolk Street, Guelph
Anita Rau Badami - Tell it to the Trees
Wayne Johnston - A World Elsewhere
Ami McKay - The Virgin Cure
Three of Canada's most exciting fiction writers' present their latest books. Tickets are $6 available at the door or in advance at The Bookshelf.
---
Tuesday, October 25, 2011 at 7:00 - Norfolk United Church, 75 Norfolk Street, Guelph
Adam Gopnik - Winter, Five Windows on the Season
The CBC Massey Lectures celebrates fifty years with bestselling author, essayist, cultural observer, and famed New Yorker contributor, Adam Gopnik.  Gopnik will read from his book about winter, the season, the space, the cycle. A stunningly beautiful meditation buoyed by Gopnik's trademark gentle wit, Winter is at once an enchanting homage to an idea of a season and a captivating journey through the modern imagination.  After the reading, Professor Stuart McCook, Associate Dean, College of Arts, University of Guelph, will join Adam Gopnik on stage for a discussion. Tickets are $6 available at the door or in advance at The Bookshelf.
---
Thursday, September 29, 2011 at 7:00 - Norfolk United Church, 75 Norfolk Street, Guelph
Irshad Manji - Allah, Liberty & Love - The Courage to Reconcile Faith and Freedom
National, bestselling author, Irshad Manji, will read from her current book. Irshad Manji is a professor of leadership at New York University. There, she directs the Moral Courage Project, teaching young leaders to speak truth to power within their communities for a greater good. She is author of the No. 1 Canadian bestseller, The Trouble with Islam Today: A Wake-up Call for Honesty and Change. After the reading, Professor Karen Houle, Philosophy, College of Arts, University of Guelph, will join Irshad Manji on stage for a discussion. Tickets are $6 available at the door or in advance at The Bookshelf.
---
November 2, 2010 at 7:30 - NV Lounge, Guelph
Stephen Henighan - Reading the Giller Prize, or Everything You Wanted to know About the Giller Prize but Were Afraid to Ask
Since it was founded as Canada's richest literary prize in 1994, the Giller Prize has entranced the media and stirred up many controversies.  Stephen Henighan, a combatant in various Giller polemics, offers a history of the Giller and its scandals.  This talk will give you all the information you need to enjoy Giller Night on November 9th, 2010.
---
January 18, 2011 at 7:30 pm NV Lounge, Guelph
Sofie Lachapelle - Amusing Science: French Children at Play 1830-1914
Around 1830, books of amusing science addressed to young readers began to appear. Over the next decades, a growing number of novels and series introduced children to the wonders of electricity, chemistry, photography, and geology while the new department stores sold toys inspired by scientific and technological innovations. This talk will explore some ways in which French children gained an understanding of science and technology through play and amusement from the 1830s to the Great War.
Sofie Lachapelle is an associate professor in the Department of History and the Bachelor of Art and Sciences at the University of Guelph. Her work deals with the history of popular and marginal sciences in 19th century France. Her book "Investigating the Supernatural" will come out in June 2011.
---
February 18, 2011 at 7:30 pm NV Lounge, Guelph
Dorothy Odartey-Wellington - Going International in the 21st Centuary: Alternative routes from the University of Ghana to the School of Languages and Literatures
The University of Guelph has a long-standing exchange agreement with the University of Ghana that dates back several years. While the two U of Gs have exchanged many students over the years, the Arts programs, and the languages departments in particular, have remained on the margins of this international agreement. I examine the barriers to more inclusive collaboration with our partner, University of Ghana. Additionally, I review two pilot projects currently underway at the School of Languages and Literatures aimed at strengthening our intercultural exchanges and our role in engaged internationalization.
Dorothy Odartey-Wellington is an associate professor in the School of Languages and Literatures where she teaches courses in Spanish literature, culture and language. Her research interests straddle Africa and Europe, with a focus on the literature of Equatorial Guinea and contemporary Spanish fiction. 
---
March 15, 2011 - 7:30 pm - NV Lounge, Guelph
Monique Deveaux - Backlash against multiculturalism: the Quebec Niqab affair
 Nearly a year ago, legislation was introduced in Quebec (Bill 94) which would ban the "niqab" - the face-veil worn by some Muslim women - from certain public places. The controversy that has ensued raises questions about the scope of religious accommodation in multicultural democracies like Canada, especially when conficts with other rights seem to arise. This talk explores the broader backdrop against which the Quebec proposal emerged, and considers whether it is advisable to restrict the niqab through legislative means.
Monique Deveaux is Professor and Canada Research Chair in Ethics and Global Social Change in the Philosophy Department at Guelph. She is author of two books on issues related to cultural and religious accommodation: 'Gender and Justice in Multicultural Liberal States' (2006) and 'Cultural Pluralism and the Limits of Justice' (2000).