Eden Mills Writers' Festival 2013
College of Arts and the College of Biological Science with
2013 Eden Mills Writers' Festival present
Food For Thought
with Michael Pollan and Sarah Elton
Hosted by Dr. Evan Fraser, Associate Professor, University of Guelph and Canada Research Chair in Global Human Security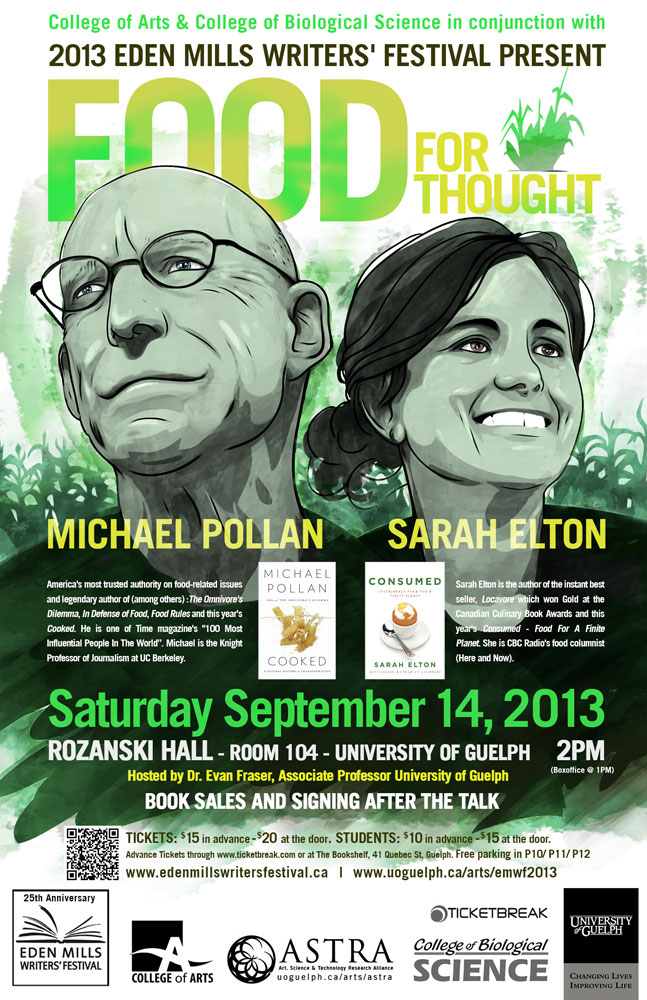 Saturday September 14, 2013 at 2 p.m.
Rozanski Hall room 104, University of Guelph
SOLD OUT!

  Advance General Admission: $15/ticket; Students: $10/ticket
Tickets available in advance at www.ticketbreak.com or The Bookshelf, 41 Quebec Street, Guelph
At the Door General Admission: $20/ticket; Students: $15/ticket
Box Office opens at 1pm, Rozanski Hall, University of Guelph
 
For the past twenty years, Michael Pollan has been writing books and articles about the places where the human and natural worlds intersect: food, agriculture, gardens, drugs, and architecture.  He is author of the bestsellers In Defense of Food: An Eater's Manifesto and The Omnivore's Dilemma: A Natural History of Four Meals, which was named one of the ten best books of 2006 by the New York Times and the Washington Post.  It also won the California Book Award, the James Beard Award for food writing, and was a finallist for the National Book Critics Circle Award.  Pollan's previous book, The Botany of Desire: A Plant's-Eye View of the World, was also a New York Times bestseller, received the Boarders Original Voices Award for best non-fiction work of 2001, and was recognized as a best book of the year by the American Booksellers Association and Amazon.com.  PBS premiered a two-hour special documentary based on The Botany of Desire in fall 2009.  His most recent book is Food Rules: An Eater's Manual, which was an immediate #1 New York Times bestseller upon publication; an expanded, illustrated edition of Food Rules was published in November 2011.  His new book is Cooked: A Natural History of Transformation, released in April 2013.  
In 2003, Pollan was appointed the John S. and James L. Knight Professor of Journalism at UC Berkeley's Graduate School of Journalism, and the director of the Knight Program in Science and Environmental Journalism.  
Sarah Elton is a national bestselling author, journalist and frequent speaker.  Her new book, Consumed: Food for a Finite Planet made the national bestseller list in its first week.  Consumed has been described by internationally renoun food writer Naomi Duguid as "A must-have for anyone interested in food."  Sarah's first book Locavore: From Farmers' Fields to Rooftop Gardens, How Canadians Are Changing the Way We Eat is a national bestseller and won Gold at the Canadian Culinary Book Awards.  It was also named one of Amazon.ca's top 50 books of 2010 and is a David Suzuki Foundation Book Club pick.
She has written for publications such as Maclean's Magazine, The Globe and Mail, The New York Times, and TheAtlantic.com. Sarah is the food columnist for CBC Radio One's Here and Now.  Sarah speaks regularly at conferences, universities, colleges, libraries and at all sorts of public events.  Past highlights include a TEDX talk at the University of Guelph and a debate along side Mark Bittman of The New York Times at the Conference Board of Canada Food Summit.  She sits on the board of directors of PEN Canada.
Books by both authors will be available for sale in the Rozanski Hall concourse prior to and immediately after the talk.  A book signing by Michael Pollan and Sarah Elton will follow the talk as well.
The talk structure includes: 10-15 minutes of prepared remarks by Michael Pollan and Sarah Elton; 45 minutes of moderated discussion on ways to feed 9 billion people sustainably, and the role of technology, the importance of cooking, the role of corporations.  A 15 minute audience Q & A session will follow.  The book signing will occur after the talk in the Rozanski concourse area.