Eden Mills Writers' Festival 2015
College of Arts & College of Biological Science in conjunction with
2015 Eden Mills Writers' Festival present
THIS CHANGES EVERYTHING: CAPITALISM VS. THE CLIMATE
WITH NAOMI KLEIN
Hosted by Barry Smit, Professor Emeritus, University of Guelph
Saturday, September 12, 2015 at 1:00 p.m.
War Memorial Hall, University of Guelph
General Admission $10 / Students $5 with ID
Advance tickets available via EMWFtixx.ca or at The Bookshelf, 41 Quebec Street, Guelph
YouTube Video: Capitalism vs. The Climate with Naomi Klein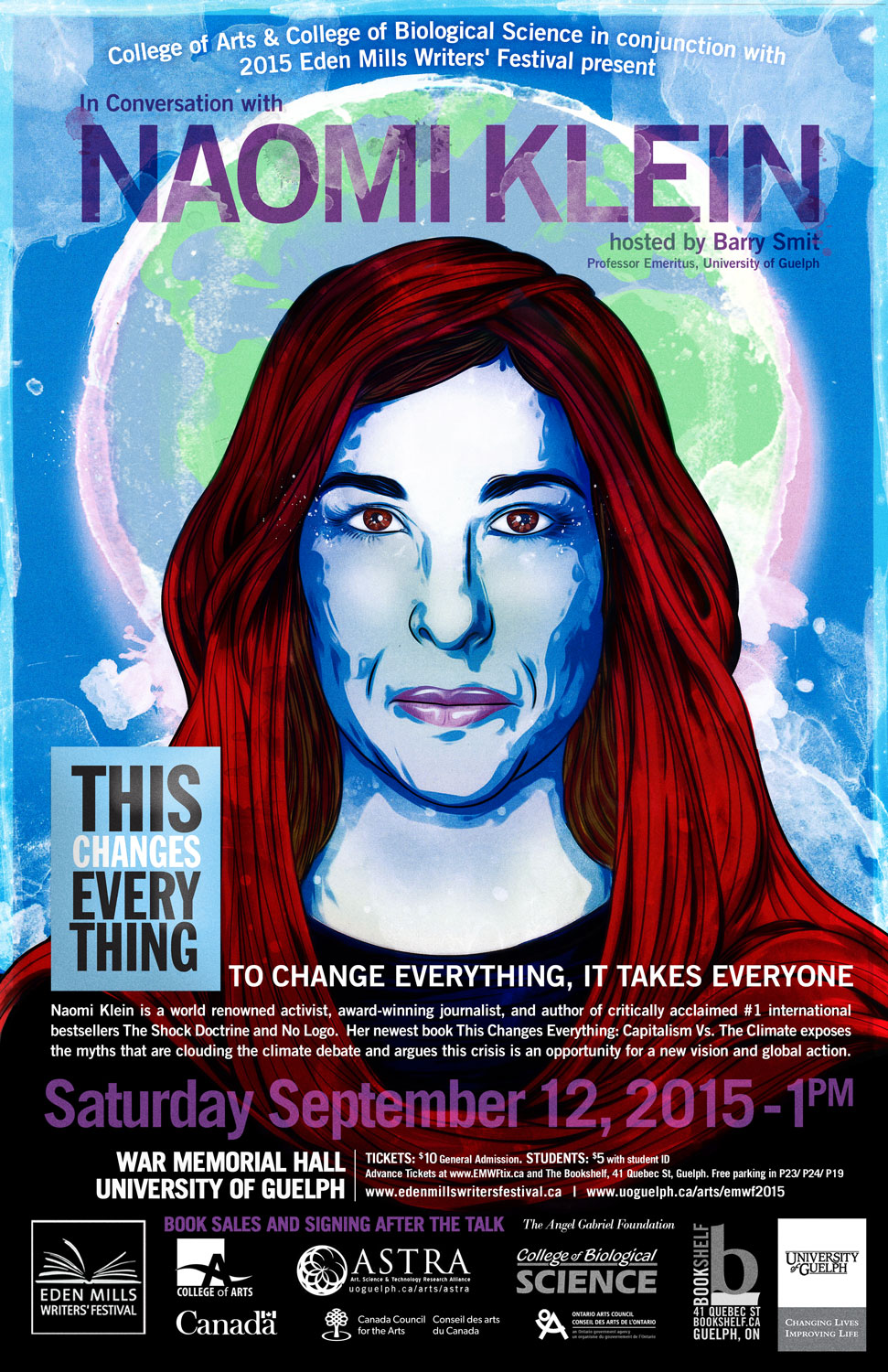 Forget everything you think you know about global warming. The really inconvenient truth is that it's not about carbon—it's about capitalism. The convenient truth is that we can seize this existential crisis to transform our failed economic system and build something radically better.  In This Changes Everything, Naomi Klein exposes the myths that are clouding the climate debate: We have been told the market will save us, when in fact the addiction to profit and growth is digging us in deeper every day. We have been told it's impossible to get off fossil fuels when in fact we know exactly how to do it—it just requires breaking every rule in the "free-market" playbook: reining in corporate power, rebuilding local economies, and reclaiming our democracies. And she builds the case for how massively reducing our greenhouse emissions is our best chance to reduce gaping inequalities. 
Klein exposes the ideological desperation of the climate-change deniers, the messianic delusions of the would-be geoengineers, and the tragic defeatism of too many mainstream green initiatives. She demonstrates precisely why leaving the crisis to the market has not—and cannot—fix the problem but will instead make things worse, by unleashing ever more extreme and ecologically damaging extraction methods, accompanied by rampant disaster capitalism.
Without a new vision and global action, the prevailing market doctrine will continue to funnel resources up to 'the 1%' and the crisis will become an excuse for increased curtailment of personal and communal freedoms worldwide, as well as increased conflict.
Instead, Klein argues, this crisis can be treated as an opportunity for progressive thinkers around the world to not only address climate change disruption but also to address decades of injustice.  She shows how time and again throughout history, ordinary people engaged in extraordinary times have used social and economic crises as a force for good and for transformative change: public health insurance, old age pensions, subsidized housing and public funding for the arts are examples of the progressive legacy of 20th century upheavals.
Whether we can pull off these changes in time is uncertain. Nothing is certain, except that climate change changes everything. And for a very brief time, the nature of that change is still up to us.
Naomi Klein is an award-winning journalist and the author of critically acclaimed #1 international bestsellers The Shock Doctrine: The Rise of Disaster Capitalism and No Logo: Taking Aim at the Brand Bullies, which The New York Times called "a movement bible."  No Logo won Canada's National Business Book Award, was named one of the 100 most important Canadian books ever published by The Literary Review of Canada, and was chosen as one of Time Magazine's Top 100 Non-Fiction books since 1923.  The Shock Doctrine was named Canadian Book of the Decade by Canadian Press and NOW magazine, and won the CBA Libris Award for Non-Fiction Book of the Year.  Klein is a contributing editor for Harper's Magazine, a reporter for Rolling Stone,  and a syndicated columnist for The Nation and The Guardian. She is a member of the board of directors of 350.org and a Puffin Foundation Writing Fellow at The National Institute.  Naomi's newest book This Changes Everything: Capitalism vs. The Climate won the Hilary Weston Writers' Trust Prize for Non-Fiction (2014), was shortlisted for the Shaughnessy Cohen Prize for Political Writing, longlisted for the National Business Book Award, and a finalist for the OLA Evergreen Award.  The Toronto Star calls it 'The most provocative, important and personal book yet from one of our "Most Influential Canadian".'
Event host Barry Smit is Professor Emeritus in Geography at the University of Guelph. His research and practice on climate change impacts and adaptation span more than 30 years.  He has authored over 100 scientific papers and 4 books.
His work has been influential in international negotiations on climate change, and has been applied in development initiatives in Asia, Africa, the Americas, the Pacific and the Arctic.  He has collaborated with major UN organizations and international development agencies, and has advised governments in countries as diverse as Norway, USA, Bangladesh, UK and Samoa.
In Canada he has counseled federal and provincial governments, the Senate, and business and community groups. He served on Ontario's Expert Panel on Climate Change Adaptation.
As a member of the Intergovernmental Panel on Climate Change (IPCC), he was a recipient of the Nobel Peace Prize 2007.  For service to Canadian society he was invested into the Order of Ontario, 2013, and received the Queen Elizabeth II Diamond Jubilee Medal.  In 2013 he was awarded the Social Science and Humanities Research Council of Canada Gold Medal, SSHRC's highest honour.
For more information about the Eden Mills Writers' Festival on Sunday, September 13th visit http://edenmillswritersfestival.ca