Eden Mills Writers' Festival 2016 Keynote
College of Arts and 2016 Eden Mills Writers' Festival present
Barbarian Lost: Travels in the New China
ALEXANDRE TRUDEAU
In Conversation with 2016 Man Booker Prize & Giller Prize Nominee Madeleine Thien
Hosted by Dr. Franco Vaccarino, President, University of Guelph
Saturday, September 17, 2016 at 1:00 p.m.
War Memorial Hall, University of Guelph
General Admission $10 / Students $5 with ID
Advance tickets available via EMWFtix.ca or at The Bookshelf, 41 Quebec Street, Guelph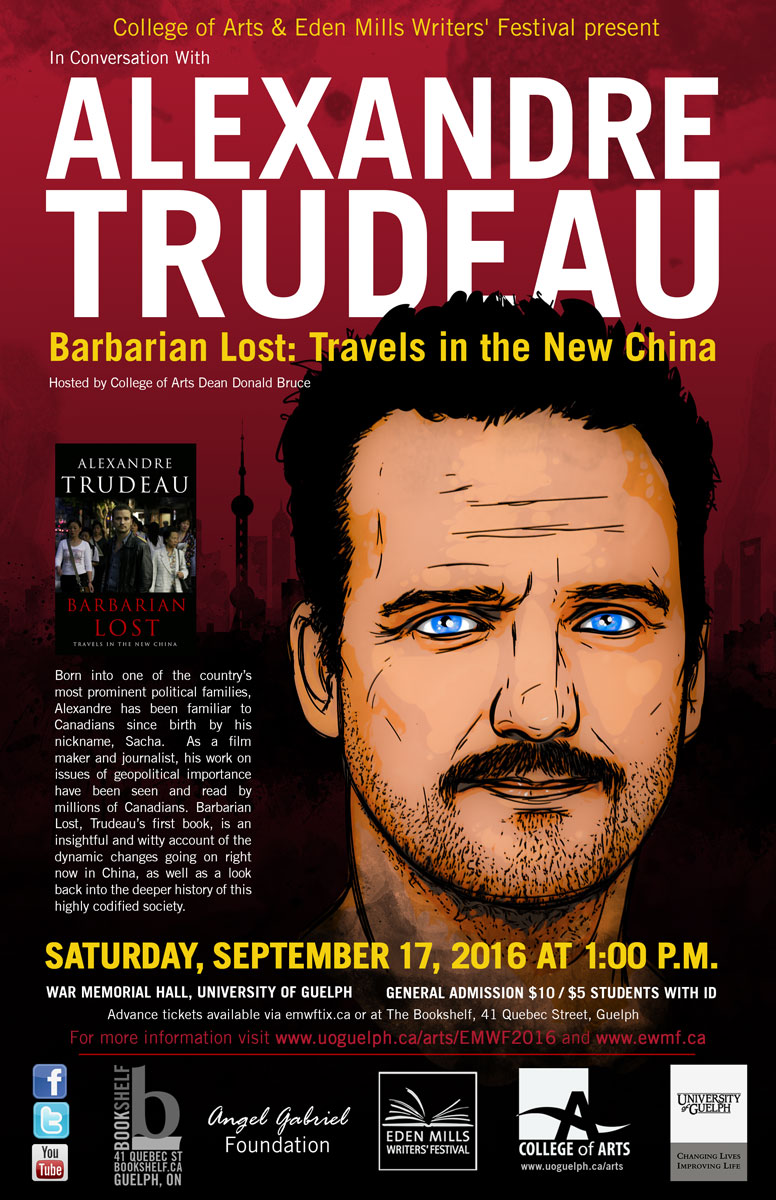 Alexandre Trudeau, son of the late Right Honourable Pierre Elliott Trudeau, has been familiar to Canadians since birth by his nickname Sacha. After graduating with a philosophy degree from McGill University in 1997, he founded JuJu Films.  As a documentary film maker and journalist, his work on issues of geopolitical importance have been seen and read by millions of Canadians.  His films reflect his views on important social, economic and political issues in Canada and abroad, including Embedded in Baghdad (on the daily life of Baghgadi citizens), Secure Freedom (on five terror suspects jailed without trial), Refuge, A Film About Darfur (on the humanitarian crisis), and, more recently, The New Great Game (on a new world order).  Barbarian Lost, Trudeau's first book, is an insightful and witty account of the dynamic changes going on right now in China, as well as a look back into the deeper history of this highly codified society.  Trudeau is based in Montreal.
Madeleine Thien is the author of the story collection Simple Recipes, which was a finalist for the Commonwealth Writers' Prize, a Kiriyama Pacific Prize Notable Book, and won the BC Book Prize for Fiction; the novel Certainty, which won the Amazon.ca First Novel Award; and the novel Dogs at the Perimeter, which was shortlisted for Berlin's 2014 International Literature Award and won the Frankfurt Book Fair's 2015 Liberaturpreis; Do Not Say We Have Nothing, nominated for a 2016 Man Booker Prize and 2016 Scotiabank Giller Prize. Her novels and stories have been translated into twenty-five languages, and her essays have appeared in Granta, The Guardian, the Financial Times, Five Dials, Brick and Al Jazeera. Her story "The Wedding Cake" was shortlisted for the prestigious 2015 Sunday Times EFG Short Story Award. The daughter of Malaysian-Chinese immigrants to Canada, she lives in Montreal.
Book sales and book signing by both authors will conclude the event.