Eden Mills Writers' Festival 2017 Keynote
College of Arts and 2017 Eden Mills Writers' Festival present
Winning the World We Need
IN CONVERSATION WITH NAOMI KLEIN
NO IS NOT ENOUGH: RESISTING THE NEW SHOCK POLITICS AND WINNING THE WORLD WE NEED
Hosted by College of Arts, University of Guelph
Saturday, September 9, 2017 at 1:00 p.m.
War Memorial Hall, University of Guelph
General Admission $10 / Students $5 with ID
Advance tickets available via emwftix.ca or at The Bookshelf, 41 Quebec Street, Guelph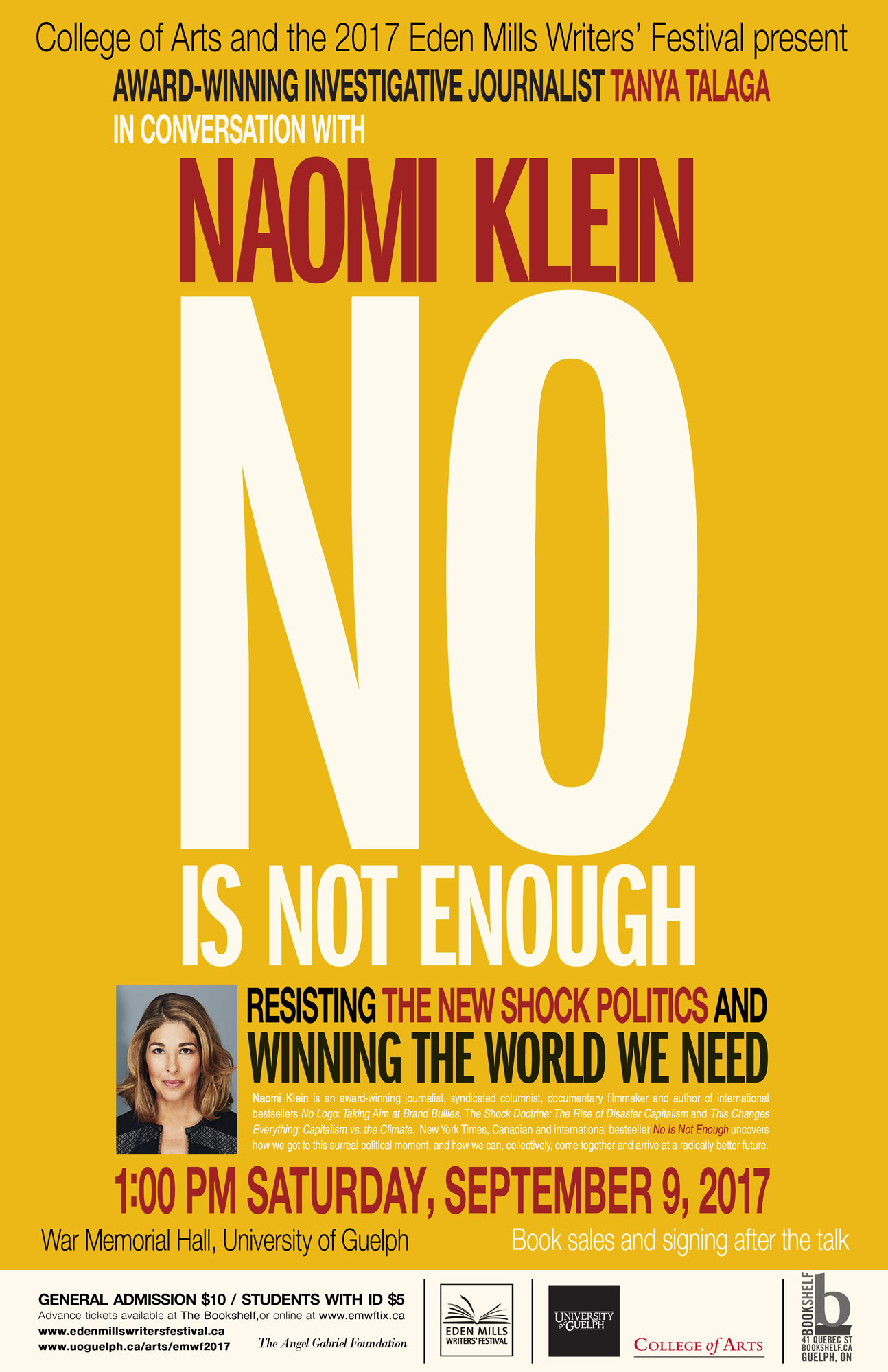 Donald Trump's ascent to the White House is a dangerous escalation in a world of cascading crises. His reckless agenda—including a corporate takeover of government, aggressive scapegoating and warmongering, and sweeping aside climate science to set off a fossil fuel frenzy—will generate waves of disasters and shocks to the economy, national security, and the environment.
Acclaimed journalist, activist, and bestselling author Naomi Klein has spent two decades studying political shocks, climate change, and "brand bullies." From this unique perspective, she argues that Trump is not an aberration but a logical extension of the worst, most dangerous trends of the past half-century—the very conditions that have unleashed a rising tide of white nationalism the world over. It is not enough, she tells us, to merely resist, to say "no." Our historical moment demands more: a credible and inspiring "yes," a roadmap to reclaiming the populist ground from those who would divide us—one that sets a bold course for winning the fair and caring world we want and need.
This timely, urgent book from one of our most influential thinkers offers a bracing positive shock of its own, helping us understand just how we got here, and how we can, collectively, come together and heal.
"Urgent, timely, and necessary."
—Noam Chomsky, Institute Professor (Emeritus), MIT
"If you're wondering how Naomi Klein has managed to produce an essential and gripping book so early in the Trump presidency, it's because she's spent her whole intellectual life preparing for just this moment. Trump is the ultimate logo. Every day we watch him try to exploit yet another shock to the system. So this is the book to read—not just the first word on Trump, but in powerful ways the last word as well."
—Bill McKibben, author, Radio Free Vermont
NAOMI KLEIN is an award-winning journalist, syndicated columnist, documentary filmmaker and author of the international bestsellers No Logo: Taking Aim at the Brand Bullies, The Shock Doctrine: The Rise of Disaster Capitalism and This Changes Everything: Capitalism vs. the Climate. She is a senior correspondent for The Intercept and her writing appears widely in such publications as The New York Times, Le Monde, The Guardian and The Nation, where she is a contributing editor. Klein is a member of the board of directors for climate-action group 350.org and one of the organizers behind Canada's Leap Manifesto. In November 2016 she was awarded Australia's prestigious Sydney Peace Prize for, according to the prize jury, "inspiring us to stand up locally, nationally and internationally to demand a new agenda for sharing the planet that respects human rights and equality." Her books have been translated into more than thirty languages.
Tanya Talaga has been a journalist at the Toronto Star for twenty years, covering everything from general city news to education, national health care, foreign news, and Indigenous affairs. She has been nominated five times for the Michener Award in public service journalism. In 2013, she was part of a team that won a National Newspaper Award for a year-long project on the Rana Plaza disaster in Bangladesh. In 2015, she was part of a team that won a National Newspaper Award for Gone, a series of stories on Missing and Murdered Indigenous Women and Girls. She is the 2017–2018 Atkinson Fellow in Public Policy. Talaga is of Polish and Indigenous descent. Her great-grandmother, Liz Gauthier, was a residential school survivor. Her great-grandfather, Russell Bowen, was an Ojibwe trapper and labourer. Her grandmother is a member of Fort William First Nation. Her mother was raised in Raith and Graham, Ontario. Talaga lives in Toronto with her two teenage children.