2011 Eden Mills Writers' Festival presents:

Thursday, September 15, 2011
7:30pm at the Science Complex Atrium, University of Guelph  (doors open at 6:30pm)
Tickets: $10 General Admission; $5 students - Free parking in lots P23/24 and P31
Tickets available at the door or advance tickets may be purchased at www.ticketpro.ca or The Bookshelf, 41 Quebec Street, Guelph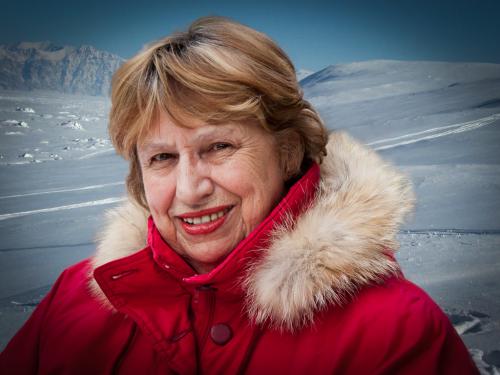 Shelagh Dawn Grant — historian, researcher, author, editor and now adjunct professor — taught history and Canadian Studies at Trent University for seventeen years. After undergraduate studies in nursing science at the University of Western Ontario and time out to raise a young family, she returned to university earning a Hons. BA in History and Canadian Studies in 1981 and a Masters Degree in History in 1983. With further archival research in London and Washington, she expanded her master's thesis into her first book, Sovereignty or Security? Government Policy in the Canadian North, 1939-1950 (UBC Press 1988).
Shelagh's love of the outdoors began as a young child, whose father insisted she learn to ski and paddle a canoe almost as soon as she could walk. In later years, this evolved into a passion for wilderness camping, whitewater canoeing and both downhill and cross-country skiing. Academic research drew her further and further north—to the Yukon, Northwest Territories and eventually Baffin Island and Greenland. A study group with the former Canadian Institute for International Affairs took her to remote Arctic locations such as the Svalbard Islands and in Greenland: Station Nord, Meistervig and the USAF Thule Air Base.
Her second book, the award-winning Arctic Justice: On Trial for Murder — Pond Inlet, 1923 (MQUP 2002), required yearly trips to Baffin Island for oral history interviews and follow-up discussions. Later she returned to Pond Inlet to supervise an Inuktitut translation of her manuscript on the history of Mittimatalik, published in 2008 by the Nunavut Department of Education for use in schools and elders centres.
Teaching part-time allowed her to continue researching and writing, which resulted in numerous academic papers published in scholarly journals. Shelagh was the first historian and first woman to receive the Northern Science Award (1996) and was active on various Inuit policy advisory committees, editorial boards and northern scholarship committees. She also presented papers at a number of international conferences: in Australia, Central Siberia, England, Scotland and Iceland.
Travel and teaching inter-disciplinary courses reinforced the importance of a comparative approach in understanding both historical and current issues, as did a trip 'down under' as co-editor of Federalism in Canada and Australia. Inevitably thirty years of research on Arctic sovereignty would be compiled into a unique comparative history of Alaska, Arctic Canada and Greenland — Polar Imperative: A History of Arctic Sovereignty in North America (Douglas & McIntyre, 2010)—the winner of the 2011 Lionel Gelber Prize for the best English language book on global affairs. She was the first Canadian woman to receive the award and the second Canadian since its inception in 1990. Polar Imperative also won the 2011 J.W. Dafoe Book Prize and was shortlisted for the Shaughnessy Cohen Prize, and the Canadian Historical Association's Sir John A. Macdonald prize.  In July 2011, Polar Imperative won the Canadian Author's Association Lela Common Award.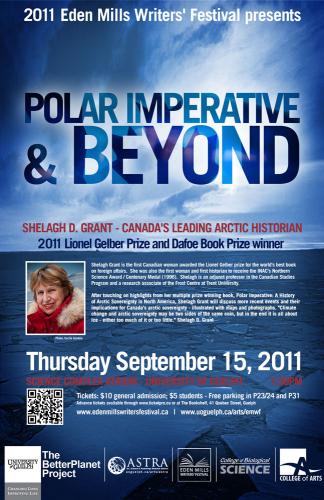 Although now retired from regular teaching, Shelagh Grant is still a member of the adjunct faculty in the Canadian Studies Department and a research associate of the Frost Centre for Graduate Studies at Trent University in Peterborough, Ontario. Long time partner of Jon K. Grant, they have three children and six grandchildren.
 "This is a book every Canadian should read". Shelagh Rogers, host of "The Next Chapter", CBC Radio.
 
This event is co-sponsored the College of Arts, ASTRA, Better Planet Project and the College of Biological Science at the University of Guelph.