3rd Annual Gryphons Read featuring Eden Robinson
Location
McLaughlin Library, Robert Whitelaw Room, 246.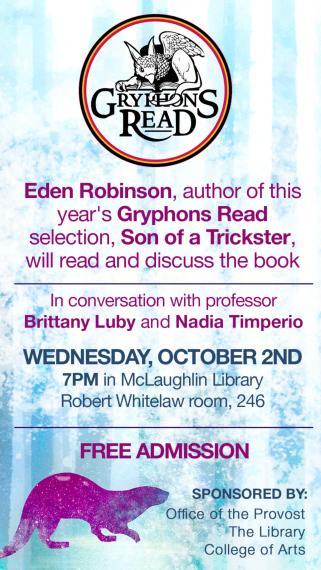 Details
This year, the Gryphons Read book is Eden Robinson's Son of a Trickster published by Penguin Random House Canada.  On October 1st and 2nd, 2019, Robinson will visit the University of Guelph to meet with groups of students and give a public talk and reading as the third featured writer for Gryphons Read. She will also visit the University of Guelph Humber Creative Writing MFA students on October 3rd in Toronto.
Eden Robinson's main public event on October 2nd event is free and open to the public and features Ms. Robinson in conversation with Professor Brittany Luby and Ms. Nadia Timperio, Manager of Graduate Curriculum. It will be held in the Robert Whitelaw Room of McLaughlin Library (2nd floor, room 246), University of Guelph.