Visiting Speaker Series: Bodies of Knowledge: Reproduction & Science in Literature & Culture
Location
MacKinnon room 310, University of Guelph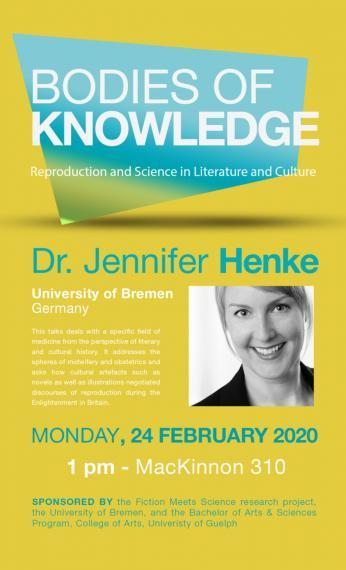 Details
Dr. Jennifer Henke's presentation deals with a specific field of medicine from the perspective of literary and cultural history. It addresses the spheres of midwifery and obstetrics and asks how cultural artefacts such as novels as well as illustrations negotiated discourses of reproduction during the Enlightenment in Britain. Case examples include well-known works like Jonathan Swift's Gulliver's Travels (1726), Laurence Sterne's Tristram Shandy (1759) and Mary Shelley's Frankenstein (1818), but also rather non-canonized productions such as Mary Wollstonecraft's Maria, or the Wrongs of Woman (1798). These will be framed by visual artefacts ranging from medical illustrations in obstetrical atlases published by William Smellie and William Hunter to graphic satires including works by William Hogarth and others. While utilizing a material-discursive concept of the body, the project aims at tracing the history of the female reproductive body in science, literature and culture. It investigates the way the maternal body was (and still is) entangled with discourses of power that continue to influence the way we understand pregnancy and childbirth today.  
As a visiting researcher from University of Bremen, Dr. Jennifer Henke, will be with us at the University of Guelph for the week of February 24 to 28. Her work touches on many areas of interest such as: feminism, women in science, science and literature, medicine in literature, 18th century history and literature, cultural history.
All are welcome!  Admission is free.