We are Hiring! Student Staff Roles 2023-2024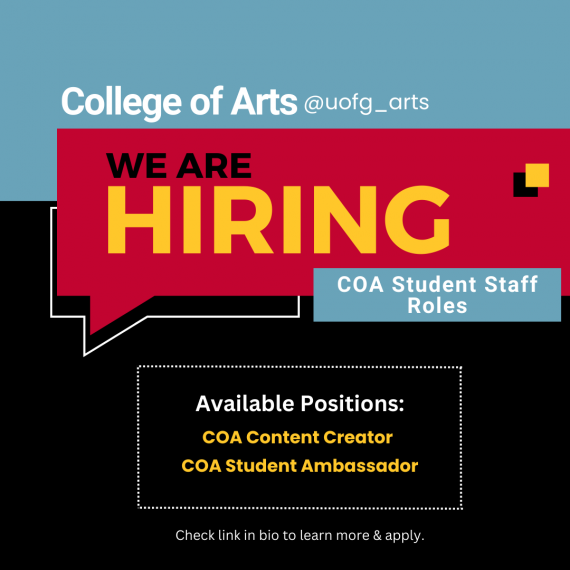 For the upcoming academic year, the following positions will be supporting the Marketing, Communications and Recruitment team. 
The deadline to apply to both roles is September 15, 2023 at 11:59 PM
COA Student Ambassadors - 12 positions
The College of Arts (COA) Student Ambassadors will support the student recruitment and marketing strategy of the College of Arts to prospective students undergraduate and graduate students. The goal for the upcoming semester is to organize and coordinate the strategy for 2024-2025 recruitment cycle, including:
All on-campus recruitment events

New academic outreach programming

Answering prospective student inquiries

Delivering marketing campaigns
We would like to have representation from each undergraduate program within the College of Arts.
Training
Must participate in recruitment training related to delivering tours, undergraduate and graduate programs, clubs and associations, experiential learning, etc. in the College of Arts.
Event Implementation
Support with pre-event/post-event logistics and day-of requirements including wayfinding, signage, tours, and stakeholder management.
Speak to prospective students and their families regarding programs and student experience at U of G.
Must be available for the following events:
October 21 & 22 - Ontario Universities' Fair (All Programs)
November 5 - Fall Preview Day (All Programs)
November 12 - Science and Engineering Day (BAS Only)
March 24, 2024 - Campus Day (All Programs)
Would be great if you were also available for: May 15 & 17 - Spring Academic Open House (BAS & BA)
Events that are still in the planning process include:
February (TBD) - International Open House
February (TBD) - Music Open House (Music Only)
May (TBD) - Transition Sessions
Tours
Deliver campus and facility tours for prospective students, alumni, donors, and other guests of the COA.
Academic Outreach
Act as a liaison with secondary school classrooms when they arrive on-campus by leading campus and facility tours, bringing student groups to pre-planned campus programming, and engaging with educators/teachers to create a positive impression.
Prospective Student Inquiries
Answer incoming student emails about programs and student life at U of G
Team Meetings
Participate in weekly or bi-weekly ambassador team meetings where there will be recruitment training and teambuilding requirements.
Other responsibilities may include:
Participating in marketing and recruitment projects that will be used to elevate the COA on web and socials, such as photoshoots, video testimonials, social media takeovers, etc.
Supporting first-year student transition events
Supporting other COA Dean's Office events, including but not limited to COA Awards, Convocation, Alumni Events, etc.
Must be in one of the following College of Arts programs in 2nd year or above:

Classical Studies; Creative Writing; Culture and Technology Studies; English; French Studies; History; Music; Philosophy; Sexualities, Genders & Social Change, Studio Art; Theatre Studies; Bachelor of Arts and Sciences

Strong public speaking skills
Strong written and oral communication skills
Stakeholder communication experience - i.e. campus partners, faculty, staff and students.
Event planning and logistics experience with strengths in adaptability
Strong time management to balance school and work responsibilities
Enthusiastic, creative, and organized planner who is self-driven and takes initiative.
Positive team player who looks to support peers toward success.
Experience with Outlook, Canva, Microsoft word, teams, and various social media platforms.
Note: All applications must include a cover letter, resume and class schedule
(1) Students with demonstrated financial need are eligible to apply through the work-study program on Experience Guelph
Work-Study Website
Experience Guelph Website
(2) For students who do not qualify for work-study, please apply directly to the Manager, Academic Programs and Recruitment - Rachel Ruston, rruston@uoguelph.ca. Students will receive an honorarium of $700/semester.
COA Content Creator - 1 position
The COA Content Creator will support the content marketing and communications strategy of the College of Arts (COA) to internally and externally facing audiences. The goal for the academic year is to create a content calendar for all social media accounts associated to the COA communications strategy for the COA (Instagram, X, Facebook, etc.) that ensures all content is consistent in brand, tone, and narrative, while meeting the needs of the intended audience (such as, current and prospective students, university stakeholders, etc.) The COA Content Creator will create visual graphics with accompanying copy/captions for a variety of social media platforms to increase current student engagement and enhance the reputation/brand affinity of the College. They will work in collaboration with supervisor, Communications Coop role, faculty, staff, and students to ensure all content is presented properly.
Develop, research and create graphics for grid posts, stories, reels, tweets, and facebook posts for event promotion, giveaways, student experience, recruitment initiatives, etc.
Ensure all graphics align with U of G brand guide and COA community experience.
Create an editorial content calendar for every week/month of the year for all social media platforms including digital screens in MacKinnon building.
Develop knowledge of all undergraduate and graduate programs in the COA
Attend events in-person to document the experience and promote the success or associated learning.
Plan creative giveaways to engage current student audiences and encourage greater interaction with the COA to develop sense of belonging/enhance reputation
Other:
Participate in recruitment, outreach, and current student events where support is required for event and volunteer management, social posting, story development, and other general and specific administrative duties that may arise from time to time
May assist with special initiatives, such as special communications projects.
Must be available for the following events:
October 21 & 22 - Ontario Universities' Fair (All Programs)
November 5 - Fall Preview Day (All Programs)
November 12 - Science and Engineering Day (BAS Only)
March 24, 2024 - Campus Day (All Programs)
Would be great if you were also available for: May 15 & 17 - Spring Academic Open House (BAS & BA)
Events that are still in the planning process include:
February (TBD) - International Open House
February (TBD) - Music Open House (Music Only)
May (TBD) - Transition Sessions
Must be in one of the following College of Arts programs in 2nd year or above:

Classical Studies; Creative Writing; Culture and Technology Studies; English; French Studies; History; Music; Philosophy; Sexualities, Genders & Social Change, Studio Art; Theatre Studies; Bachelor of Arts and Sciences

Strong writing, editing, research and oral communications skills
Project management skills, including the ability to work independently and meet deadlines
Creative and analytical thinker who is self-driven
Experience communicating with stakeholders and faculty
Experience with Canva, Microsoft word, teams and excel and various social media platforms
AODA/Accessibility Compliance knowledge considered an asset
Graphic design experience would be considered an asset
Note: All applications must include a cover letter, resume and class schedule
Students with demonstrated financial need are eligible to apply through the work-study program on Experience Guelph
Work-Study Website
Experience Guelph Website