CW MFA at TIFA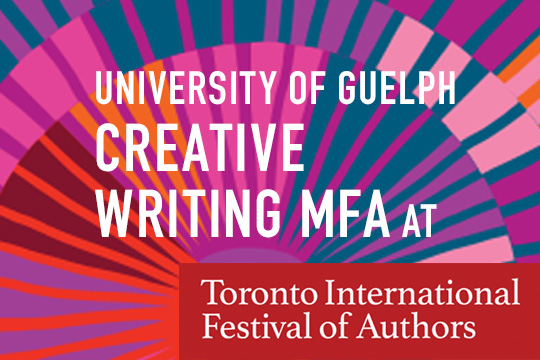 The Toronto International Festival of Authors, like many other festivals this year, is offering a completely digital experience—with access to most content available free of charge. Under the banner "Bringing a New World into Focus," TIFA will be hosting a full 200 virtual events ranging from readings and interviews to podcasts and collaborative projects. This year's festival is from Oct. 22 to Nov. 1, 2020. Visit festivalofauthors.ca to sign up and start planning your itinerary!
Selecting from 200 events sound overwhelming? If you're looking to find some University of Guelph CW MFA representation at the festival, we're offering a little cheat-sheet below:
OCTOBER  25
October 25 at 3:30pm
Join Canadian author—and U of G CW MFA Coordinator— Catherine Bush (Blaze Island) and Norwegian novelist and short story writer Roy Jacobsen (The Unseen), as they discuss family, fate, resilience and survival in inhospitable landscapes. Together, they will discuss how their new works of fiction capture the very real connections that humans have with the land on which they live, by delving into the effects of global methodology on the hyper-local in their riveting new stories.
October 25 at 4pm
How does a story move? Is a detailed outline really necessary? How much do you need to know before you sit down to write? This 90-minute workshop with Giller nominee Elisabeth de Mariaffi covers plot, pacing, and story propulsion. Avoid the dreaded mid-novel slump! Bring your questions. Whether you're at the basic premise stage, or have a complete first draft, this workshop is for you. Space is limited and registration required.
October 25 at 5pm
Hear from the heart of Canada's vibrant poetry scene, with this curated selection of live readings—including MFA alum Andrea Thompson—from the Best Canadian Poetry of 2020 anthology. An interview with its editor, Marilyn Dumont, will follow.
OCTOBER 26
October 26 at 5pm
Celebrate the 45th Anniversary of Brick Books, the only press in Canada that specializes in publishing poetry books. Based in London, Ontario, the press was started by Stan Dragland and Don McKay in 1975 with the publishing of chapbooks, and has grown to publish full-length volumes of authors' works, while championing Canadian poets and translators of poetry. This live-streamed special event will feature authors, poets—including MFA alum Tyler Pennock—and members of the Brick team reading and reflecting on the publisher's rich history.
October 26 at 9pm
Prepare to feel moved by two of Canada's most highly anticipated debut authors. Driftpile Cree Nation poet and youngest winner of the Griffin Prize, Billy-Ray Belcourt, presents A History of my Brief Body, accounting his personal history and reconciliation with the world he was born into. Two-spirit Cree-Métis poet, Tyler Pennock, presents Bones, a collection of poems about moving through shadows toward strength and awareness. These coming-of-age memoirs of hope and survival sprouting from trauma, will leave you inspired.
OCTOBER 28
October 28 at 12pm
Keeping in touch, both figuratively and physically, is a challenge during times of isolation; while physical touch – and what we touch – is now a source of fear and anxiety for many. The Dutch phrase "skin hunger" has come to prominence in recent months, encapsulating these feelings. TIFA is proud to present Skin Hunger: a new writing commission featuring original works by internationally renowned writers, in reflection on what we've all felt and suffered during the COVID-19 crisis. Contributors will read their new work in these pre-recorded videos. Authors include Shokoofeh Azar, Francesca Ekwuyasi, Mieko Kawakami, Tyler Pennock, Meg Wolitzer, Ian Williams and more.
October 28 at 6pm
Join us for an imaginative note of rhythmic composition, with intimate poetry readings by several accomplished Canadians, including: Liam Galway, Beatriz Hausner, and MFA grads Mathew Henderson and Paul Vermeersch.
November 1
November 1 at 4pm
Write what you know? Sure. But there's more than one way to know something. Award-winning author and MFA alum Alissa York has written from the point of view of a taxidermist, a polygamous horse rancher, a raccoon and more. Join her for a masterclass on finding out what you need to know. Space is limited and registration required.
You can also check out events featuring University of Guelph Associate Faculty members Kyo Maclear, Shani Mootoo, and Souvankham Thammavongsa.