Visiting Artists & Speakers Talk: Sandra Brewster
Location
Art Gallery of Guelph, 358 Gordon Street, 2nd Floor, Guelph, ON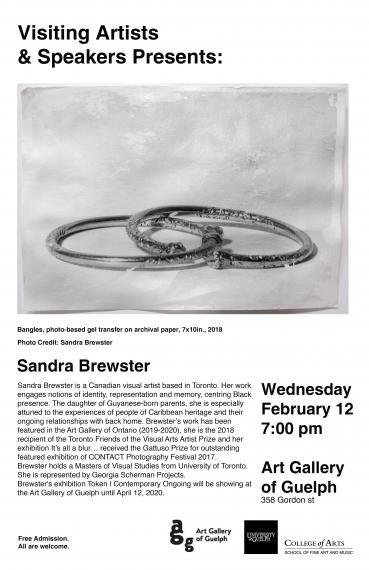 Details
As part of Black History / Black Culture in Canada, join us in our visiting speaker lecture with Sandra Brewster.
Sandra Brewster is a Canadian visual artist based in Toronto.  Her work engages notions of identity, representation, and memory, centering Black presence. The daughter of Guyanese-born parents, she is especially attuned to the experiences of people of Caribbean heritage and their ongoing relationships with back home. Brewster's work has been featured in the Art Gallery of Ontario (2019-2020), she is the 2018 recipient of the Toronto Friends of the Visual Arts Artist Prize and her exhibition It's all a blur… received the Gattuso Prize for the outstanding featured exhibition of CONTACT Photography Festival 2017. Brewster holds a Masters of Visual Studies from the University of Toronto.  She is represented by Georgia Scherman Projects. 
Brewster's exhibition Token | Contemporary Ongoing will be showing at the Art Gallery of Guelph until April 12, 2020. 
This talk is presented by the University of Guelph's College of Arts, School of Fine Art and Music in collaboration with the Art Gallery of Guelph.
Free admission, all are welcome!