Fall Reading: Adam Lindsay Honsinger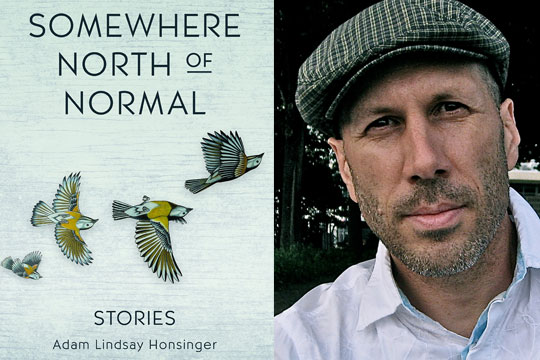 We asked MFA alumni publishing books this season what they're reading, and what they'd recommend. Here's what you'll currently find on Adam Honsinger's bookshelf:
"I am often reading two books at a time. I carry one with me when I go out and the other sits by the bed. Right now my bedside book is Sapiens by Yuval Noah Harari, a nonfiction book that chronicles the history of humankind. I am two chapters into Karen Smythe's This Side of Sad which is essentially a novel about grief. I mostly read fiction as an arborist would walk through a forest noting what is healthy and beautiful while also paying attention to things that aren't functioning as well as they could. It is always a pleasure to bathe in the atmospheric bliss of a good book, but every problem or weakness is another learning opportunity. In the end I read to satisfy my curiosity about things, to enjoy the thoughts and ideas of others, and ultimately, to learn how to be a better writer."
Adam's second book of fiction, and first collection of stories—Somewhere North of Normal—was just published by Enfield & Wizenty. It launches in Guelph, ON, on Thursday November 8th at 7pm at The Bookshelf Greenroom (with Marianne Micros). He will also be reading in Toronto on November 25th as part of the Junction Reads and Writes Series at Famous Last Words.