Fall Reading: Chris Bailey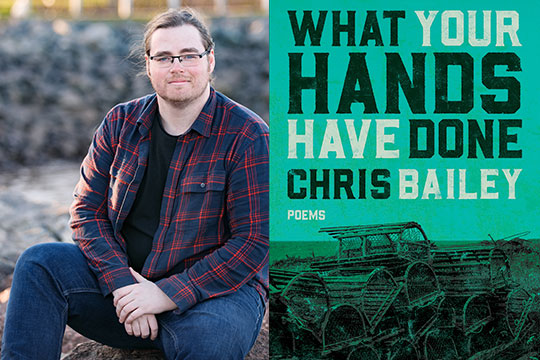 We asked MFA alumni publishing books this season what they're reading, and what they'd recommend. Here's what's on Chris Bailey's bookshelf:
"I read multiple books at once. Usually I read something new while revisiting things I've loved or have found helpful to my writing or my headspace.
The new thing I'm reading is Craig Davidson's Saturday Night Ghost Club. Craig's one of those authors, like Michael Winter (One Last Good Look is something I'm wanting to reread) or Elmore Leonard, I wish I found earlier, since reading wasn't cool when and where I grew up, and  their work would've been OK for a guy to read.
There's a tendency to return to poetry I've read before. I have Raymond Carver's collection, All of Us, and it's one of two books I would never lend out (the other is I'll Sleep When I'm Dead: The Dirty Life and Times of Warren Zevon). I flip through Carver when working on new poems, along with Frank O'Hara's Meditations in an Emergency, Joe Denham's Regeneration Machine, Alden Nowlan's collected poetry, Dionne Brand's Ossuaries, and Michael Crummey's Hard Light, to name a few. Poetry is a little hit of humanity, and sometimes you need a fix to get where you're going, either with writing or trying to suss something out in your head. I'll go over Raymond Carver's poem "The Garden" for that, or particular lines in Regeneration Machine, like I would songs by Zevon as a reminder things're dandy, and there are other people thinking like me."
Chris's debut collection of poetry, What Your Hands Have Done, was published by Nightwood Editions this fall. You can catch him reading at the Speakeasy series on November 29th, the Art Bar poetry series in January, and Hamilton's Lit Live event in March.