Gryphons Read 2023 - What Strange Paradise, Omar El Akkad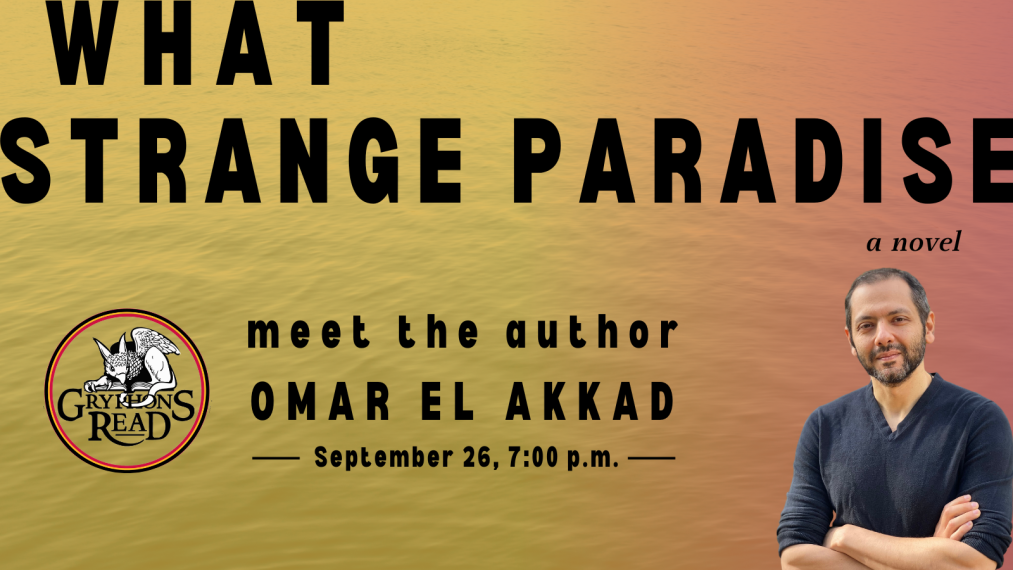 Join us for the 2023 Gryphons Read event:                               

Omar El Akkad
What Strange Paradise
Public Talk: Tuesday, September 26th @ 7 PM
Robert Whitelaw Room, 2nd Floor, McLaughlin Library
U of G's annual common reading project – Gryphons Read – celebrates its seventh iteration. This year's novel is What Strange Paradise, by Egyptian-Canadian author and journalist, Omar El Akkad. It is the story of two children finding their way through a hostile world. But it is also a story of empathy and indifference, of hope and despair – and about the way each of those things can blind us to reality.
---
About Gryphons Read
Gryphons Read is a tradition at the University of Guelph, started by the well-known and well-loved author, U of G Creative Writing faculty, Lawrence Hill. With help from then Provost, now President Charlotte Yates, the College of Arts Dean's office, and McLaughlin Library. The program functions thanks to the year-round logistical support from the Experiential Learning Hub.
Each year, a book that explores diverse identities and lived experiences, and is authored by a Canadian writer, is selected to be shared and read by the campus community. Gryphons Read hosts the author on campus for a few days in late September where they meet with students, staff, faculty, and community members in various classes and public events.

---
Omar El Akkad is an author and journalist. He was born in Egypt, grew up in Qatar, moved to Canada as a teenager, and now lives in the United States. He has won numerous journalism awards in addition to the multiple awards he has received for both his debut novel, American War, and What Strange Paradise.
---
Schedule of Events
September 5-7 (Orientation Week), 11 AM - 1 PM
Bring your U of G ID card and pick up a free copy at the Gryphons Read registration tent beside Raithby House by Branion Plaza (while supplies last). Limited e-books and audio books are available for those with accessibility needs. 
September 25, 5 PM - 7 PM
5:30pm-7:30pm - Join us for an intimiate dinner and facilitated discussion event with the author, Omar El Akkad. Information on how to sign up to participate in this limited event will be sent to those who register for Gryphons Read at the Gryphons Read Tent during Orientation Week.
September 26, 7 PM
7:00PM - Main event: Come meet the author, in conversation with Carrianne Leung. All are welcome to attend this free event.
Robert Whitelaw Room, McLaughlin Library. Refreshments will be provided. This event will have ASL interpretation.
Register for this public event on Eventbrite!
To join the Gryphons Read community go to Gryphons Read - GryphLife (uoguelph.ca)