Gryphons Read Program
The University of Guelph announces the 4

th

 Annual Gryphons Read program
The University of Guelph announces the 4th annual Gryphons Read common reading project, which will encourage first-year students and other members of the university community to connect with each other and to enter into meaningful conversations by reading and discussing the same book. Gryphons Read is a collaboration between the College of Arts, the Office of the Provost, the Library, and the Experiential Learning Hub.
This year, that book is Shyam Selvadurai's Funny Boy published by McClelland and Stewart. On September 28th and 30th, 2020, Selvadurai will join the University of Guelph community virtually to give a talk to students, faculty, staff, and the community. He will also be meeting with the University of Guelph Creative Writing MFA students on October 1st in Toronto. Book clubs will be taking place from September 20th to 26th. 
Although this year's Gryphons Read looks a little different, the same heart, energy and effort has been put into the 2020 program. Student Experience staff have been recruiting trainers, facilitators and participants, planning the training, developing resource materials, and overseeing program implementation and evaluation. Interim Committee Chair, Professor Brittany Luby, is pleased with about this year's virtual encounter since, she says, "Excitement about reading the book and meeting the author extends across the globe this year since the online platform permits visitors from our far-flung friends." The committee is delighted about the opportunity to connect with people across the Guelph campus, the Guelph community, and across the world to share a love of reading.
Mr. Selvadurai's novel was the winner of the WH Smith Books/Books in Canada First Novel Award, the winner of the Lambda Award for Best Gay Men's Fiction in 1997, shortlisted for the Giller Prize in 1994, and is currently being adapted for the big screen with Deepa Mehta. Mr. Selvadurai is also an instructor at the University of Guelph, within the School of English and Theatre Studies, where he teaches Creative Writing.
Funny Boy "keeps repeating with quiet conviction that the human condition can, in spite of everything, be joyful. You are not alone, it says to the reader, I understand you. I was there. I remember." (Alberto Manguel, translator and novelist.) A timely reminder even 25 years after the book was first published, one to unite us in a time of uncertainty. This is what Gryphons Read is all about.
Shyam Selvadurai's main event – in conversation with Canadian author Devyani Saltzman – takes place on September 30th and is free and open to the public. A Zoom link will be available closer to the date on this website.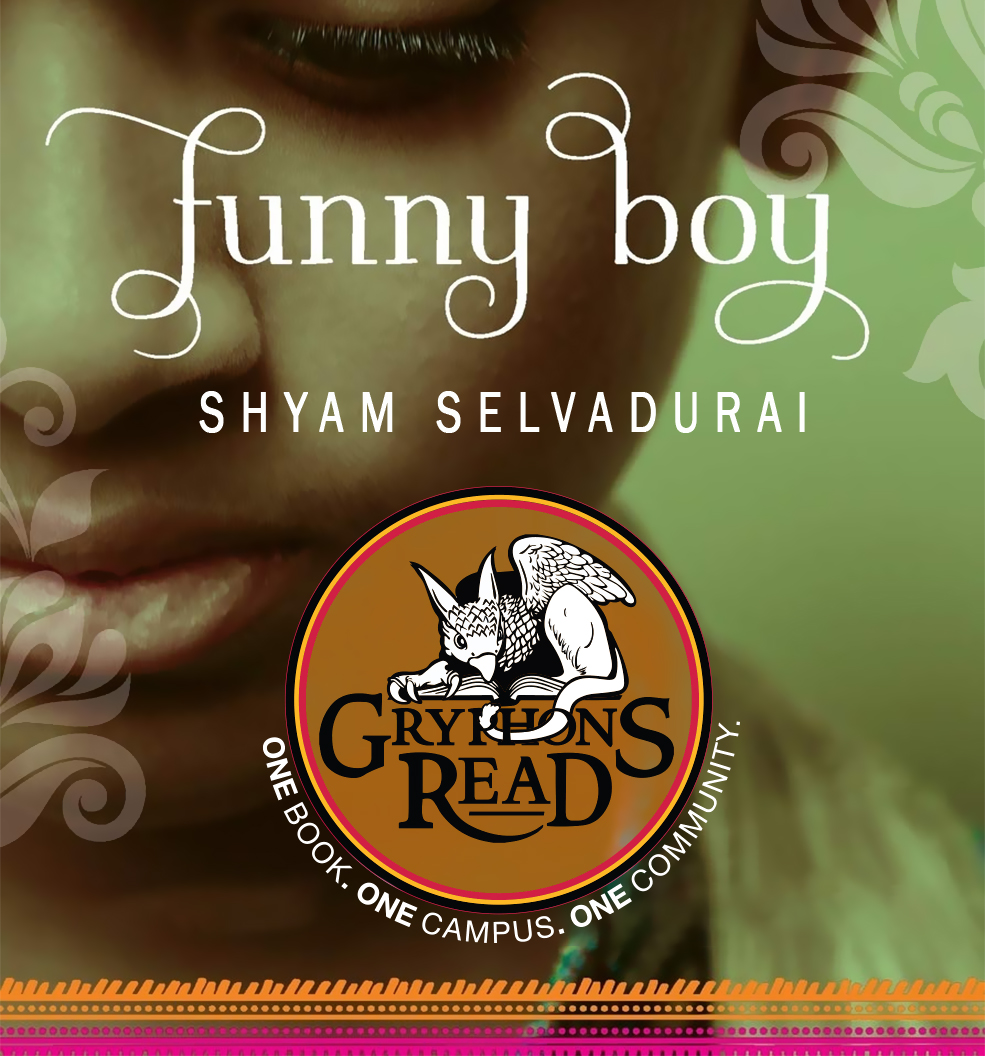 Schedule of Events:*
Sunday, 20 September - Saturday, 26 September
Book club meetings
Monday, 28 September
5:00-6:30: Q&A with Shyam Selvadurai on the Craft of Creative Writing (limited space available)
Register here
Tuesday, 29 September
4:30-6:30: Specialized Student Event with Shyam Selvadurai
Wednesday, 30 September
10:00-1:00: Book Discussion with Faculty and Students
5:00-7:00: Gryphons Read: A Conversation with Shyam Selvadurai (main event)
Register here
Thursday, 1 October
Guelph Creative Writing MFA "Master Class"
* Please note that dates and times are subject to change.
Contact:
Sandra Sabatini
University of Guelph Gryphons Read committee co-ordinator
sabatini@uoguelph.ca
519-824-4120 x53869
Sponsored by the Office of the Provost, McLaughlin Library, the Experiential Learning Hub, and the College of Arts at the University of Guelph