Thinking Spaces Presents: Collaborational Issues Between Improvisers & Composers
Location
Silence, 46 Essex Street, near downtown Guelph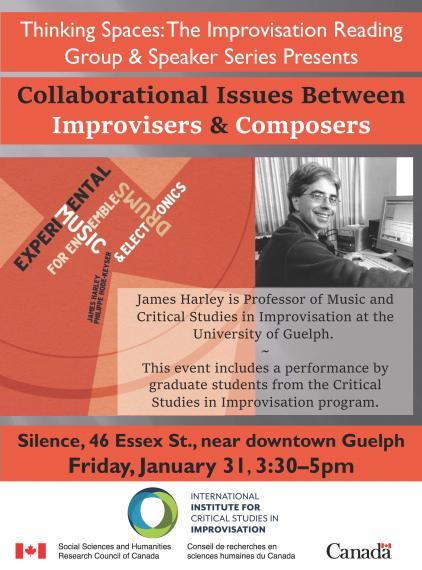 Details
This Thinking Spaces presentation by James Harley will explore the dynamic relationship between notated musical scores and creative interpretation/improvisation. This event features a talk, performance, and CD Launch for Experimental Music for Ensembles, Drums, and Electronics by James Harley and Philippe Hode-Keyser.
As part of the event, Cool Hearts—a group comprised of students from the Critical Studies in Improvisation (IMPR) program at the University of Guelph—will perform two versions of Sabbath, one of the works included on the CD. Any income from the sales of CDs will support students in the IMPR program.
This new CD represents decades of musical exploration, rooted in jazz but pushing far out from that tradition. All of the music is based on notated scores for large ensembles, but improvisation plays a large role. Performances by Hode-Keyser in Montreal of existing music composed in the 1980s by Harley led to two new works composed specially for Hode-Keyser's Ensemble Kappa. These scores question the jazz tradition through a lens shaped by immersion in European contemporary music, after Harley had spent six years living in London, Paris, and Warsaw.
All are welcome!