Introducing Held Magazine, a visual arts & lit journal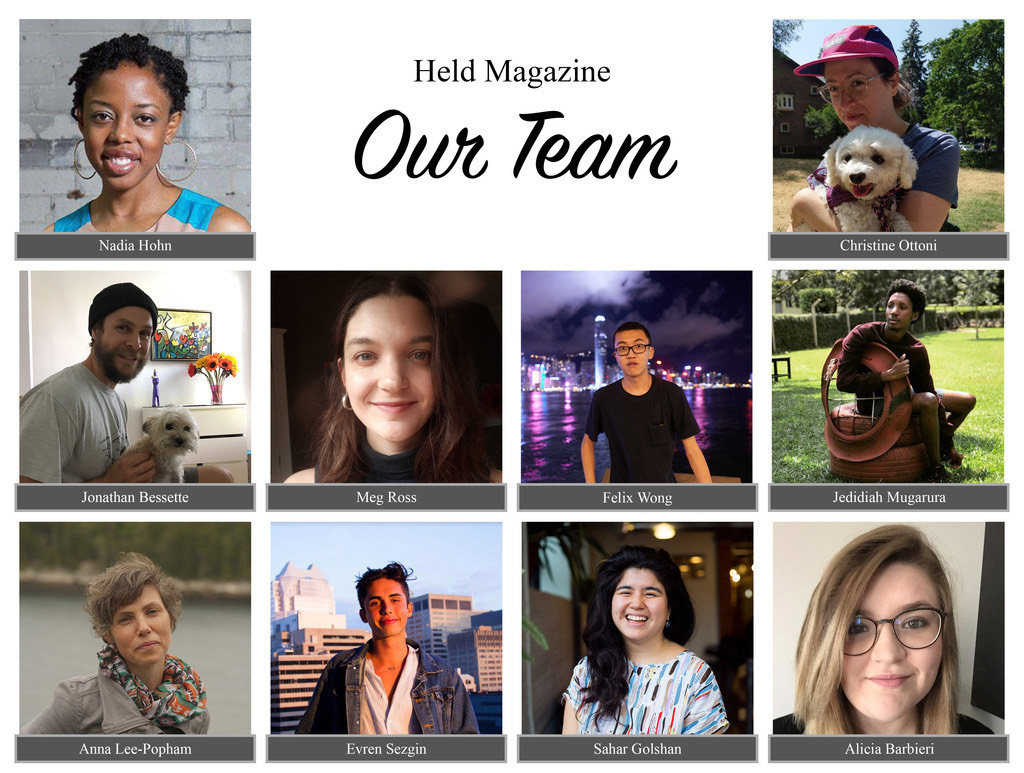 Alone, a man floated over the skyline of Toronto. I first mistook him for someone who had stumbled off his balcony and was destined to return to the cement out of which he was born. Yet, he stood there, in the sky, held by the cardboard seat I had little faith would give him the strength to defy everything natural in the world. His face was unbothered, the windows he cleaned, equivalent to those you walk past on the street, so much so that the 24th floor he cleaned could have been any Queen Street shop. In silence, far below the man, I observed this power of being held. And yet, it was this same power that led to our streets being closed, our families isolated, and friends quarantined. The power we so heavily relied on—the power of touch, of being held, of being loved—was the catalyst for the virus that plagued our cities and shut down our community centers and schools. And it was this same power that brought us to those same streets, cities, and community centers, during this time of isolation, to continue the fight against police brutality, and to find justice for murdered Black and Indigenous peoples. At the heels of this power, we find Held Magazine University of Guelph's inaugural arts and literary magazine.
Made possible only by the University of Guelph's Creating in a Time of Coronavirus Fund, Held Magazine is a journal that features both visual art and literature. The journal is a platform for contributors to explore the realities and systems that have shaped them—to make meaning, in a time where meaning is fraught.The editorial board prioritizes contributors who identify as Black, Indigenous, racialised, 2SLGBTQ+, and those living with disabilities. They will ensure that 70% of contributors identify with these communities because, historically and presently, these groups have experienced barriers to publication, which have resulted in an underrepresentation in published work. Also, it is past time for us to listen to those who are able to capture the ever-expanding universe that is race, gender, class, sexuality and ability during the time when we have never been further apart.
While led by MFA students at the University of Guelph, Held Magazine highly encourages submissions from outside the university. The journal is, itself, a system: a system of editors, designers, artists and writers; of creators and audiences; a system that relies on the content, intention, and imagination of its contributors. Recognizing that the intersectionality of our current moment requires new constellations and structures to explore how collisions and collaborations in society offer opportunities to evolve, Held Magazine wants to create a space for experimentation, hybridity, play and emergence. The magazine will publish fiction, poetry, creative nonfiction, experimental writing, and visual art, and writers and visual artists will have the option of producing a single piece of content in collaboration.
Sahar Golshan, one of the members of the editorial team of Held Magazine, sees this journal as "a chance to get a fingerprint of this moment in time, which is very peculiar and strange and hard, and sometimes joyful." She is excited that Held Magazine will bring together voices of people who are not necessarily established, published, funded, or in MFA programs. She continues, "We all, as human beings, tell stories. We are witnesses to our time." If you or someone you know might be interested in submitting, please visit heldmagazine.com for submission guidelines and more information.
—written collaboratively by Evren Sezgin and Anna Lee-Popham
---
The founding Held Magazine team is made up of: Nadia Hohn, Christine Ottoni, Jonathan Bessette, Meg Ross, Felix Wong, Jedidiah Mugarura, Anna Lee-Popham, Evren Sezgin, Sahar Golshan, and Alicia Barbieri