Leanne Milech honoured with Carter V. Cooper Award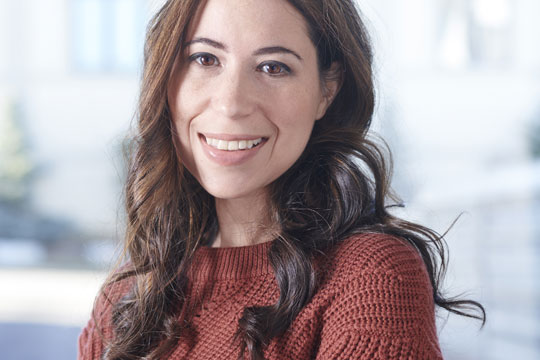 Our heartiest congratulations go out to MFA grad Leanne Milech, this year's winner of the Carter V. Cooper Short Fiction Award (emerging writer), presented by Exile/ELQ, and sponsored by Gloria Vanderbilt in honour of her late son. The CVC award is accompanied by a $10,000 prize for the winning emerging writer, as well as a formal awards dinner to celebrate all the various honourees across the fiction and poetry categories of the annual literary competition. 
In the lead up to this singular evening of food and literature, we asked Leanne to share a little bit about her winning short story:
"'The Light in the Closet' is about a seven-year-old girl named Emily and her parents, Claudia and Marty. The story is based on experiences I had growing up with my mother, who suffered from schizophrenia, and my father, who tried to keep our family afloat.
Emily's world is a mish-mash of disdain for her mother and deep love for her father, whom she reveres as a second coming of Jesus, her best friend, and her fellow spiritual seeker. In the story, Emily's father gets taken from the family home. Although he returns, he isn't able to rescue Emily from the life she is living. Ultimately, Emily finds a magical way to connect with God and the love that she craves so desperately.
I wrote this story in many parts, over several years, and in a variety of genres. It started as memoir, became a screenplay, and finally evolved back into prose, as autobiographical fiction. Along the way, I was greatly inspired by different works, most notably a Norwegian film called What Will People Say, in which writer-director Iram Haq fictionalizes the traumatic experience of being kidnapped by her own parents and sent to Pakistan. I also fell in love with The Writer's Journey, a Hollywood bible on how to apply the principles of Joseph Campbell's hero's journey to storytelling.
I used that book to map the events in Emily's story to the stages of the hero's journey. I bring Emily from her Ordinary World, into the Inmost Cave, through the Ordeal of loneliness, and out with the Reward of divine love. I wanted to give Emily agency, solace, and relief—things I didn't have until I was much older than she is at the end of the story.
Both my parents have passed away, so I won't ever know how they feel about this piece. Reflecting now, I realize that Emily isn't necessarily the true hero of 'The Light in the Closet.' The hero is Marty, who provides as much stability as he can. The hero is Claudia, who loves Emily even though that love is never returned. I hope my parents are looking down and that they see themselves in these strong, brave characters."
"The Light in the Closet" is published in the CVC Short Fiction Anthology No. 8, which will launch at the awards dinner on Tuesday, June 25th at 6:15pm at Toronto's Hot House restaurant. A limited number of tickets ($99 / includes dinner and an anthology) are available directly via admin@exileeditions.com or 519 334 3634. 
***
Leanne was interviewed about her writing and teaching career on the Be the Next Her blog—you can check out her profile here.