College of Arts Celebrates 50th Anniversary with Night at the Museum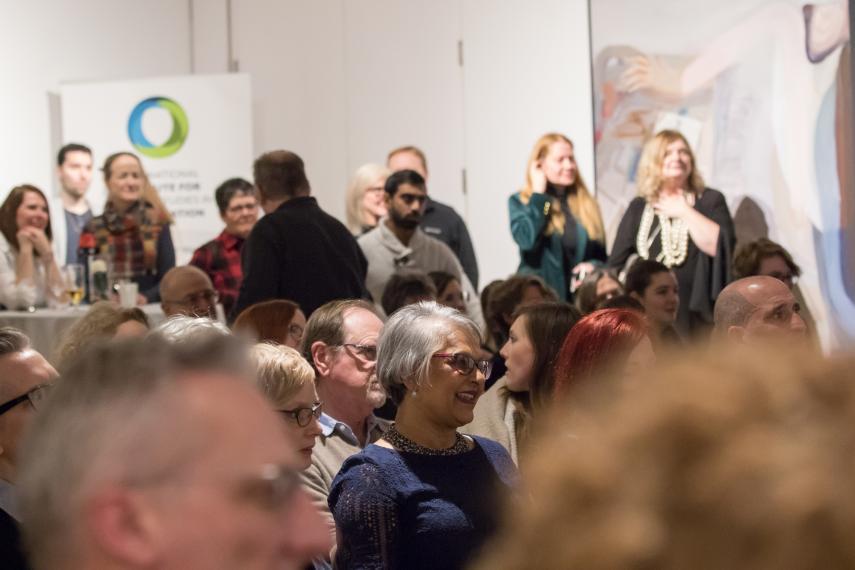 From 8 pm until 2 am on Friday, January 18th and into the early hours of a frosty Saturday morning, the College of Arts, along with the Art Gallery of Guelph, hosted an extraordinary event with some 20 presenters and performers in a packed program featuring a sampling of the College's  best research, literature, music, and button making, too!
Presenters took the stage before what was often a standing room only crowd who came out to walk a (slightly) red carpet and be interviewed by volunteer student paparazzi on their way in to the main event.
Congratulations to all the participants, volunteers, and attendees who got to enjoy this wonderful community event celebrating the diverse and creative contributions of College of Arts faculty and grad students and even guest performers brought to Guelph by the International Institute for Critical Studies in Improvisation! 
This was one for the books!
Thanks to:
Marta McCarthy and the Gryphon Singers
Marion Samuel-Stevens and the Mosaic Music Theatre and Performance Lab
John Walsh on Greed and Snobbery
Ben Grossman on the amazing Hurdy Gurdy (courtesy of IICSI)
Stephen Henighan reading from Blue River and Red Earth
Stephanie Nutting singing Comptines Dangereuses
Linda Mahood - Please Don't Feed the Hippies: Hitchhiking in the Age of Aquarius
Reza Yazdanpanah on the Tar and Setar (courtesy of IICSI)
Philosophy Grad student, Joshua Grant-Young on Philosophy in the Dark
Troy Hourie and his spectacular installation, "Freaks"
Kathryn Ladano on the haunting bass clarinet (courtesy of IICSI)
John Hacker-Wright unpacked the Trolley Problem
Susan Brown and Kim Martin used audience participation and some string to illustrate the power of the semantic web
Mark Lipton reminded us all to take care of each and savour the moment (and breathe deeply)
Ben Grossman, Reza Yazdanpanah and Kathryn Ladano created Night Improvisations
Crossways student, Sarah Cardinetti performed three classic songs
Alyssa Woods on Gangsta Crisis, Catharsis and Conversion
Brave Andrew Bailey concluded the late night lineup with a talk on zombies and consciousness before sending us out into the dark
Dean Samantha Brennan congratulated the hardy audience for staying to the end and then sent us all home feeling pretty happy to be part of something so cool.