Outside the Lines: Khalida Hassan
From day jobs to evening gigs and volunteer duties, Outside the Lines, is a series of posts exploring MFA graduates' lives and literary work outside of their primary writing practice...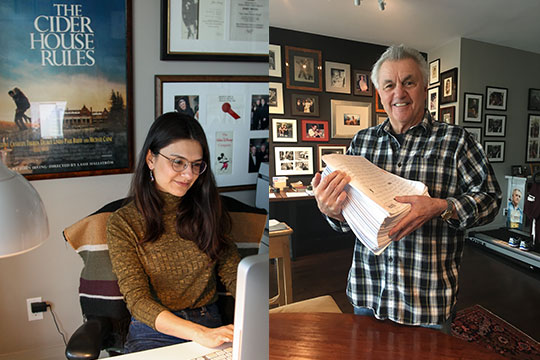 I think most writers have a complicated relationship to paid work, if they're not living off their writing—and, aside from John Irving, what writer solely does? In my case, I'd spend much of my time at day jobs worrying  about how much time I was spending not writing, and then spend the first chunk of my writing time wondering if I wouldn't do better to enter a more lucrative line of work—like accounting, or maybe plumbing. By the end of my MFA, I thought working as a "part-time secretary" would suit me well, if only to subject myself to anxiety over wasted time and anxiety over money in equal measure. The truth beneath my floundering ambition was the knowledge that I needed to be near people who took fiction and writing seriously; if I searched deeper still, I needed to be in touch with stories and words personally.
My work experience was a long list of dissimilar positions. I've taught (elementary to post-secondary levels), assisted social workers, waitressed, even done maintenance work—hence, my dreams of returning to plumbing. I'd worked as a reader and editor as well, but I thought anything related to publishing fiction was out of reach. Worse still, I'd done all these jobs on several different continents—I had the United Nations in Cyprus and a Nepalese orphanage grouped together on my resume. On paper, I thought I looked flighty and maybe even a little scattered. I figured only another writer might appreciate that my time spent roaming, collecting different skills, led to a distinct knowledge.
And then I met John Irving.
At my interview for the literary assistant position, John and I seemed to have much in common, life felt as fateful as a John Irving plot. Heck, I almost started to believe what I just said about "a distinct knowledge." But, I suspect that John makes a lot people he speaks with feel like they have something of value to offer. Once you quiet thoughts like, That's the guy who wrote The World According to Garp (slash thanked Planned Parenthood in his Oscar acceptance speech slash appeared on the cover of Time) every time you're in a room with him, John Irving, of course, has a lot to teach you about the novel. Talking to a no-shortcuts, literary bestseller about narrative structure or authorial decisions is such a privilege. I find myself marveling that we spend time in conversation—John welcomes comments and discussions about drafts. And, as with any subtle and meaningful conversation about writing, I walk away emboldened and with a renewed sense of purpose. My actual job description involves transcribing drafts, proofreading, social media, and generally lending a literary hand with things like interviews and scheduling.
What I least expected, starting this position, was the extent of my employer's generosity. John asks me about my stories and encourages my writing. He'll parcel out a little of his courage, if need be. It's not just that his belief in my ability as a writer is heartening; the work is really the best of all possible worlds.
---
Khalida Hassan (2014 cohort) is a graduate of the University of Guelph's Creative Writing MFA program, where she completed a short story collection called Complicit for her thesis. The stories in Complicit deal with themes of surveillance and digitally mediated communications. Hassan was a finalist for the Writers' Trust of Canada RBC 2018 Bronwen Wallace Award for her short fiction. She has travelled extensively—working in development, education, and literary outreach—and now lives in Toronto, where she works as a literary assistant.