Playwright Radha S. Menon at Decolonize Your Ears Festival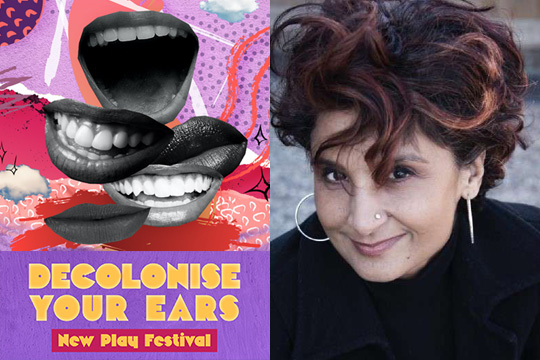 Alumna Radha S. Menon's play The Sheep will premiere June 26 as part of Hamilton-based Red Betty Theatre's inaugural Decolonize Your Ears festival. This script was Menon's thesis project for the CW MFA, and the live virtual reading will feature a post-show Q&A with the playwright, as well as dramaturg Judith Thompson.
Red Betty Theatre (from the Hindi: lal beti—"red daughter"), founded by Menon in 2011, celebrates its 10th anniversary season this year. With a mission to present perspectives and distinct experiences of Canadian IBPOC women, and increase access to these artistic voices, Red Betty has instituted initiatives such as ASL interpretation as a tool to be more accessible. The theatre's vison of accessibility and cultural change in theatre practice doesn't end there, though—situating the Decolonize Your Ears new play festival they write:
Decolonising theatre doesn't mean tossing out the likes of Tennessee Williams, Joe Orton or the Bard. It means brown and black bodies having space and time to explore our voices, develop our practices and explore lesser-known cultural forms without having to negotiate, conform or squeeze into the parameters of Western aesthetics.

Festival playwrights were chosen through an open submission call and juried process. Playwrights then worked with their partnered dramaturgs to develop three drafts of a script. The development process culminates in a staged reading of the pieces at the Inaugural festival.

Decolonising theatre means expressing culturally specific ideas, mythologies, music, dance; IBPOC bodies occupying space in celebration of our unique identities, and subverting rigid hierarchies that inevitably harm 'lesser' company members, in favour of a more equitable approach. The belief that the Greeks invented theatre is a myth. Theatre has been practiced by folx all over the world since the advent of community, but has in many contexts evolved into an elitist and unwelcoming arena. This must change.
Programming begins on June 24, with Unwanted by Melissa Murray-Mutch (directed by another CW MFA grad, Marilo Nuñez) and continues with How Much for Tranquility by Joanne Roberts on June 25, and the closing performance of Menon's The Sheep on June 26. All virtual performances begin at 7pm and include post-show talkback sessions. Ticket prices are on a sliding scale.
You can find the detailed festival schedule and link to buy tickets (via Eventbrite) on the Red Betty website here.