Guelph Series in Scottish Studies
About the Series
The Guelph Series in Scottish Studies is the Centre's flagship book-publication venture.  The first volume in this series of peer-reviewed essay collections was published in 2009.  Volumes in the series are focused on a particular theme in Scottish historical or cultural studies and may be purchased through the Centre for Scottish Studies.
Please visit the Scottish Studies Foundation website to place your order.
---
Upcoming Volumes
Watch this space for information on publications in progress.
Currently Available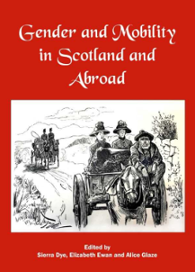 Dye, S., E. Ewan and A. Glaze.  Gender and Mobility in Scotland and Abroad (Guelph Series in Scottish Studies 4) Guelph: Guelph Centre for Scottish Studies, 2018
Mobility can take many forms: social, spatial, genre, identity, economic.  Written by an international collection of authors, this fourth volume in the Guelph Series in Scottish Studies explores gender and mobility from many different perspectives.  It tackles a broad time frame and international expanse, yet certain patterns and commonalities of experience emerge.  It is divided into three sections: geographic mobility, social mobility, and literature and mobility.  The collection reveals new and innovative ways in which to consider both gender and mobility in Scotland and abroad.
Contents
Shane McLeod, "Gender and Mobility in Viking-Age Scotland"
Randi Bjørshol Waerdhal, "A Well-Adjusted Immigrant: Isabelle Bruce, Queen Dowager of Norway, 1299-1358"
Douglas Catterall, "Women's Work Worlds and Social Capital in the Early Modern Scots Diaspora"
Jane McDermid, "A Most Excellent Soldier's Wife: Elizabeth Macquarie, Marriage, and Mobility between Mull and Australia at the Start of the Nineteenth Century"
Elizabeth Ritchie, "Pregnant Emigrants: Gender, Childbirth, and Migrant Families in Rural British North America, 1818-1850"
Wendy M. Gordon, "Seeking Relief on Love Street: Gender Mobility and Pauperism in Mid-Nineteenth-Century Scotland"
Alison Taylor McCall, "Social Mobility Amongst Female School Teachers in Scotland, 1850-1914"
Lindy Moore, "Between Home and School: The Gendered Mobility of Scottish Middle-Class Scottish Schoolgirls in the Long Nineteenth Century"
Iida Saarinen, "Making (Gentle)men of God: Social Mobility of Scottish Catholic Seminarians in the Nineteenth Century"
Claire Harrill, "The Proper Place for a Queen? St Margaret of Scotland at Dunfermline Abbey"
Kate Louise Mathis, "Presence, Absence, and Audience: The Elegies of Sileas na Ceapaich 'at Home' and 'Abroad'"
Meghan McAvoy, "'That Was a Thing About Women, They Were All Middle Class': Mobile Hegemonies in Scottish Fiction"
Catriona M. M. MacDonald, "Genre and Gender: Dorothy Dunnett and the Making of Scottish Popular History in a Global Context"
$35 + $10 shipping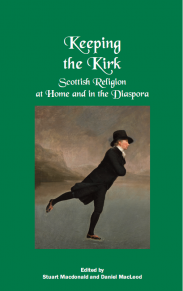 MacDonald, S. and D. MacLeod (eds).  Keeping the Kirk: Scottish religion at home and in the Diaspora (Guelph Series in Scottish Studies 3) Guelph: Guelph Centre for Scottish Studies, 2014.
Covering more than five centuries of Scottish history, this collection documents the diverse and influential role of Scottish Christianity in both Scotland and as part of the nation's global diaspora. With work from established and new scholars, Keeping the Kirk confronts Christianity's interactions with gender, race, language, and education, among other themes. This third volume in the Guelph Series in Scottish Studies asks new questions about Scottish religion while providing a number of thought-provoking answers.  
Contents
Alison More, "Preaching, Reform and Catholic Identity in Sixteenth-Century Scotland: The Case of Johannes Royardus"

Janay Nugent, "'The Mistresse of the Family hath a speciall hand': Family, Women, Mothers and the Establishment of a 'godly community of Scots'"

R.L. Robertson, "Religious Networks and Scottish Missions in the British Atlantic World"

Daniel W. MacInness, "The Legacy of 'Heather Priests' in Eastern Canada"

Barbara Murison, "Children of the Scottish Enlightenment? The Cultural Baggage of Early Nova Scotia Ministers"

Darren Tierney, "'I was in Prison and you came to visit me': Establishing a Scottish Catholic Prison Mission, 1845-c.1890"

Iain Whyte, "'Send Back the Money!' - The Free Church of Scotland in hot water 1845-1847"

Kenneth Baxter, "Gender, Militant Protestantism and Local Politics in Interwar Scotland"

Stuart Macdonald, "Loss of Memory in the Diaspora: the debate around the relocation of the statue of Margaret Wilson at Knox College, Toronto"
$25 + $10 shipping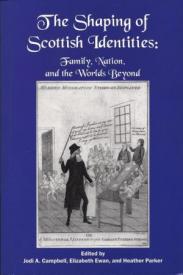 Campbell, J. A. Campbell, E. Ewan and H. Parker (eds.). The Shaping of Scottish Identities: Family, Nation and the Worlds Beyond (Guelph Series in Scottish Studies 2). Guelph: Guelph Centre for Scottish Studies, 2011.
In 1994, T.C. Smout pointed to the concentric loyalties which go to make up the identity of those who see themselves as Scottish. Building on the last decade of new research. The Centre for Scottish Studies at the University of Guelph continues this discussion in the second volume in the Guelph Series in Scottish Studies. This collection explores the multi-faceted construction of Scottish identities from the medieval to the modern era.
Contents
Michael Newton, Scotland's Two Solitudes Abroad: Scottish Gaelic Immigrant Identity and Culture in North America

Rosalind Carr, Women, Presbyterianism and Political Agency: A Case-Study of the Anglo-Scottish Union

Graeme Morton, The Scottish nation of Jane Porter in her international setting

Daniel Travers, The Italian Job: Orcadian Identity and the legacy of its Prisoners of War

Elizabeth Ritchie, "A Palmful of Water for your Years": Babies, Religion and Gender among Crofting Families in Scotland, 1800-1850

Kenneth Baxter, Identity, Scottish Women, and Parliament, 1918-1979

Katie Barclay, Sex, Identity and Enlightenment in the Long-Eighteenth Century

Katherine H. Terrell, Depicting Identity: Cartography, Choreography, and the Borders of Pre-Reformation Scotland

John Sherry, The Evolution of Scottish Protestant Identities in Stuart Ulster, 1603-1714
$25 + $10 shipping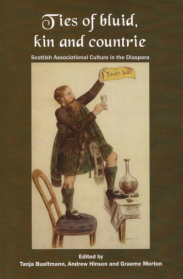 Bueltmann, T., A. Hinson and G. Morton (eds.). Ties of Bluid, Kin and Countrie. Scottish Associational Culture in the Diaspora (Guelph Series in Scottish Studies 1). Guelph: Guelph Centre for Scottish Studies, 2009.
Whether for philanthropic, religious, or social purposes migrant Scots established a vast array of clubs, societies and institutions around the world. This helped to preserve a distinctive Scottish identity within newly adopted countries of residence. With examples from Canada, the US, Australia, New Zealand, England and Northern Ireland, Ties of bluid, kin and countrie is the first volume of its kind to examine collectively these associations.
Contents
Marjory Harper, "Transplanted Identities"

R. J. Morris, "The Enlightenment and the Thistle"

Tanja Bueltmann, "Ethnic Identity, Sporting Caledonia and Respectability"

Graeme Morton, "Ethnic Identity in the Civic World of Scottish Associational Culture"

John Burnett, "Department of Help for Skint Scotsmen!"

S. Karly Kehoe, "Catholic Identity in the Diaspora"

Angela McCarthy, "The Scots' Society of St. Andrew, Hull, 1910-2001"
$25 + $10 shipping