Taunton House - a Theatre Studies performance
Location
Massey Hall, University of Guelph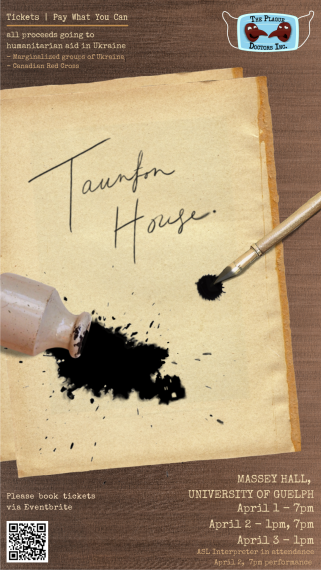 Details
Join Theatre Studies for their highly-anticipated production of Taunton House!
Taunton House is the final product of the fourth year theatre students' Ensemble creation. Fully student run, with support from the faculty.
About: 
Amelia Taunton is trying to publish her work in the 1890s and meets Serena Whitlock, an agent who can help her achieve her dream. Ambition and sexuality collide as they navigate their work and their relationship to each other.
Vaccine QR Codes will be mandatory, audience members are expected to bring proof of vaccine and any type of Government issued ID.
Location: Massey Hall, University of Guelph
Dates & Times:
April 1st - 7PM
April 2nd - 1PM, 7PM*
April 3rd - 1PM
* ASL Interpreter in attendance April 2nd, 7PM performance. 
Tickets available on Eventbrite.
Ticket prices: Pay What You Can
All proceeds from the production are going to humanitarian aid in Ukraine. Including Marginalized groups of Ukraine and Canadian Red Cross.