Visiting Artists & Speakers Talk: Deanna Bowen
Location
Art Gallery of Guelph, 358 Gordon St., Guelph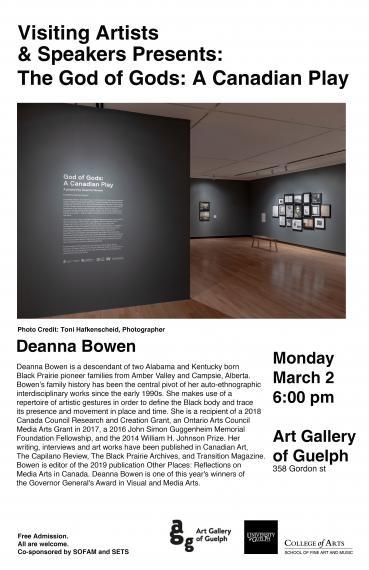 Details
Join us as Deanna Bowen presents "The God of Gods: A Canadian Play" as part the Black History / Black Culture in Canada speaker series.
Deanna Bowen is a descendant of two Alabama and Kentucky born Black Prairie pioneer families from Amber Valley and Campsie, Alberta. Bowen's family history has been the central pivot of her auto-ethnographic interdisciplinary works since the early 1990s. She makes use of a repertoire of artistic gestures in order to define the Black body and trace its presence and movement in place and time.  Her talk is sponsored by SETS and SOFAM.
All are welcome and admission is free!