Professor Troy Hourie & students to create Indigenous art installation
Troy Hourie and students to create Indigenous art installation for the Festival of Trees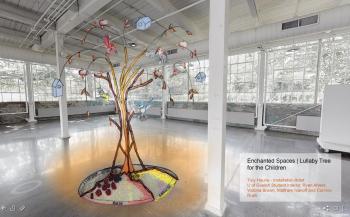 Troy Hourie, a Metis faculty member in the School of English and Theatre Studies, is planning to create a new Indigenous art installation called Enchanted Spaces | Lullaby Tree for the Children for the Festival of Trees in Mississauga, with four U of G student collaborators - Corinna Rush, Ryan Ahlers, Victoria Brown, and Matthew Ivanoff. 
"Enchanted Spaces | Lullaby Tree for the Children is a continuation of a series of Indigenous artworks created to reflect on traditions of storytelling by inspiring tranquil reflection. Each piece gathers materials found and produced from natural materials and often embeds recycled found artifacts. The first in the series was The Widsom Tree, commissioned by Glimmerglass Festival in NY for which Troy collaborated with four storytellers from the Northeast Native Woodlands. (www.troyhourie.com/the-wisdom-tree)
This seasonal tree will honour and celebrate the lives of the Indigenous children who endured the residential school system. At its centre is a glowing orange young sapling that is growing and reaching for the sky. It is protected by an exposed branch framework representing the protective elders nurturing the next generations. All of this is connected by laced leather strips to secure the bond between the generations. The branches merge together creating a vibrant canopy of leaves, birds and birdhouses. There will be several apples on the tree, a treasured food grown around residential schools that were off-limits to survivors. All of this is built from found and recycled natural materials form Troy's woodland property including wood branches, and native plantings including sage, asters, coneflowers.
At the base of the tree will be an assemblage of roots and pine cones forming a medicine wheel with messages of hope carved into it. The tree will have a soundscape that is heard when motion sensors are triggered by viewers and will integrate lighting that will allow the tree to glow vibrantly. All hanging artifacts, the birds, leaves, and birdhouses will be built by hand in the collaboration of the artist and his students."
For more information about the Festival of Trees, visit: www.creativehub1352.ca/festival-of-trees