Judith Thompson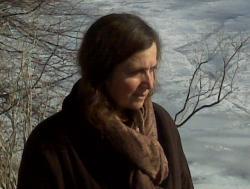 School of English and Theatre Studies
 Judith Thompson is a widely recognized playwright, director, screenwriter, actor and artistic director/producer, with work that has garnered national and international awards and has been widely studied and praised by critics throughout her career.
Thompson completed her BA in English at Queen's University then went on to pursue acting at the National Theatre School of Canada, where she graduated three years later.  She is now a Professor at the University of Guelph for the School of English and Theatre Studies teaching courses in acting and playwriting, and Devising. She frequently directs the Mainstage shows. 
  Judith Thompson has published works in a variety of medias. Her plays include The Crackwalker, White Biting Dog, I Am Yours, Lion in the Streets, The Yellow Canaries, Sled, Perfect Pie, Habitat, Enoch Arden in the Hope Shelter, Palace of the End, Body and Soul,  Hedda Gabler and Electra (Sirens) , Watching Glory Die, and Who Killed Snow White.  She wrote two feature films, Lost and Delirious, Perfect Pie; there is a Polish film of her play I Am Yours, as well. She wrote two  television movies, Turning to Stone, and Life with Billy;  radio plays: Tornado,  ( awarded the Nellie)  A Big White Light,  (the Prix Italia for radio plays) Quickening, A Kissing Way, Sugarcane, and The Gliding.  Chapters in Luminous Ink ( U of T press) and Why Writing (ed Priscilla Uppal)
Ms. Thompson is the founding artistic director of R.A.R.E. theatre, a theatre dedicated to bringing the voices of marginalized and invisible communities to the stage. The first play was Body and Soul, featuring 14 women between 45 and 80, followed by Sick, (youth with chronic illnesses) Rare (nine performers with Down syndrome) Borne (nine performers who used wheelchairs) Wildfire (JT created the play with the cast of Rare, about institutionalization) After the Blackout (written with a cast with a variety of disabilities) and Welcome to my Underworld ( JT dramaturged and directed nine plays by emerging writers)   Future projects include Children Speak, and a collaboration with Workman Arts.
  Judith Thompson's creativity and intriguing work has been awarded numerous times. Awards include: Officer of the Order of Canada, 2 Governor General Awards, Toronto Arts Award, 2 Chalmers Awards,  Dora Award, Walter Carsen Performing Arts Award,  Epilepsy Ontario Award,the Susan Smith Blackburn Award for a Woman Writing in English, and the Amnesty International Freedom of Expression Award. She has honourary PhDs from Queen's University and Thornloe University.
Publications: All the plays listed above have been published by Playwrights Canada Press, (except Who Killed Snow White, pub. Sirocco Press)  with the exception of the plays for R.A.R.E. theatre, which were Devised with the performers.
I am Yours

| | |
| --- | --- |
| | |