Pablo Ramirez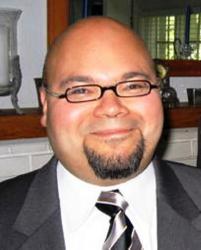 School of English and Theatre Studies
Description
Pablo Ramirez received his Ph.D. in American Cultures from the University of Michigan and is presently an associate professor in the School of English and Theatre Studies at the University of Guelph where he teaches 19th-century American literature and US Latina/o studies. He has published (or forthcoming) articles and chapters in The Canadian Review of American Studies, Aztlan: A Journal of Chicano Studies, Frontieres, The Journal of American Studies, Identity in Detective Fiction, Latin American Identity after 1980, and Bordered Sexualities.
  Dr. Ramirez is currently working on a project titled, "Consent of the Conquered: Mexican-Anglo Romances and Contractual Freedom in Nineteenth-Century America." This project examines how late 19th-century narratives of Mexican-Anglo romances engaged the language of contract in order to reconcile, critique or simply ignore the merger between an American republic that idealized contractual unions and an American empire based on the abridgement of consent. Dr. Ramirez's other main area of research is contemporary US Latino literature. He has offered numerous graduate courses and modules that explore how US Latina/o cultural producers use the realm of fiction to overcome the gaps and omissions in official archives, thereby articulating a historical consciousness that engages both historical and collective memories.
  He advises graduate students in both the School of English and Theatre Studies and the Latin American Studies Program. He also holds an MFA from the University of Miami and frequently serves as a second reader for the Guelph-Humber MFA program.