Paul Salmon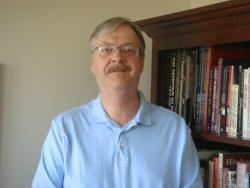 School of English and Theatre Studies
Description
I received my Bachelor of Arts degree from the University of Western Ontario (winning the Gold Medal for English and Philosophy upon graduation), my M.A. from the University of Toronto and my Ph.D. from U.W.O., with a dissertation on "Closure in Fiction and Film".  I teach English literature and Film Studies courses in SETS at the University of Guelph and have taught a wide range of courses in the Media Program at the University of Guelph-Humber in Toronto. Courses I have taught frequently include Contemporary Cinema, Canadian Film, Reading the Contemporary World, and Form, Genre and Literary Value (at the University of Guelph) and Documentary Film and Television and Film Study (at the University of Guelph-Humber). At the University of Guelph, I designed the web-based version of Contemporary Cinema, one of the first fully web-based courses launched by the University and at Guelph-Humber I devised the Documentary Film and Television course for the inception of the Media Studies Program there. My pedagogical interest in a wide range of media have led me to devote considerable energy to audio-visual collection development and film/video event programming at both institutions.
My teaching of Canadian Film has now spanned over 20 years. I am particularly interested in contemporary Canadian Cinema, including the work of such filmmakers as David Cronenberg, Don McKellar, Atom Egoyan, Patricia Rozema, Deepa Mehta and Ron Mann. I have published a review of Jesus of Montreal in Magill's Cinema Annual (1990), and was a compiler and author of the introduction for Canada and Canadians in Feature Films: A Filmography (1996), a project which received a large grant from the SSHRC. More recently, I co-authored ten entries in A Guide to Canadian Cinemas (2001) published by Greenwood Press and am the author of the chapter on Don Mckellar in Great Canadian Film Directors (2007), published by the University of Alberta Press.
    My interest in British cinema is also of long duration. My article entitled "Revising the Traditions: Hanif Kueishi and Contemporary British Cinema" appeared in the Canadian Journal of Film Studies in 1993. I have also written solicited reviews on British films for the online film journal, Offscreen. I have written a review (www.offscreen.com/biblio/phile/essays/powell_pressburger/) of the Criterion edition DVD of Michael Powell and Emeric Pressburger's Tales of Hoffman and also of the films of Alan Clarke (www.offscreen.com/biblio/phile/essays/alan_clarke/).  For Offscreen I also wrote a commissioned opinion piece (http://www.offscreen.com/biblio/pages/essays/survey_responses/P1/) in honor of the 10th anniversary of the journal. 
     My favorite film director is Orson Welles. I wrote a chapter of my doctoral dissertation on Citizen Kane, my article on the trailer for Citizen Kane appeared in the Fall 2006 issue of the Canadian Journal of Film Studies and I recently taught a graduate module on Orson Welles as part of ENGL 6010.  I am currently researching the use of archival footage in Orson Welles: One Man Band, a fascinating documentary on the filmmaker.    
     My administrative roles at the University of Guelph have expanded in recent years. I am the Undergraduate Theatre Coordinator for SETS and have served as acting SETS director on several occasions. I am also a member of Senate and of the Senate Sub-Committee on Open Learning. I recently completed a six-year term as a member of the University's Research Ethics Board, serving as associate chair in my final year with the Board. I have found my administrative pursuits profoundly educational, and regard them as a natural extension of my deep commitment to student learning at the university.