Sky Gilbert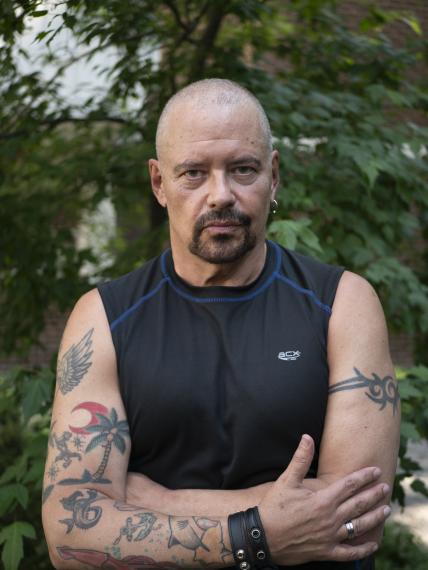 School of English and Theatre Studies
Description
Sky Gilbert is a teacher, writer, director, filmmaker, and he was co-founder and artistic director of Buddies in Bad Times Theatre (North America's largest gay and lesbian theatre) for 18 years. He is one of Canada's most controversial artistic forces. His many critically acclaimed plays that have been performed in theatres worldwide include: The Dressing Gown, Drag Queens On Trial, Drag Queens In Outer Space, Lola Starr Builds Her Dream Home, Ten Ruminations On An Elegy Attributed To William Shakespeare, The Emotionalists (about Ayn Rand),  Rope Enough , Bad Acting Teachers and more recently The Situationists, A Few Brittle Leaves and The Terrible Parents. He has received three Dora Mavor Moore Awards and the Pauline McGibbon Award for theatre directing, and he was the recipient of The Margo Bindhardt Award (from the Toronto Arts Foundation), and The Silver Ticket Award (from the Toronto Alliance for the Performing Arts). In 2014 a street was named after Sky: SKY GILBERT LANE — you can google it! Sky Gilbert continues to produce plays with his experimental theatre  in Toronto, and in Hamilton, Ontario where he lives. 
            Sky Gilbert's seven novels Guilty (1998), St. Stephen's (1999), I Am Kasper Klotz (2001), An English Gentleman (2004) ,  Brother Dumb (2007) and Come Back (20012) were critically acclaimed. (Guilty was also published in Paris, in French by H&O editions). In 2008 Quarto Books published Sky's short novel Wit in Love, of which the Globe stated "this little surprise package may be one of the best and funniest books published in Canada this year." An English Gentleman received the ReLit Award in 2005.  ECW Press published three collections of Sky's poetry: Digressions Of A Naked Party Girl (1998), Temptations For A Juvenile Delinquent (2003) A Nice Place to Visit (2009) and his theatre memoir Ejaculations From The Charm Factory (2000). Playwright's Canada Press published Sky's poetic reflection on the life of his mother The Mommiad, in 2012. ECW Press published Sky's eighth novel Sad Old Faggot in 2016. In 2018 Guernica published his book of essays Small Things. His one act opera Shakespeare's Criminal (created with composer Dustin Peters) was workshopped in spring 2019.
            Dr. Sky Gilbert received his Ph.D. from the University of Toronto in 2006 (which is also where he received his M.A.). His doctoral thesis was titled  Noel Coward And The Queer Feminine – an exploration of male femininity as aesthetic innovation in the work of Noel Coward.  In 2007 Dr. Gilbert received a SSHRC Research Creation Grant and launched The Shakespeare Experiment. The Shakespeare Experiment was a three-year theatrical and academic project involving research into constructs of masculinity and femininity in the context of the cultural conditions of Shakespeare production in performance. In The Shakespeare Experiment each year the final scenes in three Shakespeare plays were performed three different ways, with differently gendered actors in the same key roles in each performance. In one version of the scene, the female roles are played by student actresses, in another by male students, and in the third by male student actors executing a drag performance. A summary of the research findings and their implications can be found at http://cjprt.uwinnipeg.ca/index.php/cjprt/article/viewFile/33/22 -- an article by Sky Gilbert entitled The Shakespeare Experiment: A Seduction in the Form of an Essay on the website of the Canadian Journal for Practice Based Research in Theatre.
As well as being a fellow at the University of Toronto's Sexual Diversity Studies Program, Dr. Gilbert is a a signator of The Shakespeare Authorship Coalition's Declaration of Reasonable Doubt. Sky's most recently published journal article SHAKESPEAREAN PEDAGOGY AND COPIOUS PARADOX was published in the Brock Education Journal in 2018, and his most recent article (of the many) in Brief Chronicles is Was Shakespeare Don Quixote?  Guernica Editions published Sky's first non-fiction book SHAKESPEARE BEYOND SCIENCE: WHEN POETRY WAS THE WORLD in 2020. Alexander Waugh said of Sky's book: "Gilbert has a real gift for explaining complicated intellectual ideas with conviction and clarity, and for keeping his prose cheerful – however deep he burrows. Frances Yates had that too."
At Guelph University, Dr. Gilbert teaches both practical and academic subjects in graduate and undergraduate courses and also serves as a reader and thesis supervisor for graduate students, including those taking their MFA in Creative Writing at Guelph-Humber. He most often is to be found teaching THST 2120 Dramaturgy and Playwriting, or THST 3300 Sexuality and the Stage at the undergraduate level and courses about his special research interest: Shakespearean rhetoric, euphuism and what he calls 'the queer feminine style.
 Graduate level courses Sky has taught have focused on gender and Shakespeare, theatrical cross-dressing, and male femininity in playwrighting, avant garde directing, confessional theatre, and realism/anti-realism.
Sky Gilbert is presently working on  his eighth novel I, Gloria Grahame -- to be published by Dundurn Press in 2021.
Education
B.A. in Fine Arts York University
M.A. University of Toronto
Ph.D. University of Toronto
Research
20th century British Theatre
Shakespeare authorship
Male femininity and sexuality
Publications
BOOKS ABOUT SKY GILBERT:
Compulsive Acts, edited by David Bateman, Guernica Press.
PLAYS: (a very partial list....)
The Terrible Parents, Toller, A Few Brittle Leaves,  Hackerlove, Dancing Queen, Hamilton Bus Stop, Crack, The Situationists,I Have AIDS!, Bad Acting Teachers
Rope Enough, The Emotionalists, Play Murder, Suzie Goo: Private Secretary, Lola Starr Builds her Dream Home, Drag Queens On Trial, The Dressing Gown
PLAY COLLECTIONS:
Avoidance Tactics
This Unknown Flesh
 
NOVELS:
Sad Old Faggot
Come Back
Brother Dumb
An English Gentleman
I am Kaspar Kotz
St. Stephens
Guilty
NOVELLA:
Wit in Love
POETRY:
The Mommiad, A Nice Place to Visit, Temptations of a Juvenile Delinquent, Digressions of a Naked Party Girl
MEMOIR:
Ejaculations from the Charm Factory
NON-FICTION
Shakespeare Beyond Science: When Poetry Was the World
BOOKS EDITED BY SKY GILBERT:
Perfectly Abnormal
Gay Monologues and Scenes
Awards
Pauline McGibbon Award
3 Dora Mavor Moore Awards: The Whore's Revenge, Suzie Goo: Private Secretary, The Situationists
The Margo Bindhardt Award
The Relit Award
The Silver Ticket Award