Troy Hourie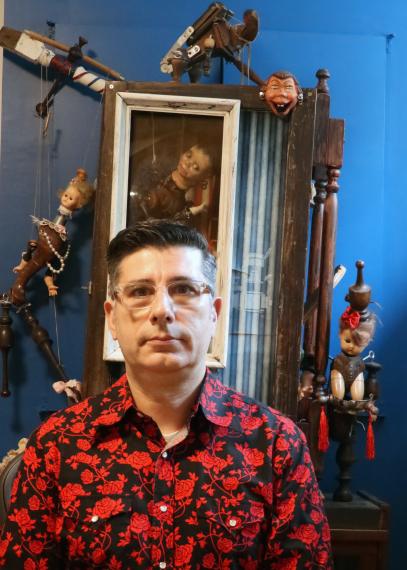 School of English and Theatre Studies
BIOGRAPHY
Troy is an installation artist and scenographer. Art Installations include: Freaks | A Performative Installation, Ei! Marionettas (2020), Porto Portugal, Escape to Beira, (2014) ARTErra Portugal, Apparitions (2015) Arteles Finland and Aurora ON (2018), and Static Apnea, Performance Arcade, NZ (2016) and American Vicarious NYC (2020) , Paracosms (2018), Lee Contemporary Art. Art commissions: The Wisdom Tree (2015), Glimmerglass Festival and Espreitar Tondela (2016), Arterra, Tondela, Portugal. His work has been exhibited internationally including Toronto, London, Prague, Netherlands, New York, His artworks have been supported by Ontario Arts Council and Canada Arts Council grants. Scenographer for 300+ productions for various off-Broadway, regional and opera companies across the USA, Canada and internationally; including Glimmerglass Festival, The New Victory, New York Theatre Workshop, Cherry Lane Theatre, Brooklyn Academy of Music, The Guthrie and Classical Theatre of Harlem. Troy directed and designed the digital scenography for Philip Glass' opera, The Fall of the House of Usher, Mannes, NYC in 2018.  Troy is a member of the Metis Nation of Ontario.
Troy has designed, taught or guest lectured at New York University, The Juilliard School, Royal Central School of Speech and Drama, Royal Halloway University of London, U. of Connecticut, Williams College, Duke University, Queens College, Syracuse University, Cornell University, Dalhousie University and the University of Minho, Portugal.
RESEARCH AND PROFESSIONAL HIGHLIGHTS
2020 Static Apnea | A Performative Installation, The American Vicarious at The Invisible Dog, Brooklyn NY. Created by Chris McElroen, art installation by Troy Hourie
2020 Odditimes | A Tragic Comedy in Pandemic Times, a new puppetry piece created by Troy Hourie. Collaborators Andrew Gaboury and Colleen Snell. Aurora ON.
2020 Making Gay History, Provincetown Playhouse, New York University. Adapted and directed by Joe Salvatore from podcast by Eric Marcus. Scenic Design by Troy Hourie
2019 A(loft) Modulation, The American Vicarious, off broadway NYC. Directed by Chris McElroen, Set Design by Troy Hourie
2019 Freaks | A Performative Installation at Ei! Marionettas Festival, Porto Portugal. Created by Troy Hourie. Collaborators: enVide neFelibata, Andrew Gaboury and Jeremiah Owens.
2018 Apparitions, Aurora Cultural Centre, Aurora ON. Art installation by Troy Hourie. Previous iterations in the MAPLAB in Utrecht Netherlands, Arteles Art Residency in Finland and Artscape Gibralter in Toronto.
2016 Espreitar Tondela, Site Specific landscape works; Perplexidade, Tranquilidade and Entre Lacos. Portugal. Commissioned by town of Tondela and ARTErra Artist Residency. Created by Troy Hourie
2016 Static Apnea | A Performative Installation, The Performance Arcade, Wellington NZ. Created by Chris McElroen, art installation by Troy Hourie
2015 Ga(y)ze, Site Specific performance, Union Square, NYC. Created by Joe Salvatore and Troy Hourie
2015 Enchanted Spaces | The Wisdom Tree, an immersive Indigenous landscape installation. Commission by Glimmerglass Festival, NY. Created by Troy Hourie
Bachelor of Interior Design U Manitoba 1991
MFA Scenic Design University of Massachusetts Amherst 1997
MA Scenography U London, Royal Central School of Speech and Drama 2012
2020 Audelco Award Nomination for Best Set Design for A(loft) Modulation for excellence in Black Theatre in NYC. Other award and nominations for 2012 Helen Hayes Award, 2012 Joseph Jefferson Award, 2007 Henry Hewes Award, 2005 Drama Desk Award, 2015 International Opera Award, seven AUDELCO nominations and 2005 Ford Foundation Artist Grant. His art installations have been funded by several grants from the Ontario Arts Council and Canada Council for the Arts.
Troy is an installation artist whose career has evolved from a scenographic/performance design background. Trained in art history, architecture and theatre design, He has merged these disciplines to an artistic practice that focuses on the relationship of the body to three-dimensional space as it interacts with what it perceives. His current work revolves around the themes of wonder, immersion, spectatorship and intermediality. In search of building a visceral experience for the viewer, his work speculates that evoking elements of wonder, chance and discovery in the creative process can lead to an engaged and thoughtful participation by its viewer. For Troy, scenographic space has always embraced the notion of 'constructed realities', whether it is a maquette for theatre, a cabinet of wonder or an art installation. The layering of physical and ephemeral spaces with the body works like a three-dimensional collage to immerse the spectator into a reflective position where the mind is more receptive to abstract thought and experiences. Much of his work attempts to intrigue the viewer by presenting them with an evocative image that asks them to engage with the artwork more closely. It can be a peek-hole, a reflection, a larger sculptural mass that draws them in to a more intimate, immersive experience. He often draws on techniques used in historical devices of wonder to emulate the awe created when observing artworks from a unique point of view. This kind of intense exploration encourages the viewer to consider the artwork more carefully, pondering meaning for each moment in the context of the whole installation.
Video Feature:
video interview: