Spring & Summer Awards Season Roundup
Awards events went virtual this spring, understandably—and many were delayed until early summer. Things may be anything-but-normal, but during this time of social distancing, there's a sense of closeness that comes with sharing news of our grads being noticed for their work. We are all in on celebrating that! Following on the heels of Simone Dalton's RBC Taylor Prize Emerging Writer Award earlier this year, here are a few more notable recognitions we're pleased to report…
Canisia Lubrin
Rising Stars Program 2020 (Writers' Trust of Canada)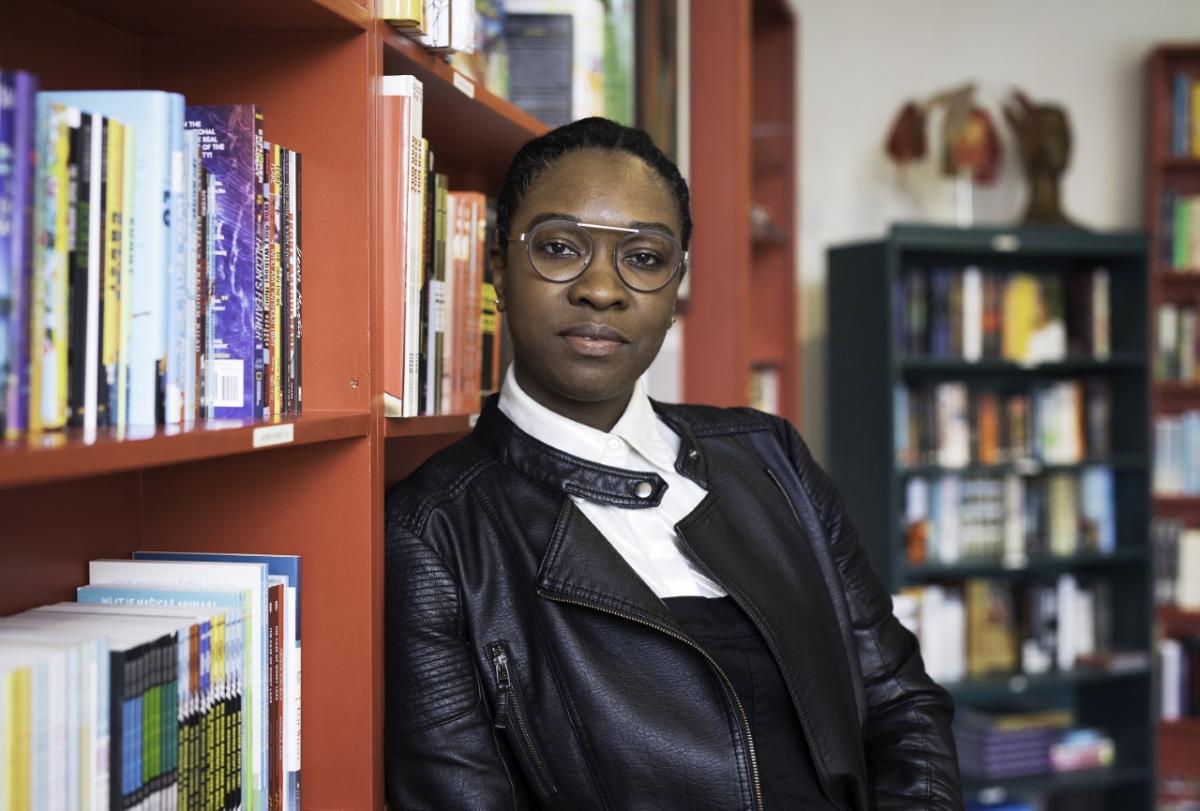 The Writers' Trust Rising Stars program is a multi-faceted career development program that recognizes authors in the early stages of their careers. Canisia Lubrin was chosen this year by Anosh Irani (one of five notable Canadian writers to select inductees). Rising Stars participate in a flexible mentorship, attend a series of networking events, and are awarded a two-week self-directed writing residency at the Banff Centre and a $5000 cash prize.
Of Lubrin's work, Irani Writes: "Encountering [her] work is like suddenly being thrown into terrain that is both sombre and uplifting, unearthly and grounded at the same time. Her landscapes — physical, linguistic, and psychological — displace you in ways that are disturbing yet delightful. An accomplished and recognized poet — Lubrin is already a star in that sense — it will be extremely rewarding for us as she turns her devastating gifts to prose. She will push us and break us in ways that will continue to let the light in. As she writes in Voodoo Hypothesis: 'They are never rigid, those who watch from the treetops.' Whatever genre Canisia Lubrin chooses, she will shine."
Lauren Carter
Winner: Margaret Laurence Award for Fiction—This Has Nothing To Do With You
Winner: John Hirsh Award for Most Promising Writer
(Manitoba Book Awards)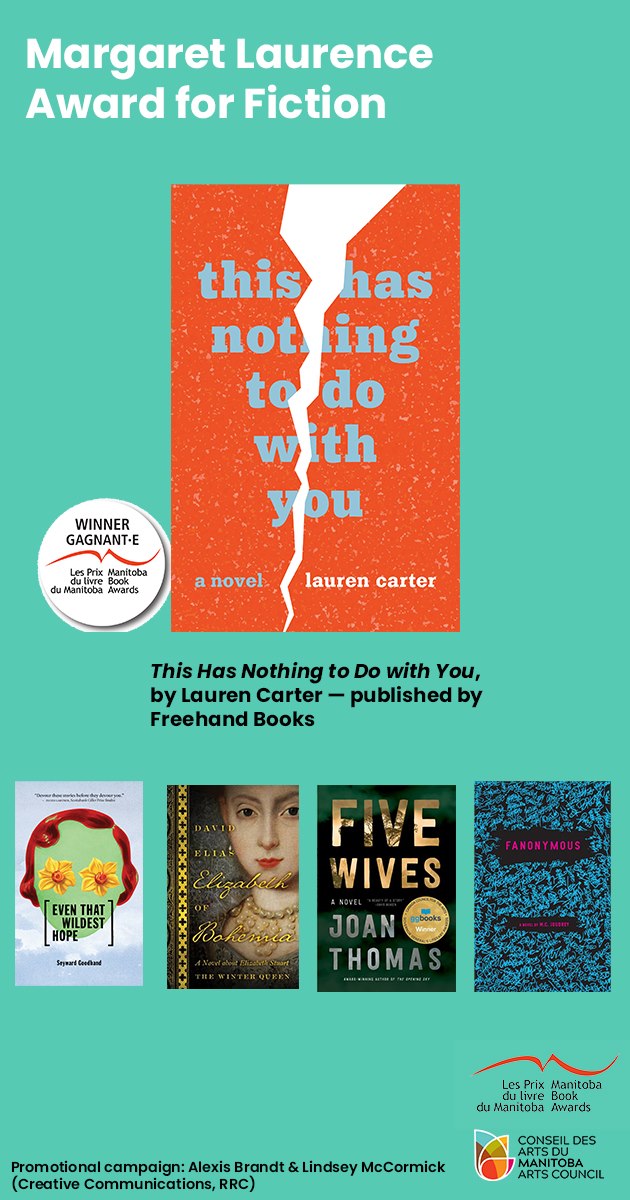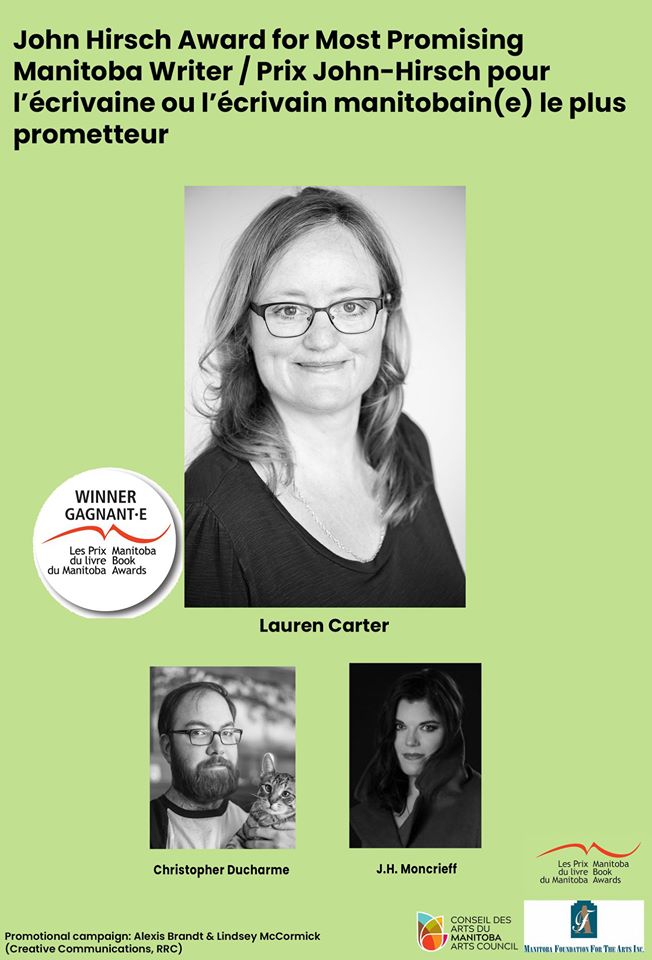 Lauren Carter was celebrated with a double-win at the Manitoba Book Awards this year (receiving a combined cash prize of $6000). Of the honour, she writes: "…As a young woman living in Peterborough, Ontario, I never would have thought that one day I'd move to Margaret Laurence's home province of Manitoba. If a fortune teller had also muttered in my ear that I'd win a prize named after her for my second novel, I might have been skeptical too (yet also hopeful). In the early 1970s, Margaret Laurence moved to Lakefield, Ontario, a village near Peterborough, where I went to university. There, she spent three summers in a cabin on the Otonabee River, writing The Diviners. In the book, she describes the river as 'flowing both ways' and it's true. I thought of that every time I stood on the Dublin Street footbridge that crosses its width or the wider Hunter Street bridge that leads into East City and looked down at its gleaming surface. An angsty 20-something year old – around the same age as Mel is in This Has Nothing To Do With You – I was writing a lot of poetry and the thought of completing a novel seemed immense and scary and impossible..."
Nancy Jo Cullen
Finalist: Amazon First Novel Award—The Western Alienation Merit Badge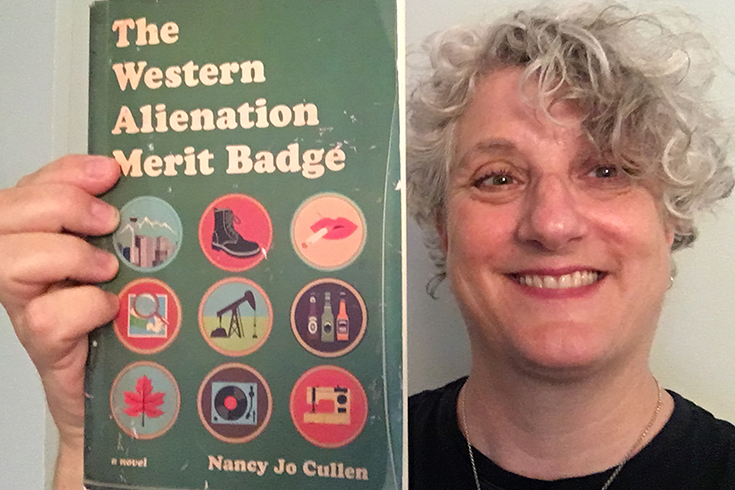 Nancy Jo Cullen was honoured on the fiction scene this spring as one of six finalists for the national Amazon First Novel Award. This recognition came with a $6000 cash prize and promotion for her novel, The Western Alienation Merit Badge, across Amazon platforms in Kindle and audiobook editions).You can watch her FNA video interview here at The Walrus.
Additional U of G CW MFA alumni recognized for their work this spring include:
 
Christopher Duthie
Winner: Best Original Play (Calgary Theatre Critics Association)—A Dinner Party
Finalist: Gwen Pharis Ringwood Award (Alberta Literary Awards)—A Dinner Party
David Brock
Finalist: Outstanding New Play (Theatre for Young Audiences)—A Million Billion Pieces (Dora Mavor Moore Awards, Toronto)
Chris Bailey
Finalist: PEI Book Award (Poetry)—What Your Hands Have Done
Becky Blake
Finalist: Foreward Reviews INDIE Award (Literary Fiction)—Proof I Was Here
Marcia Walker
International Shortlist: Commonwealth Short Story Prize—"The Eternally Obvious is Not Obvious to Me"