Summer Reading: Shane Neilson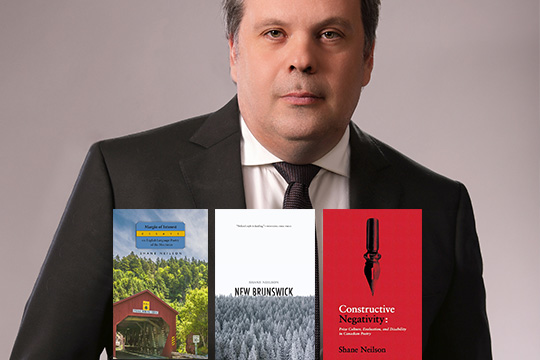 We asked MFA alumni publishing books this season what they're reading, and what they'd recommend. Here's what's on Shane Neilson's bookshelf:
Armand Garnet Ruffo's Treaty # (Wolsak & Wynn, 2019)
I've been reading Ruffo's poetry for years, and for the past five or so I've been wishing that his work might get the attention that younger Indigenous poets have been receiving. Ruffo's hardly an unknown writer, but I do fret about prize culture leaving his writing behind a bit because it's so good. (And yeah, I know, so what about prizes...say the people with their faces pressed up against the glass of the metaphorical trophy case.) I packed Treaty # to read on an artificial beach on Canada Day where the 401 is visible, not thinking overmuch about the significance of such a text and the day, but because I've been trying to get through all the books I picked up at Congress in Vancouver a couple of months ago. But when I read this line, "Oh Canada, to be young and not suicidal. Free" from "Minobimaadizwin, The Good Life", the occasion became even more obvious I suppose. More pertinently, I became different somehow, sadder than usual; that's how I get when I start seeing again without the default familiarities. I don't know. Is this not sounding like a stellar, zippy recommendation? Because it really is from me, a reader who feels the sad and beautiful things as a purpose to keep going. The cliché is that freedom leads to new possibility and growth, but I've always felt that freedom's a very heavy condition. Sitting in the lawn chair on the swampy beach, I felt like I got slapped. The effect has lingered.
Kirby's This is Where I Get Off (Permanent Sleep Press, 2019)
In April, I heard Tamara Faith Berger answer a question at GritLit panel like this: "I write about sex because not only am I interested in sex, I also find it a compelling technical challenge. It is hard to write sexual acts well, to describe their motion but to also make them come alive in a fictional world, within relationships." (If anyone's reading this, pick up Berger's Maidenhead to see what kind of a virtuoso talent Canada has here.) It is hard to write sex well. When chatting with Russell Smith about the paradox (sex is a cultural obsession, but it's not done especially well in fiction), Russell taught me something about the trick of the Literary Review's Bad Sex in Fiction Award curation, of how finding "bad anything" is easy but finding "good anything" is harder. Maybe the sponsor of the Literary Review's impulse, a general aversion to writing about sex, is just another post-Victorian self-censorship shame-based impulse. Enter This is Where I Get Off: Kirby writes out sex with a keen sense of location, timing, anecdote, and attention to motion. The trick, I think, is to avoid ridiculous cliché and a porny robotic style. In contrast, Kirby captures the encounter whole:
"open"
balls slap pace slap slap pace
slap slap will myself to his
will my self to his will to his
cock to his cock to all his
                                           ("10:15 PM")
Enjambment, onomatopoeia, self-consciousness, and single-syllable word choice convey the scene. The poem dramatizes oral sex, but it also dramatizes subsuming a self to another through a specific sexual act.
Shane Neilson published a new book of poems, New Brunswick (Biblioasis, 2019)—meant to think through his version of Maritimity—this Spring. In the Fall, Margin of Interest: The English Language Poetry of the Maritimes (PQL, 2019) will be released alongside Constructive Negativity: Prize Culture, Evaluation, and Disability in Canadian Poetry (Palimpsest, 2019).