CANCELLED! DigiCafé Series: Unseen Hands: on Gendered Technological Design & Women's Creative / Critical Responses
Location
Thinc Lab, 2nd Floor, McLaughlin Library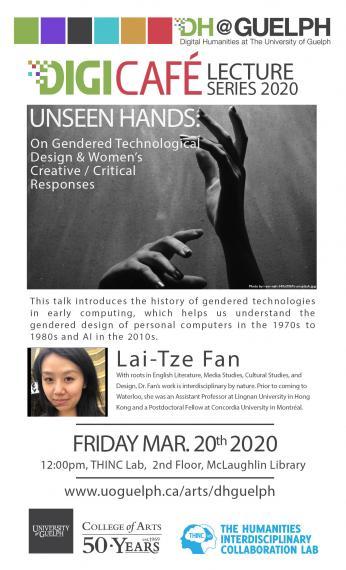 Details
We regret to announce that this event has been cancelled.
This talk introduces the history of gendered technologies in early computing, which helps us understand the gendered design of personal computers in the 1970s to 1980s and AI in the 2010s. In an analysis of the unseen ways in which women advanced technological development and industry, this talk will address cultural and rhetorical examples of how technological design has sometimes conflated women and their bodies with the machines that perform so-called menial labour and services, thus treating women as machines. This talk will then discuss creative and critical responses to gendered technologies by women and non-binary people, focusing on the fields of electronic literature and the digital humanities.
All are welcome and admission is free!