TIFF Digital Screening & Interview with Rebeccah Love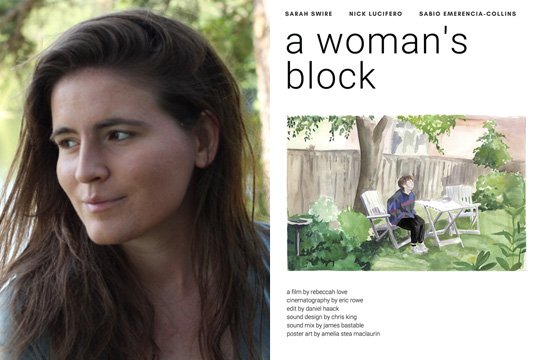 Join MFA alumna Rebeccah Love and TIFF programmer Hoda Ali for a discussion of Rebeccah's 2018 short film A Woman's Block and the power of movies to spark conversations about mental health. Their interview is part of this year's Bell Let's Talk Day programming and will be streamed via TIFF's Facebook and Twitter feeds, and will also be available to watch on YouTube, here, beginning at noon on January 28th.
For a limited time, from January 28th – February 4th, you will also be able to screen A Woman's Block as part of a short film programme exploring mental health, free of charge, on the TIFF Digital Screenings platform, here.
In an interview with the MUFF Society—an online community celebrating womxn and underrepresented groups in film and television—Love describes her film as "a story about a woman recovering from a mental health crises [and] a portrait of a neighbourhood where people are looking out for one another. It is a story about little moments, and how the layering of these little moments can totally shape how a person is experiencing the world." MUFF's Creative Producer, Seana Stevenson, asserts that "To see a film show a city where bumping into someone you know and where neighbours not only interact but feel empathy towards one another is wonderfully foreign. All it takes is a simple chat, whether it's a stiff, clumsy exchange or a full graceful conversation, to change someone's mood. In under ten minutes, A Woman's Block articulates more than some [films] do in three hours." Learn more about Rebeccah and her filmmaking by reading the full interview, here.
Additionally, Rebeccah's brand new short, Parlour Palm, will be premiering via Zoom on January 30th at 7pm as part of a PWYC evening exploring mental health, climate change, and storytelling. To RSVP email palmpremiere[at]gmail[dot]com or follow the Facebook Event Page.