The Unpublished City at Toronto Book Awards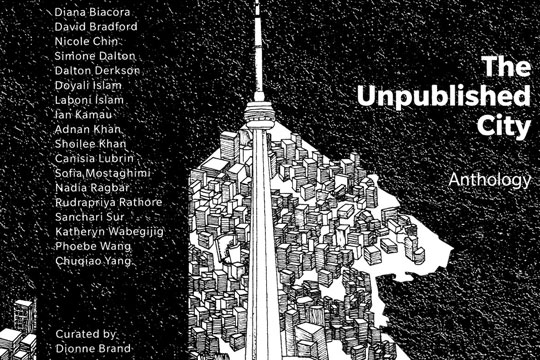 A total of eight CW MFA graduates are finalists for the Toronto Book Award this year, owing to the fact that they've all contributed writing to The Unpublished City (Book*hug), curated by Dionne Brand.
Our heartfelt congratulations go out to Diana Biacora; David Bradford; Nicole Chin; Simone Dalton; Dalton Derkson; Adnan Khan; Shoilee Khan; Canisia Lubrin and, of course, our own Dionne Brand.
What the jury said:
The Unpublished City brings together a collection of diverse voices, a true cross-section of Toronto's burgeoning literary community. These poems and short prose pieces reveal a series of lush vignettes through distinct voices that surprise and delight. The stories conjure Toronto's city streets, its preoccupations and psychological pulse. From race relations to racial profiling, there are choices, paths, cute friendships, tragedies, cruelties, griefs, loves, losses and sadness. Here are fantasies of power through magic, the complications of sex, death in domesticity, the clash of home, homelands, journeys away, the rural, the urban, generational divides, ghosts and revelations, quirky visceral moments, an itch that will leave goosebumps. By turns gory and disturbing, morbidly funny, or charming and sweet, The Unpublished City highlights a talented crop of writers to watch out for.
Established by Toronto City Council in 1974, the award honours books of literary merit that are evocative of Toronto. Each shortlisted title will receive $1,000, with $10,000 going to the winner. This year's Awards Committee is comprised of author Nathan Adler, author/editor Susan G. Cole, author Kevin Hardcastle, poet Soraya Peerbaye and author/bookseller Itah Sadu.
The 2018 shortlist:
The winner of the 2018 Toronto Book Awards will be announced on October 10 at the Toronto Reference Library. Members of the public are welcome to attend the awards at the Bram and Bluma Appel Salon starting at 7 p.m. Tickets are free and will be available via the Toronto Public Library website. Come out and support our grads!