Time Management
Looking to unleash your true potential? Look no further! This handout will help you get the best results possible, manage your time like a boss, and become a productivity beast this semester!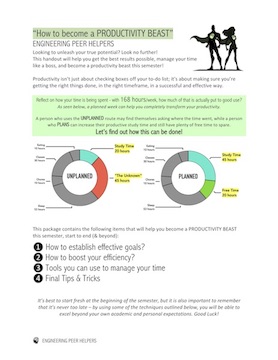 These are helpful tips and tools to help you manage your time and help you pay attention and do well in classes. Need more help....contact your peer helpers for confidential individual assistance.
Feel like you are falling behind and have no idea how to get back on track? Try some of the tricks prepared espicially for students by successful senior students who have encountered the same problems.
For help with citation formats, grammar and writing style, and information on appointments