WSET Level 1 Award in Wines CLASSROOM
OVERVIEW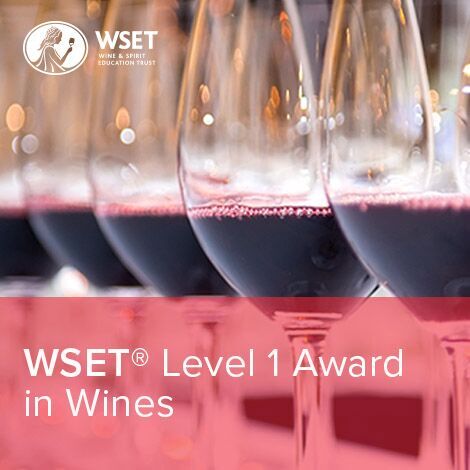 The Wine & Spirit Education Trust (WSET) Level 1 Award in Wines is an entry level qualification providing a straightforward introduction to wine. It is ideal for boosting the confidence of new or inexperienced front line staff in the hospitality and retail sectors.  It is also a great course for those wanting to know the main grape varieties and food and wine matching.
WHEN
Sunday, November 15th, 2020 OR
Sunday, March 7, 2021
Offered in a 1 day format. Course material will be made available before the class begins. A minimum of 10 participants required.
TIME: 
9:30 AM - 5:30 PM (The exam will be held prior to 5:30 PM)
WHERE
University of Guelph, School of Hospitality, Food & Tourism Management, Macdonald Stewart Hall (MACS)
MACS is located in north campus, just east of the Gordon Street and College Ave intersection.
University of Guelph campus map
WHO SHOULD ATTEND
Wine consumers wanting to know more about the main grape varieties and food and wine matching, as well as hospitality professionals who would benefit from an introductory level wine course.
QUALIFICATION OBJECTIVES
On completion of the core units, you will be able to:
describe in general terms the main styles of wines available
display a basic understanding of the factors that determine the main styles of wine
describe in general terms the main characteristics of the principal grape varieties
state the procedures for the storage of wine
state the procedures for the opening of wines
state the social, health, safety and legal issues relating to the consumption of wine
produce simple tasting notes using the Level 1 WSET Systematic Approach to Tasting
offer basic food and wine matching advice
WSET Level 1 Specifications (2018 - MAR)  - Must be read before enrolling.
HOW TO GAIN THE QUALIFICATION 
You must successfully complete a multiple choice exam of 30 questions.  All students who pass will be issued an internationally-recognized WSET certificate and a lapel pin.
The exam will take place near the end of Sunday's session.  If you are not writing the final examination, please let us know when you register.
The course is taught in English. Other languages are available for the course book and exam. If interested, please inquire before you register.
FEE
$460 + HST (59.80) = $519.80
Includes: study guide, wines for in-class tasting, wine glasses, instruction and examination fees (for the class scheduled date).
*A 10% discount will apply to U of G alumni, students, staff & faculty. ($414 + HST ($53.82) = $467.82
REGISTRATION DEADLINE
Friday, October 23, 2020
Friday, February 12, 2021 (For March 7th class)
Please register early.  These popular certifications fill up BEFORE the deadline date. 
REGISTRATION
Please complete the on-line application form.  Successful certifications will include your first name, middle name and last name.  Only if your last name is to appear first on the certification, please contact Lisa a minimum of two weeks prior to course start.
PAYMENT INFORMATION
Payment is due upon submitting your application form.  Please follow one of these two options:
Contact Lisa Fodor at 519-824-4120, ext. 56116 with credit card details (VISA or M/C only); OR
Forward a cheque payable to the "University of Guelph" and mail to: Lisa Fodor, School of Hospitality, Food & Tourism Management, University of Guelph, Guelph, ON N1G 2W1
HST Registration Number - R108161829    This course does not qualify for the Canada Revenue Agency T2202A Education Form.  A University of Guelph receipt can be issued.
ANY RESTRICTIONS?  UNDER 19? 
There are no restrictions on entry to the WSET Level 1 certification.
Students who are under 19, will not be allowed to sample any alcoholic beverages during in-class tastings, but this is not a barrier to successfully completing the qualification. Similarly, students who choose not to taste alcohol for health, religious or other reasons will not find this a barrier to successfully completing the qualification.
Level 1 and 2 can be taken simultaneously. Level 1 is not a prerequisite for Level 2.
CANCELLATION
If cancellation occurs within 6 - 10 working days prior to the course start date, an administration fee of $100 will apply.  No refunds 5 days prior to course start.
POLICIES
Contact Lisa regarding information on appeals, reasonable adjustments, special consideration, disability/accessibility services, etc. prior to enrollment.
CONTACT
Lisa Fodor
Logistics Coordinator
School of Hospitality, Food & Tourism Management, Macdonald Stewart Hall
University of Guelph
50 Stone Road East
Guelph, ON N1G 2W1
(519) 824-4120, ext. 56116
Email: wset@uoguelph.ca