BLA Student Wins Landscape Architecture Foundation 2017 Landscape Forms Design for People Scholarship
Congratulations to Sarah Robinson who recently won the Landscape Architecture Foundation (LAF) and Landscape Forms 2017 Landscape Forms Design for People Scholarship.
Sarah Robinson is a graduating 4th year bachelor of landscape architecture student at the University of Guelph.  Sarah's 4th year BLA thesis and design studio project seeks to alleviate loneliness through retrofitting suburban neighbourhoods. As someone who grew up on a cul-de-sac in Kitchener, Ontario, Sarah is especially interested in using the centers of these dead-end streets as opportunities to create social engagement. After graduation, Sarah hopes to continue designing communities, specifically designing for communities – to bring neighbours together through their local built environment. This focus allows her to pursue other interests which include learning about other cultures and exploring the everyday lives of people around the world.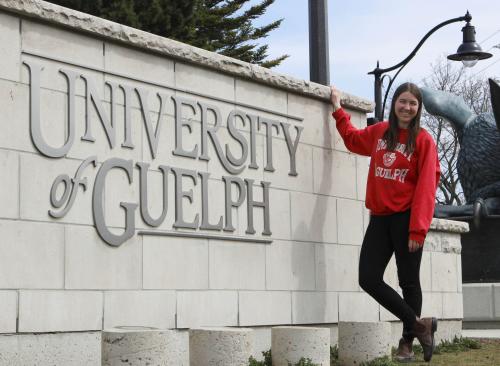 Above:  BLA student, Sarah Robinsion
About the Landscape Forms Design for People Scholarship:
Landscape Forms, sponsor of the LAF award is founded on the commitment to good design and concern for the well-being of people, created this scholarship to honor excellence in design for people — addressing how people use spaces and the ways in which the design of spaces and amenities can enhance and enrich the experience of those who use them.
The Landscape Forms Scholarship worth $3,000 US is open to landscape architecture students in their final year of full-time undergraduate study in an LAAB-accredited program and who demonstrate passion, commitment, and competence in creating great spaces for people. Applicants must show a proven contribution to the design of public spaces that integrates landscape design and the use of amenities to promote social interaction. The scholarship is awarded on the basis of academic accomplishment and creative ability.
We congratulate Sarah on her academic success.
Share this page
Find related news by keyword