Four Guelph Alumni Elected into the CSLA College of Fellows
On May 30th, 2014, at the Château Laurier Hotel during the CSLA Congress in Ottawa, Chris Grosset and Robert Brown, both University of Guelph MLA graduates, and Robert Evans a Guelph BLA graduate were invested into the CSLA College of Fellows.  They were presented with their medals by CSLA President Peter Briggs, another Guelph MLA graduate.

Also this week it was announced that another MLA graduate, Lee-Anne Milburn, was elected to the College of Fellows of the ASLA and will be inducted this fall in Denver.  Brown and Milburn also hold PhD degrees from Guelph.
Dr. Brown is a Professor of Landscape Architecture in the School of Environmental Design and Rural Development at the University of Guelph where he has been teaching and conducting research for 29 years.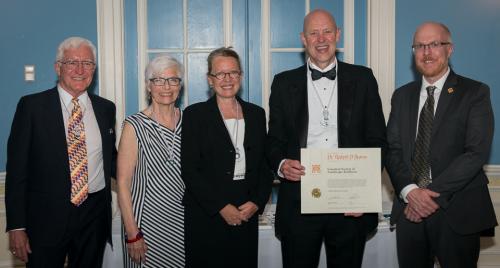 Alan Duncan, Jane Durante, Wendy Graham, Robert Brown and Peter Briggs (CSLA Photo: J. Landry)
Being elected fellow recognizes that an individual has made "outstanding contributions to the profession".  Grosset is a member of the Nunavut Association of Landscape Architects, Evans is a member of the British Columbia Association of Landscape Architects and Brown is a member of the Saskatchewan Association of Landscape Architects where he's known among his fellow "SALAmanders as Dr. Bob".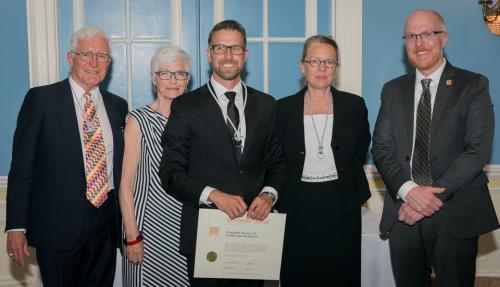 Alan Duncan, Jane Durante, Chris Grosset, Wendy Graham and Peter Briggs (CSLA Photo: J. Landry)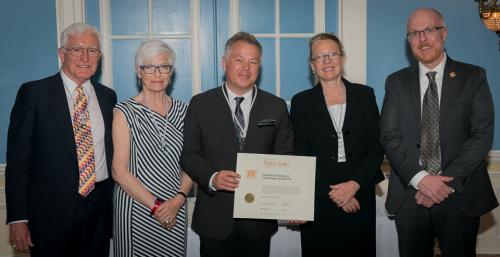 Alan Duncan, Jane Durante, Robert Evans, Wendy Graham and Peter Briggs.  (CSLA Photo : J. Landry)
Share this page
Find related news by keyword