Macklin Hancock's 18,000 Plans & Drawings Transferred to UofG Archives
Macklin Hancock was one of the most prolific Canadian landscape architects practicing in the second half of the twentieth century.  His work and that of his firm, Project Planning and Associates Ltd, included projects around the world including Expo 67, Don Mills New Town and the Kuwait waterfront. Over the past few years, 18,000 of the firm's drawings were transferred to the University of Guelph's Canadian Landscape Architecture Archives.  Guelph MLA students have worked with Archives staff over the past two summers to organize, clean, describe and catalogue the massive collection.  Read more in the latest edition of Landcapes Paysages on page 19 by clicking here.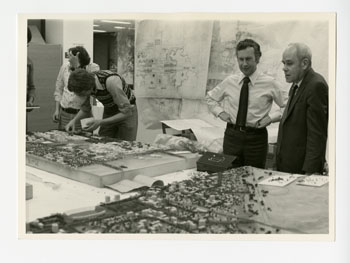 Project Planning Associates Office.  Macklin Hancock is second from the right.
Share this page
Find related news by keyword