Prof. Hambly joins TVO's The Agenda to discuss Ontario's Broadband Problem
Ontario needs to "build back better with improved broadband", states SEDRD Professor Helen Hambly. We are beyond the realization that broadband is an essential infrastructure that connects everyone to the Internet and a range of higher-speed online services and applications essential for daily life, particularly during the Covid-19 pandemic.
Ensuring Internet access that is fast, reliable and affordable is immensely challenging, says Prof. Helen Hambly on a recent episode of the news program The Agenda on TVO. Hambly leads the Regional and Rural Broadband (R2B2) project, which is the largest and oldest action research project on rural and farmland connectivity in Canada. Since 2007, when SEDRD hosted the conference "Digital Ontario", Hambly and more than 20 undergraduate and graduate students have researched the expansion of connectivity and the role of information and communication technologies in Ontario's rural areas. Taking a regional and community approach, the R2B2 project works in partnership with municipalities and concerned citizen groups to analyze their connectivity needs. R2B2 helps publicly supported broadband initiatives establish an empirical baseline for assessing the need for higher speed Internet access. The project supports awareness building and policymaking about the economic and social outcomes of broadband. An example of a key partnership is SouthWestern Integrated Fibre Technology (SWIFT), an initiative of the Western Ontario Wardens Caucus.
One of the leading advocates for rural connectivity and an early enabler of SWIFT is Mayor of Caledon, the Honourable Allan Thompson, who joined Prof. Hambly on The Agenda. Recently, Mayor Thompson posted an online petition to the Canadian government stating that broadband be declared "essential service" similar to water and electricity.  Also joining the panel on The Agenda was Ryerson University Associate Researcher and R2B2 research partner, Dr. Reza Rajabiun.
Dr. Rajabiun and Prof. Hambly have co-authored a policy brief that explains the need to build more fibre optic infrastructure in Southwestern Ontario region in order to support 5G evolution of mobile wireless technologies and connect rural communities and cellular towers across the landscape. Unfortunately, in many areas of Ontario, even 3G and 4G/LTE mobile wireless service can be unreliable or unavailable. Rural users are hard hit by costly wireless plans that drop calls or buffer when streaming content. During Covid-19 this situation is familiar to many Internet users who are working or studying from home. Prof. Hambly, R2B2 Economist David Worden and undergraduate student Haider Ali completed a study this summer at the request of Puslinch Township staff and the Puslinch High-Speed Internet Task Force, an Internet access advocacy group of local residents and business owners. Despite its location just outside the boundaries of the City of Guelph, Internet Performance Tests results for Puslinch (2017-2020) achieved median Internet speeds of 4.33-5.78 megabits per second (Mbps) download and 0.77-1.18 Mbps upload with mean latency of 96-105 milliseconds (ms). Research results indicate that 97.3% of residents and work from home users in Puslinch regularly experience Internet speeds well below the national Basic Service Objective (BSO) for broadband services, which is set at 50 Mbps download and 10 Mbps upload. The concern, as stated by the panelists on The Agenda's show entitled "Ontario's Broadband Problem" is that life on the wrong side of the digital divide will hinder the livelihoods of many residents of the province. Broadband is essential for meeting livelihood needs, ensuring social equity and economic recovery during and beyond the pandemic.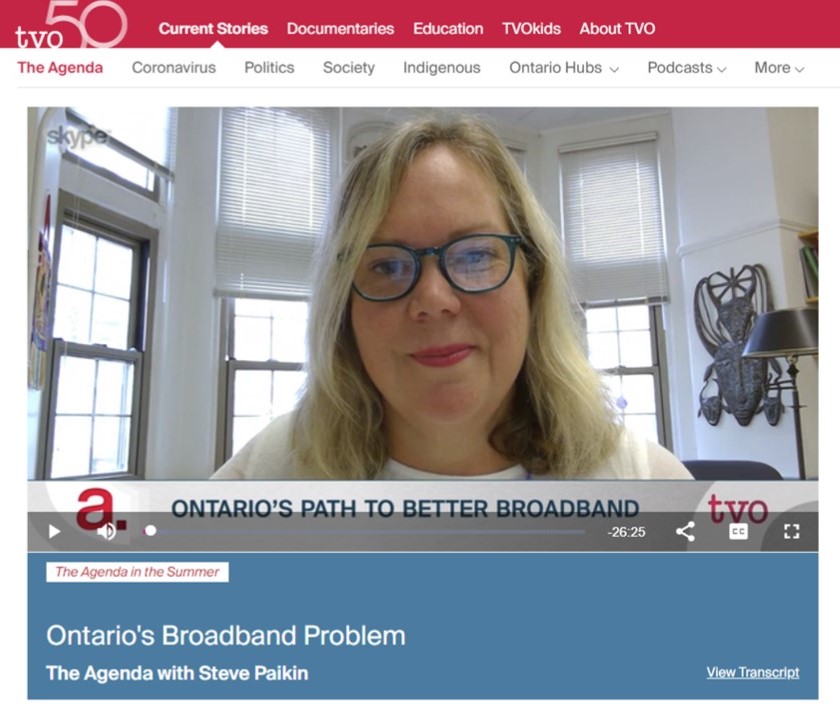 Photo:  Prof. Helen Hambly during TVO's - The Agenda broadcast.