BLA students develop innovative ideas for a new community in Guelph, receive praise from City staff and attention from local media
In the Fall 2020 semester, the Urban and Community Design Studio, our 4th year Bachelor of Landscape Architecture students focussed on a portion of the Clair-Maltby lands at the south end of Guelph, a secondary plan area forecast to be home to as many as 25,000 people.
Working remotely (several in different time zones), and in small teams, the BLA students developed plans for a 140 hectare portion of the area, exploring innovative and holistic strategies to tackle critical issues including housing affordability, density and spatial equity; social infrastructure to create resilient communities; economic development; energy, waste and food systems; cultural heritage conservation and enhancement; green transportation strategies; and ecological restoration and natural heritage system stewardship.
Students took a 'landscape first' approach, considering these many inter-related social, economic and environmental factors to produce long-range visions that considered how to build sensitively within a glacial moraine landscape, protecting ground water infiltration and working with the unique, hummocky terrain to create a distinctive sense of place.
To collaborate, develop and present their visions, students used a powerful web-based platform called Miro, a tool so valuable that we expect it will be integrated into our studio teaching in a hybrid, post-covid future.
Through the semester, students received feedback from over 10 visiting guests (many of whom visited multiple times), with backgrounds in landscape architecture, architecture, urban planning, urban design, community development and affordable housing, representing the private sector, the local community, and City of Guelph planning staff.
In the end, student work received a great deal of praise, and was even profiled in an article in the Guelph Today local press.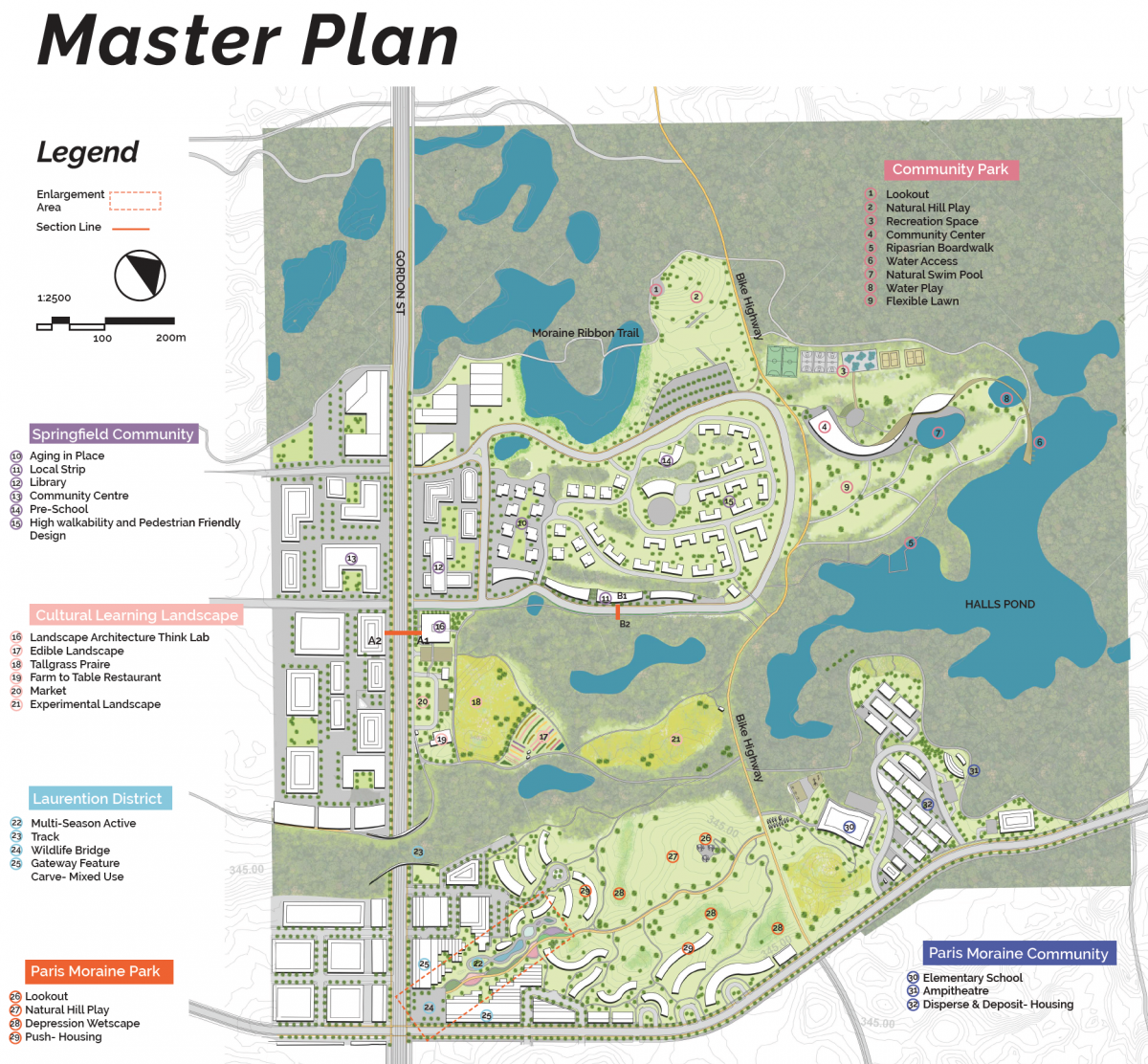 Image:  "Kame & Kettle" Master Plan by BLA students Amanda Passaro, James Lamb, Evan Wrigley and Evelyn Yang.
Congratulations to our students, who were so engaged, professional, patient and resourceful throughout the studio, despite the challenges of the pandemic and learning remotely, and thank you so much to our guests who were so generous in sharing their experience and wisdom, and to our stellar Teaching Assistants, Diego Alvarez and Lindsey McCain, with whom none of this would have been possible!
Co-instructors Prof. Brendan Stewart and Shirley Hall.
Share this page
Find related news by keyword